Central Oklahoma opened the game on an 8-0 run, forcing Northwest men's basketball coach Ben McCollum to call a timeout after a 3-pointer from senior forward Ryan Hawkins, one that served as the Bearcats' first bucket of the day and one that took their offense nearly three minutes to come across.
The Bearcats weren't in an unfamiliar position, trailing a team among the bottom half of the MIAA inside of Bearcat Arena. They did it for more than seven minutes in their 81-71 win over Newman Jan. 21.
Just as it didn't matter against Newman, it didn't matter Jan. 23 against Central either, as Northwest defeated the Bronchos 90-68.
"We know everybody in the MIAA is good," Northwest junior guard Diego Bernard said. "We know we're going to get everybody's best shot, so we just have to come in, be prepared and play every game like it's our last."
The skittish start wasn't due to a lack of gameplan. It wasn't due to an overwhelming matchup courtesy of the Bronchos. Instead, McCollum said, it was everything Northwest was doing, or was failing to do.
"I think our effort was just okay to start," McCollum said. "We didn't really concentrate. I didn't think we shared the ball. We didn't attack the paint. … We started to execute the scouting report after that. … I was really pleased with how they got it together and started to play."
It was Bernard's second game back from missing one after dislocating his shoulder. He didn't play in the Bearcats' Jan. 16 win over Nebraska-Kearney. He returned against Newman and scored 18 points. Against the Bronchos, Bernard hit a three with 14:08 left in the first half, a shot that was good enough to give him 1,000 career points.
The junior guard finished the day with 16 points, 5 rebounds and 3 assists during his 29 minutes of action.
"I didn't even know I was that close until my teammates told me this morning and asked if I was going to get my 1,000th today," Bernard said.
Bernard is one of the now 25 men's basketball players at Northwest to ever hit that mark, including teammates Hawkins and junior guard Trevor Hudgins.
He isn't primarily known for his scoring, but more so his stifling defense. Regardless of what he's known for, he'll remain in the program's record book for scoring, a skill the St. Joseph, Missouri, native doesn't prioritize.
"I know I'm the spark plug on the defensive end, so that's what I take pride in first," Bernard said. "When the ball's tipped, I know (Hawkins) might not get the tip all the time, so we're supposed to get the first stop. I'm supposed to be the energy to start that, so I take pride in defense."
McCollum's postgame praise for the guard was accompanied by an anecdote, one in which the coach remembered Bernard participating in the Bearcats' team camp as a sophomore in high school.
He remembered walking to then-Lafayette High School coach Chris Neff and asking who Bernard was, making note of the viciousness he played with. It's something McCollum has admired most about Bernard.
"I think the thing for him is that he has an emotion, an energy about him that can change a room instantly," McCollum said. "He's going to change the energy of a room, regardless of who's in there. That's a skill you can't teach. … That's what makes him elite. I know he's an elite basketball player and can shoot, drive, pass, defend, but his intangible talent is what makes him really special."
Bernard's milestone performance was accompanied by a breakout performance from Hawkins, who got the initial bucket to go for Northwest, and who tallied his second notable performance in as many games.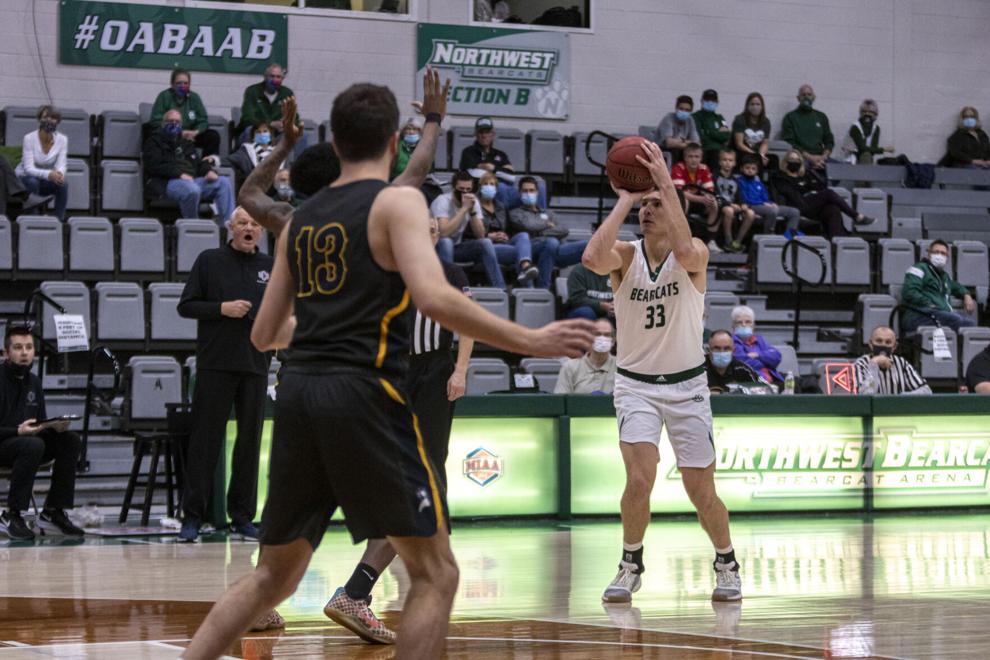 The senior forward finished the game with 23 points, a career-high 17 rebounds and 3 assists.
"He's been elite," McCollum said about Hawkins. "He's gotten back to being 'Hawk, and that's important."
It was Hawkins' 22nd career double-double. With 1:47 left in the game, Hawkins missed a layup roughly five feet from the basket, which led to a pair of free throws. Hawkins made one of the two, but a conversion on the initial basket would've given Hudgins his ninth career double-double.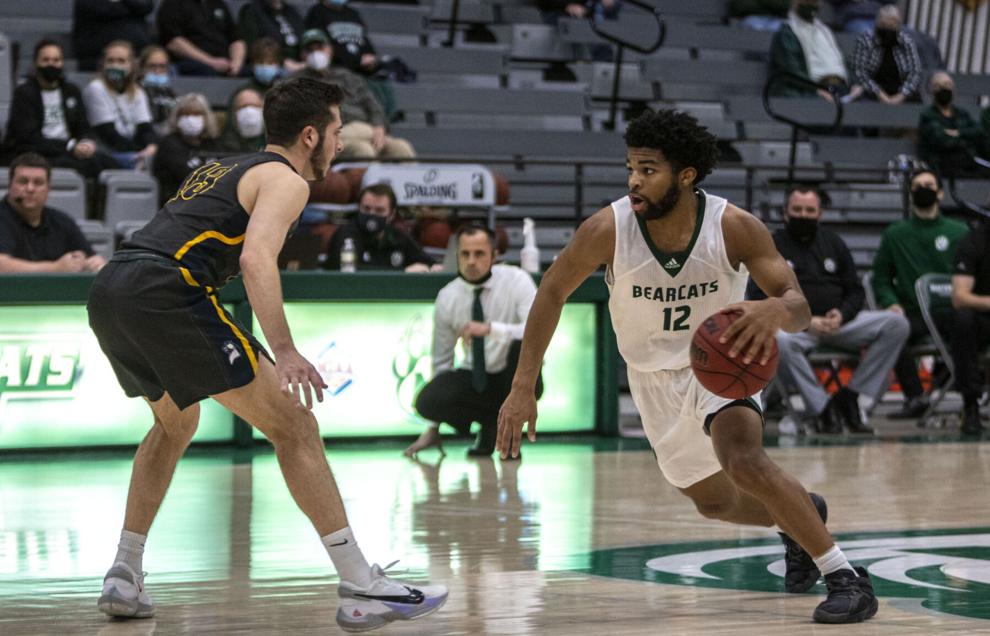 Instead, the reigning MIAA Player of the Week finished with 20 points, 9 assists, 3 rebounds and 5 steals.
The Bearcats are hoping to put together another display of breakout performances Jan. 28 when they travel to Jefferson City, Missouri, to face Lincoln. It'll mark the start of a five-day stretch in which Northwest will play three games.