A little more than 48 hours before Northwest men's basketball was set to make its Bearcat Arena debut against Central Missouri, junior guard Trevor Hudgins stood against a wall on the upper level of the Lamkin Activity Center.
Hudgins was standing directly over the court he was scheduled to play on two days later, but reminisced about the one he suffered his first collegiate loss on Dec. 7, 2019, against the Mules in Warrensburg, Missouri.
The reigning MIAA Player of the Year said the 72-60 loss still haunts the Bearcats. He added that it's something they'd have in the back of their minds when hosting the Mules Dec. 3 for their home debut. Senior forward Ryan Hawkins said it's what's currently fueling the No. 1 team in the country.
If it's not what fuels them for the rest of the season, it's at least what fueled them to a 74-67 win against the Mules Dec. 3.
"I feel like that loss will always be there for us," Hawkins said. "That's kinda our motivation right now. So, no, I don't think we've avenged that at all."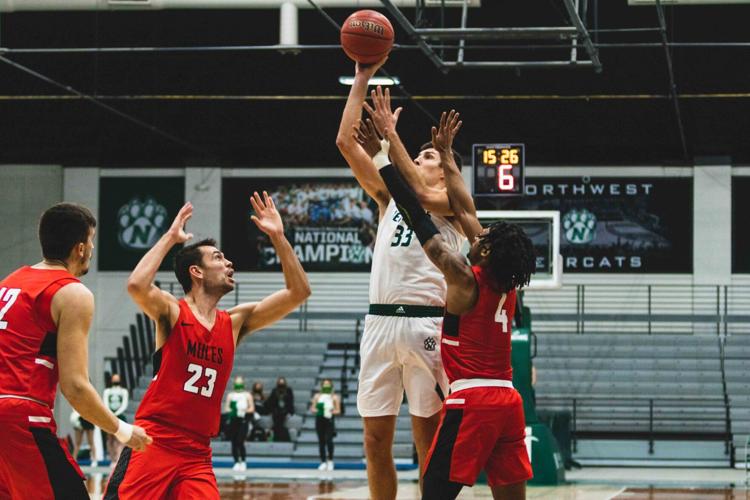 Northwest held a 20-point lead with 14:01 left in the second half, the biggest of the game for either team.
Mules' guard Cameron Hunter nailed a three over two Northwest defenders with 16 seconds left in the game, a shot that brought Central within a handful of points away from taking a lead.
It wasn't that the Mules did anything different, Northwest coach Ben McCollum said. It was moreover the fact his team did. Instead of keeping the tempo that pushed the Bearcats to the lead they once had, they did something McCollum described in one word.
"Coasted. I thought we just kinda coasted," McCollum said. "We started floating passes, weren't as aggressive defensively — and they hit some tough shots, too. … I'd have to watch the film, but it just wasn't our best performance, that last little bit. We need to be a lot better if we're going to win games."
The Bearcats took a 32-20 lead into halftime. The Mules outscored the Bearcats 47-42 in the second half.
"Defensively, the first half, I thought we were very good. The second half, we were not very good," Hawkins said. "A lot of that came from our offense. We kinda got a little stagnant there the last 10 minutes and started turning it over, so our offense did not set our defense up for success at all."
In the aftermath of the win, while the remaining immediate family members permitted into the game funneled out, Hudgins sat on one of the socially-distanced chairs that made up Northwest's bench.
He, too, realized it was the Bearcats' lapse on offense that eventually led to the Mules getting back into the game.
He sat and analyzed the official box score from the game he had just finished, pointing out notables, all of which were negative. When he got to the individual stats, the first one he looked at was turnovers. He sifted until he found his name, and soon realized he had 5, including three within the last 12 minutes.
"That's probably the most turnovers I've ever had at any point in my career," Hudgins said.
Throughout the entirety of McCollum's postgame press conference, he kept reflecting on the 20-point margin his team led by once upon a time. He wasn't happy the game ended as close as it did. Nonetheless, his team is one of four in the MIAA still unblemished.
The Bearcats were led by Hawkins with 25 points, marking the 27th time in his collegiate career that he's eclipsed 20 points. Filing in behind him was Hudgins with 18, 13 of which came in the second half, junior guard Diego Bernard with 9 points and freshman guard Byron Alexander with 12 on 4-for-4 shooting.
With 13:09 left in the first half, Alexander made a turnaround jumpshot in the paint. The shot marked his first in Bearcat Arena and served as a spark that sent Northwest away from a 5-5 tie with the Mules.
Freshman forward Daniel Abreu made a shot on the possession before Alexander, and logged more than 13 minutes off of the bench.
"They bring a lot of good energy," Hawkins said about the freshmen. "We've still got to get them — not up to speed necessarily — but calmed down when it gets sped up. I think some of that youth still showed a little bit tonight and we'll get there. We'll get it corrected, we always do."
"I thought our bench played well," McCollum said. "I didn't love it, necessarily. I don't think we're getting in a good rhythm."
The team, specifically the freshmen and bench, would've had tune-up games before reaching conference play. Due to COVID-19 forcing the MIAA to format the 2020-21 season as a 22-game, conference-only schedule, the Bearcats didn't have time to establish that rhythm.
"Normally, by now, we're 10, 12 games in and you have an NAIA game or two that you can kinda get a rhythm and just work on your basic offense," McCollum said. "Right now, you're just trying to win games."
Despite the tale of two halves for the Bearcats, they walked away with the eventual victory.
Despite it seeming easy for Northwest as of late, with numerous tournament and regular season championships, McCollum said it's hard to win in the MIAA. Despite anything else, the Bearcats will have a chance to redeem themselves of their own performance Dec. 5 against Lincoln in Bearcat Arena.
"A win's a win in this league, and Central's a good team. Sometimes, games just don't go the way you expect. … I think it's gonna be an odd year. That's why the mentally tough teams will win."