In the four games prior to Northwest women's basketball facing No. 10 Fort Hays State Jan. 25, the Bearcats faced a halftime deficit.
Those deficits, ones ranging from as little as 6 points to as much as 18 points, went on to extend during the second half — leaving the Bearcats with four consecutive losses.
After the first 20 minutes of action against the Tigers, that changed. Northwest found itself with a 32-25 lead.
A lead that would eventually disappear, letting Hays (16-3, 7-3 MIAA) escape with a 70-59 win over the Bearcats (8-10, 3-6 MIAA).
The absence of a hot start during the recent skid led to Northwest coach Austin Meyer changing the starting lineup, one that was relatively consistent despite the recent void left by an injured senior guard Kendey Eaton.
The lineup, typically, consists of juniors Jaelyn Haggard and Mia Stillman, seniors Eaton and Erika Schlosser and freshman Paityn Rau.
Instead, Haggard and Eaton were replaced by junior guard Kylie Coleman and junior guard Mallory McConkey, respectively.
The lead at the break, Meyer said, was in part due to the change in the lineup, particularly with inserting McConkey. That change, along with tweaks to the gameplan, willed Northwest to perhaps its best half of play this season.
"It was as complete of half as we've played all year," Meyer said. "It was just, No. 1, getting (McConkey) in the game, she's been our best player as of late. She puts pressure on defenses, she scores, gets to the foul line, she's rebounding, she's tough."
The lead, built by the best 20 minutes of basketball that Northwest played this season, dissipated over the second half.
Due to a 17-4 run by Hays spanning across the first five minutes of the third quarter, the Tigers took a 42-36 lead. That lead, unlike the one that Northwest watched slip away, stuck.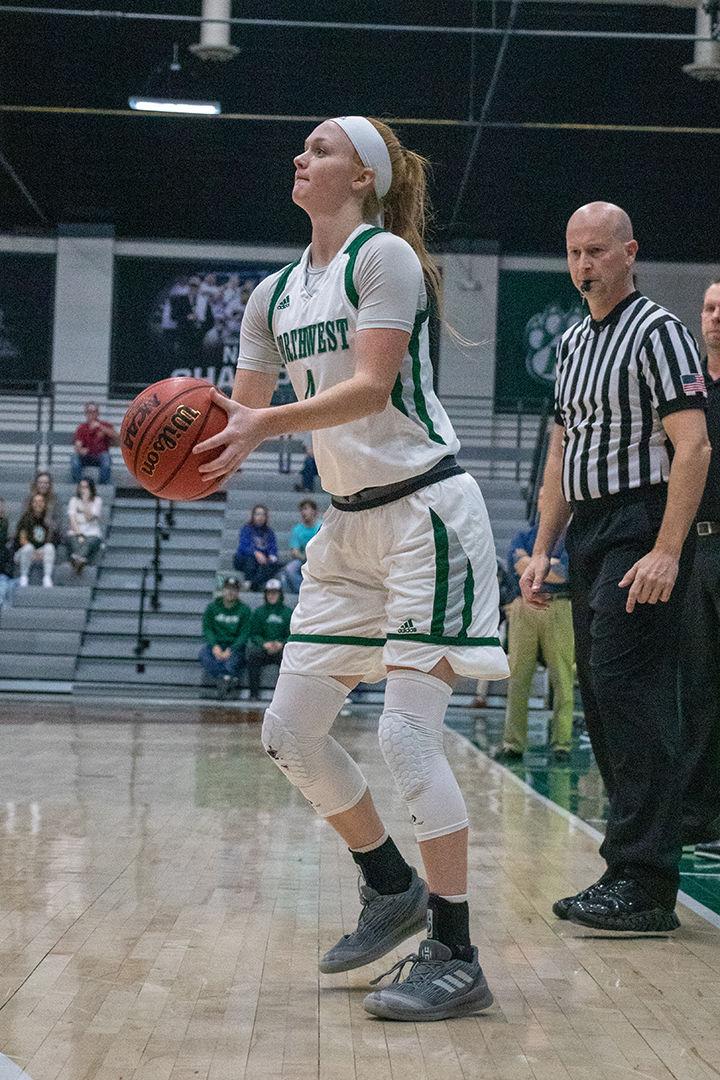 Facing a 50-44 deficit at the end of the third quarter, there was still hope for the Bearcats. That hope, similar to the aforementioned lead for Northwest, diminished. There was a spark from Coleman, one that was much needed in the absence of Eaton, who led the team in scoring before the injury.
However, Coleman's 17-point outing wasn't enough to save Northwest from dropping its fifth straight.
"I think, personally, I'm just starting to realize that Kendey is out and we need to make up 14 points a game, because that's what she averaged," Coleman said. "I think Meyer has put a little bit of confidence in me and so has the rest of the coaching staff. So I think, in my head, I'm just at a better level than I was at the start of the season."
Coleman's outburst was accompanied by two others from McConkey and Rau. The senior contributed 15 points and 4 rebounds before fouling out with three minutes left in the game. The freshman etched a new career-high, matching Coleman's effort of 17 points and added 4 rebounds.
Aside from McConkey, there hasn't been all-that-much production elsewhere on the offensive end. Against the Tigers, that differed, leaving the Bearcats with the chance that they had against a top-10 team in the country.
"She was just talking about how she wanted to be that spark for us, to get the first half going," Coleman said about a conversation with McConkey. "She certainly was."
In the end, Northwest had three players score in double-figures, a sight that was welcomed by Meyer in the absence of his starting guard and leading scorer.
"Without Kendey, just finding other people that can score," Meyer said. "If we can keep getting people more confident offensively, and then when Kendey comes back, we're that much better."
The lead, Meyer said, was due to the fact that Northwest was able to get stops and thoroughly execute in transition. That same lead being blown, he added, was because Northwest didn't get stops in the second half, which minimized transition opportunities.
It was tough, McConkey said, to find themselves down heading into the fourth quarter after having a lead at the half. That, of course, is something that will need to be fixed, McConkey said.
The scoreboard dug Northwest to two games under a .500 record, leaving the Bearcats with another unwelcomed loss. However, Meyer said, the defeat provided a glimpse of future hope for a program that, in year's past, struggled to fend for itself against top-level competition.
"We don't want to get to where there are too many moral victories, because we do want to win, " Meyer said. "But it's showing that we're competing."
"I don't love them," Meyer added about moral victories. "But it's where we're at against good teams. So we've gotta make sure we're staying positive, hanging our hat on things we did well."
The snapping of the now five-game skid will be put on hold until at least Jan. 30 when the Bearcats head to Wichita, Kansas, to face Newman. One of two things will happen, Meyer said. The Bearcats are hoping for one, and refuting the other.
"I guess we don't think of it as a losing streak," Meyer said. "There's a lot of season left, just gotta keep getting better and better. … You get better or worse, you don't stay the same. I think we've gotta be a team that keeps getting better."