EVANSVILLE, Ind. — As the clock continued to wind down on Northwest men's basketball's historic season, players and coach Ben McCollum eluded to the team's journey in the rather active lobby of a DoubleTree hotel in Evansville, Indiana.
A short time after 3:00 p.m., McCollum and a number of players took turns facing a huddled group of media members.
They wore the effects of the grueling campaign as clearly as they did their athletic attire. The Bearcats have been battered en route to their second NCAA Division II National Championship Game appearance in three years, but they have not been beaten.
Yet, at 37-0, the season's toll is evident. Senior swingman Joey Witthus, whose action has been limited in the Elite Eight since suffering a hip injury March 27 against Mercyhurst, talked about his health and the challenge ahead.
Freshman guard Diego Bernard wasn't present in the hotel lobby, though he too is banged up, missing the entirety of the Mercyhurst matchup with a lower-leg injury before returning in the semifinals against Saint Anselm March 28. Junior forward Ryan Welty, who's shot just 2-of-9 in the team's last two games, wore a wrap around his right ankle less than 24 hours before the title game is set to commence.
It was McCollum, though, where the season's toll was appeared most evident. The usually high-strung, energetic coach seemed groggy. He rested his eyes while lounging on a couch in the lobby's corner before addressing the media in a tired tone, one uncharacteristic of McCollum.
He used the team's day off, March 29, to give his strained players a day of rest before they take on Point Loma in the title game March 30 at 2 p.m. But McCollum himself didn't rest, of course. There's work to be done.
"You want to give (the players) enough of a mental break to where you're not just jumping right back into scouting," McCollum said. "For me, I jumped right back into scouting. That's what I've been doing all day."
McCollum knows better than anyone what the worn out Bearcats are walking into when they trek to the Ford Center for the final time Saturday. For 40 minutes against Point Loma, the injuries won't matter. They can't, really. This is what Northwest has worked toward all season.
"I think there's a lot of people that are injured, so you just have to play through it, and that's what we'll do," McCollum said. "I told (the players) that before the game yesterday, that just because we got a few injuries, it's not OK to lose."
Point Loma will provide a unique and difficult challenge for the Bearcats, touting the newly-minted NABC Division II Player of the Year in guard Daulton Hommes. The 6-foot-8-inch wing player has wreaked havoc on opposing team's throughout the Sea Lions' run to the title game.
The Bearcats know what they're up against. They've quieted dominant, towering players like Hommes before in the tournament's earlier rounds, most notably Missouri Southern's Cam Martin, who they held to a relatively-pedestrian 20 points in Northwest Central Region Championship victory March 19.
That game, which took place just 10 days ago, is well in the rearview. The challenge ahead is a different animal.
"It's going to be a battle," Witthus said. "We've just got to make sure we do the things that we do best and it starts with defense for us."
Point Loma has clung to an underdog narrative throughout much of the tournament, and perhaps rightfully so. The Sea Lions were seeded No. 6 in the Elite Eight and have fought their way to where they are now.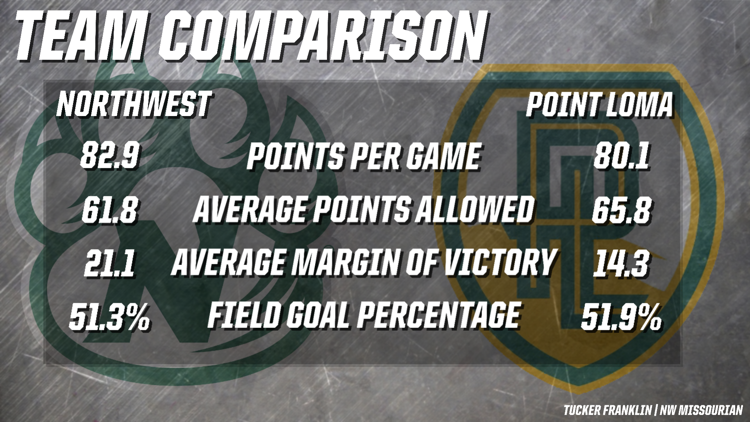 The Bearcats have maintained a chip on their own shoulder for much of the season. It was a fore-drawn conclusion by most that the team would take a step back this year after graduating the winningest class in program history last spring.
Now, externally, Northwest will be viewed as the heavy favorites. Though the Bearcats don't exactly see it that way. They've played with that chip and with grit all season. They see no way to abandon it now.
"(We) are a tough team," McCollum said. "They've been that way all year; they've been that way since Day 1. Again, if you would've saw our first scrimmage, you'd be shocked at where we've come from since then."
NCAA rules bar coaches from disclosing much information about their preseason scrimmages, but McCollum has referenced the first one throughout the year, mostly in regards to how bad the Bearcats performed in it. Even then, when the prospect of the Bearcats winning a national title seemed inane, they still believed. Now, roughly five months later, the belief is one win away from becoming an actuality.
"That was the goal the whole time," sophomore forward Ryan Hawkins said. "We knew it'd be a different look this year, but we've got 11 guys in that locker room that all believe in what we can do."
The season that started with a poorly played scrimmage and opened with a 72-70 overtime win over Northern State Nov. 3 has found its way here, with the Bearcats on the verge of history. For many players, including Witthus, the shot at a win Saturday is the reason they chose to play at Northwest. The Bearcats have won games at a higher clip than anyone in college basketball over the last three seasons. That's what they came here to do.
"This is the culture that has been here and is set up here," Witthus, who transferred to Northwest from Minnesota State-Mankato after the 2017 season, said. "I knew right away when I came on my visit that they were going to be contenders every year and that's why I came down here: to play in games like this."
This appears to be the case across the board. Welty, the sharpshooting junior who holds the NCAA record for career three-point percentage among active players, is the only Bearcat that played in the 2017 title game.
He was a freshman then, learning from players like Zach Schneider and Justin Pitts. Now, he's a leader for Northwest, though he still feels a rush of excitement when he thinks about playing in another championship game.
"It's awesome," Welty said. "Not many people can say they're a two-time National Champion. I'm really excited to be back at this point. We're all super excited to be here and we're ready to go for tomorrow."
For Northwest, after tomorrow, there isn't really another tomorrow — at least not one that matters, not for a while. That's the nature of the championship game. It's no longer win or go home for the Bearcats, it's win and go home happy, or lose and go home devastated.
The task ahead of Northwest is daunting and gripping and disquieting all at once. But they've done this before in more ways than one. Only Welty has checked into a national title game and only a few other Bearcats have even sat on the sideline for one, but the Bearcats have entered 37 games this season and walked away with 37 victories.
They just need one more.
"We'll be ready to go," Welty said. "It's the national championship. Why wouldn't you be excited for this?"