KANSAS CITY, Mo. — For the second time in three days, Northwest men's basketball entered the locker room at halftime of an MIAA Tournament matchup having extended a glimpse of hope to its opponent.
The No. 1 Bearcats trailed Missouri Western 31-29 as they walked off the court March 7 at Municipal Auditorium after 20 minutes of basketball, having weathered a 9-0 run from the Griffons to start the contest, having responded with a 13-0 run of their own and having watched Western freshman guard Jaron Thames hit a 3-pointer toward the end of the first half, giving the Griffons a 2-point lead.
There was hope for Western, the No. 4 seed in the MIAA tournament fighting to extend its season, hope that dissipated over the next 20 minutes of basketball at Municipal. Northwest (30-1) outscored Western (18-14) 51-23 in the second half, claiming an 80-54 win in the semifinal matchup to earn a fifth-consecutive MIAA Tournament Championship game appearance.
"To be in striking distance and to have it where we wanted to — it's a game of adjustments, it's chess, not checkers," Western coach Sundance Wicks said. "The second half, they played a little better game of chess than we did."
For much of the first half, Northwest withstood the sturdy defense Western implemented to prevent the Bearcats from finding an offensive rhythm while countering Western's 51.9% field goal percentage with a 5-for-14 total from three. In the second half, Northwest coach Ben McCollum said, the Bearcats turned the tide.
For Northwest, the last 20 minutes of basketball came with increased focus and fine-tuned communication. There was a higher level of execution of the scouting report, McCollum said. The Bearcats adjusted and responded by outscoring Western by 38 points after the break.
"When you have to do things on the fly, sometimes it hurts you," McCollum said. "I was happy to see the second half we executed it much better because we're gonna need it later in the season."
McCollum was coy about the adjustments Northwest made between the game's opening minutes that led to the Bearcats' dominant second half. He benched freshman swingman Luke Waters after 5 minutes and 22 seconds of game time and didn't reinsert him into the lineup until the game reached its final two minutes. But he chalked much of the improvement up to the performance of his players.
Wicks and Western senior guard Tyus Millhollin had a different perspective.
"Going into the half, I think we were up (by) one," Millhollin said, sitting next to Wicks, facing a room full of reporters. "And then Ben McCollum, man. You gotta tip your hat to a guy like that. He's a hell of a coach. He knows how to coach. He's the best coach in DII, in my opinion."
"Thanks, Tyus," Wicks said, as the two burst into laughter. "Thanks, Tyus."
Five minutes into the second half, Northwest's offense began to take off. Trailing Western 38-37 with over 14 minutes left to play in the game, senior forward Ryan Welty rose up beyond the top of the right key and buried a 3-pointer to give the Bearcats a 40-38 lead.
---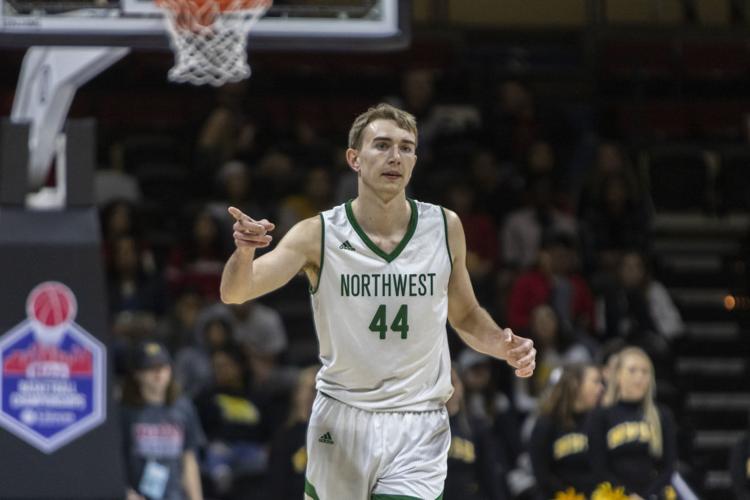 ---
Moments later, the senior did so again, pushing Northwest's lead to 5 points, the largest of the game to that point for the Bearcats. The jumpers were the 28th and 29th 3-pointers of Welty's MIAA Tournament career, a pair of threes that broke the conference tournament record and sent Northwest on an offensive tear that carried the team to the semifinal win.
"He's always been big," McCollum said. "He's Mr. Dependable. … He's always there. He's just solid, safe and obviously he can shoot, too."
"Huge biceps," junior forward Ryan Hawkins said.
"Yeah, yeah," McCollum said. "He's got his own fan page too, I don't know if you knew that."
"That's my roommate," sophomore guard Diego Bernard said.
The semifinal win, for Northwest, was a tale of two halves. There were underwhelming performances in the first half, from players like Waters and sophomore guard Trevor Hudgins, who scored 6 points in the first 20 minutes. And there was consistency in the second.
There was Hawkins, who scored a game-high 28 points, leading Northwest for the second matchup in a row. There was Welty, who hit both of the two threes he took in the second half. There was Bernard, who grabbed 19 boards while adding 10 points. And there was freshman forward Wes Dreamer, who scored 10 points while filling in for Waters in more than 33 minutes of action.
The result, of course, was a 26-point win in a game Northwest trailed in for more than 19 minutes. And the result is a championship matchup with either Missouri Southern or Rogers State, both of which Northwest beat twice in the regular season.
"I don't care (who we play)," McCollum said. "They're both good."