There were 251 days in between Northwest football's final game of the 2019 season and the MIAA CEO Council's announcement to suspend fall sports competition until Jan. 1, 2021.
There were 36 days in between the MIAA CEO Council's announcement and a reversal of that decision, one that allowed each member institution to independently schedule games as early as this fall.
There were nine days in between the reversal and Northwest football's official first day of practice in 2020.
"It feels awesome, just to have some sense of normalcy again, and to be doing what we're supposed to be doing in the fall. It's fantastic," Northwest coach Rich Wright said. "It's good to have an opportunity to interact with the players on a daily basis. … It's been a really strange time, so it's almost been therapeutic."
The last time Rich Wright and company were in Bearcat Stadium, Nov. 30, 2019, they captured a 63-7 win over Lindenwood in the Division II Super Region Three Semifinals.
Since then, the program welcomed Todd Sturdy as the new offensive coordinator. It's something junior quarterback Braden Wright said the team is still becoming accustomed to, along with a multitude of things. The Bearcats understand they're treading through the unknown waters of attempting to play sports amid a pandemic.
"It's not just the offense. Over the last couple of years, we've graduated a lot of defensive linemen, for example," Rich Wright said. "It's an area where some of these younger guys, I mean, you think about this, 'So my redshirt freshmen, you wanna talk about some crazy expectations. Those guys come in a year ago, they're here for fall camp, they practice our stuff for two weeks, they run a scout team all fall long, they never had spring practice, they never had fall camp, then we're kind of expecting them to matriculate in and be relevant, and they're just not yet.' It's been a good opportunity for those guys to see where they're at and where they've gotta go."
Northwest graduated 17 seniors between winter and spring ceremonies last school year, including nine offensive and eight defensive players.
In that group was four-year starting tight end Marqus Andrews, who was considered a focal point of the Bearcats' offense during his tenure with the program. Along with Andrews, the running back duo of Isaiah Strayhorn and graduate transfer Justin Rankin graduated as well.
Despite the growing pains of trying to foster new talent and implement new schemes on both sides of the ball, the Bearcats are just excited to get back to doing what they regularly would've been if not for COVID-19.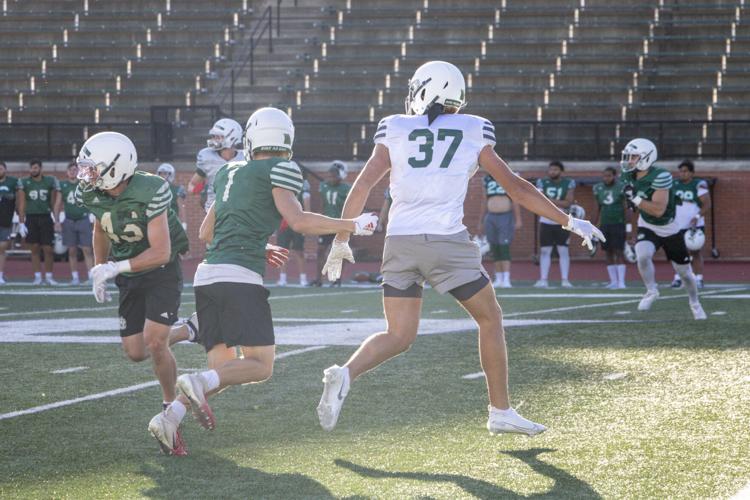 "Over everything else, it's fun. Football's a game, it's meant to be fun," Braden Wright said. "It's been fun to be able to get back out and be around the team again. Obviously, it's a little different. The locker room atmosphere is completely different. We can't be hanging out in there, can't be hanging out in the training room, anything like that. From the football field aspect, it's just great to be back out and playing the game we all love again."
Of course, guidelines from the CDC and NCAA have adapted the manner in which the program goes about its daily routines.
Practices don't look like they used to, they now include drill periods of under 15 minutes to reduce the possibility of exposure in the chance an athlete was carrying the coronavirus.
Weightlifting sessions are spread out through the day, with groups minimized to maximize the ability to contact trace if required.
Rich Wright said that if the Bearcats want to do what they hope to do, they have to adhere to those mitigation efforts. He's hoping the program can continue those efforts with minimal interruptions.
"They're ready to get back to trying to be as normal as possible. That's something that we've got to continue to work towards," Rich Wright said. "I think we've got a good group of kids. We've got a good group of guys coming back. Our nucleus is good, but we've gotta build some depth, and that's what we're hoping to do this fall."
Northwest football, at the moment, isn't practicing for anything aside from getting better. The MIAA released its schedule for the 2021 football season, which is the closest foreseeable competition for the Bearcats.
So along with coronavirus mitigation efforts, football programs across the country are left practicing for the unknown. Of course, motivation to practice could perhaps become a struggle with no end goal in sight.
The Bearcats are hoping that doesn't become the case.
"As of right now, week in and week out, it shouldn't be hard at all," Braden Wright said about staying motivated. "It's been so long since we've been out on the field, so really it's fun being out here regardless. Now it'll start becoming a grind, of course, not knowing if there's going to be games or not, but I think we look back to it like we're little kids again — we just wanna be out here in any aspect that we can. We're just excited to be here right now."
Despite an uncertain future, the Bearcats aren't sitting on their hands. The program wants to play games as early as this fall, as the MIAA said in a release Oct. 1 each member institution can schedule no more than four joint practices, scrimmages, or competition with outside institutions or other MIAA members.
The Bearcats want their hard work to pay off. They're hoping that's sooner rather than later, but the number of days in between their return to practice and whatever lies ahead are uncertain.
"We've talked a little bit about it with a couple of other schools about potentially being able to do something — not sure what that'll look like yet," Rich Wright said. "I've shared that with the guys, and it kinda gives them a carrot at the end of it. So, hopefully, we can make that work."
"It's exciting. Of course we want to play if that opportunity presents itself," Braden Wright said. "If we have a game, great. For now, we're gonna put our heads down and keep working, regardless."