The poorly-lit table seating at Carson's Sports Grill was an unusual place for a basketball season to end. But that's where it ended for Northwest men's basketball March 12, less than a week after its fifth straight MIAA Tournament Championship victory that was supposed to propel the team into the NCAA Division II Central Region Tournament March 14-17 at Bearcat Arena.
The Arena, furnished with NCAA-branded decor in preparation for the tournament, is where the Bearcats were gathered when the news first broke. They were practicing when Northwest officials told coach Ben McCollum about NCAA President Mark Emmert's statement declaring the cancellation of all championship tournaments due to growing concern over the spread of COVID-19, practicing in preparation for a game they wouldn't get to play.
It was close to 20 hours after the NBA suspended its regular season after a player tested positive for COVID-19. It was after the MLS, NHL and MLB followed suit, putting indefinite delays on the continuation of most major sporting events across the country. It was 3:16 p.m. March 12 when Emmert's announcement brought an end to Northwest's pre-tournament practice and an end to the team's unfinished season, leaving McCollum in a fleeting moment of ambivalence, unsure of how to counsel the players in front of him.
"I really didn't know what to say," McCollum said, reflecting on the moment he learned his team's season was over. "And so I just said, 'We'll meet in an hour once I collect my thoughts and figure out what to say.' I'm usually not at a loss for words."
And so the players stopped practicing. McCollum gathered his thoughts. Senior forward Tyler Dougherty, who's career had just ended less than 48 hours before his last tournament was set to begin, went for a drive. He had played his last game without knowing it March 8 at Municipal Auditorium. He didn't know what to think, he said.
"I tried to collect my thoughts, but it's hard to," Dougherty said, before comparing the news to the January death of NBA star Kobe Bryant. "It's such a thing that's not supposed to happen."
"It'll settle in over the next couple of weeks," Dougherty said. "But it just sucks."
After an hour, the team reconvened. McCollum made sure his players understood what kind of program they're a part of, he said. He thanked the team's seniors — Dougherty, Kirk Finley, who sat out the entire regular season with an Achilles injury, and Ryan Welty — for helping build the program into what it is today, he said. He eulogized a season that was not supposed to end.
---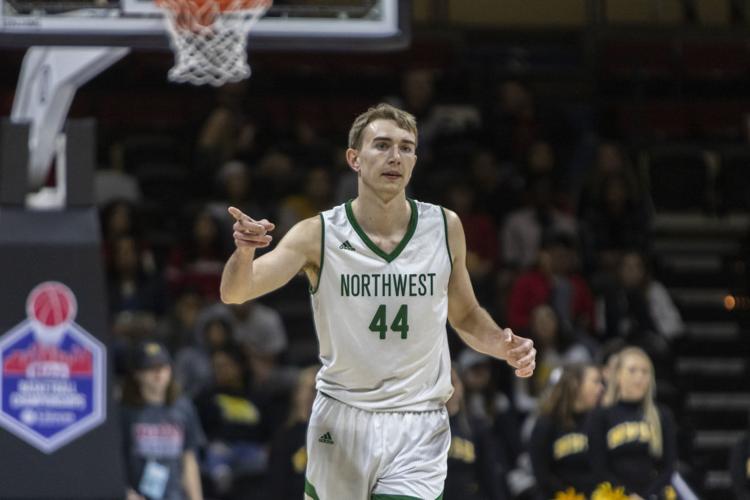 ---
"They gave everything to the program," sophomore guard Trevor Hudgins said of the team's seniors, who won 131 games over a four-year stretch, the most in Division II history. "I'm happy for those guys. I just wish we could give them a little better ending to this fairytale."
Instead, as the MIAA suspended the spring athletic competitions and the other teams traveling to the Central Region Tournament canceled hotel reservations, the fairytale ended just off Main Street in Maryville's downtown square, where players took the back door in and out of Carson's.
The Bearcats gathered at the restaurant, the site of the weekly Bearcat Coaches Show, around 6 p.m. — 48 hours before their tournament run was set to begin. They ate and talked and interacted among themselves and with Northwest Athletics officials. Some of them — Finley, sophomore guard Diego Bernard and junior guard Daric Laing — wore NCAA National Championship hats from a season ago. They'd intended on replacing them next month in Atlanta, Georgia. They will not get the chance.
"I thought we were gonna do something special," Hudgins said. "It just ended really short. Life isn't fair, so we'll get over it, eventually. But it kind of sucks."
---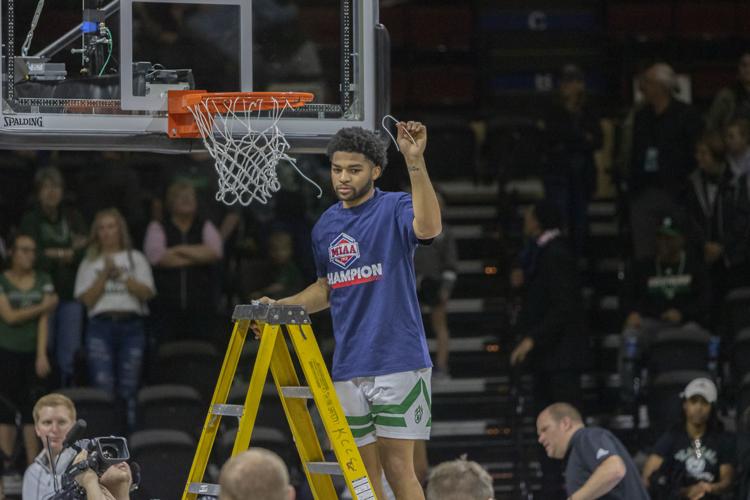 ---
The informal event seemed designed to celebrate a successful campaign. Instead, it served as the season's wake, as the players mourned the premature pause in a historic run, one that won't resume until November. For Welty and Dougherty and Finley, it won't resume at all.
Toward the end of what Northwest Athletic Director Andy Peterson called "one of the darkest days in NCAA history," Dougherty emerged as a positive voice from the senior class robbed of its final tournament by the rapidly-spreading coronavirus.
After spending much of the last five years planning his days around basketball, Dougherty took the tournament's cancellation with perspective. He said he owed a lot to the sport he's played since his childhood. He said the cancellation was disappointing, but that there are "worse things that can happen." After dedicating much of his life to the sport, he's ready for life beyond it, he said.
---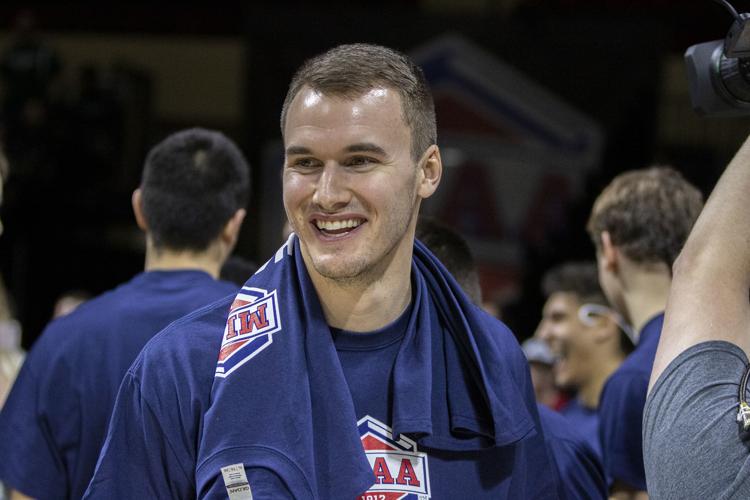 ---
"To go through these five years with Kirk and four years with Welty has been awesome," Dougherty said. "I mean, literally, you couldn't have better guys to go through it with. They're some of my best friends in my life, and basketball has given me that. I'm just thankful for that."
"'Thankful' is the one word I can come to over how I feel," Dougherty said.
Hours after his team's 31-win season was cut short, McCollum wore his usual Bearcat-clad athletic attire into Carson's coupled with a look of despondency. Usually a self-described high-strung source of energy, McCollum was somber in his tone. After spending much of the season telling reporters weekly that he is always looking forward, the coach found himself in a rare state of reflection.
McCollum said he wished the NCAA would have postponed the tournament March 11, instead of first closing it to the public. He said he was disappointed more for his senior class, who "established a program that a lot of people want to play for," than he was himself. He said he understood why the Association made the decision to cancel the postseason.
And McCollum said Northwest's season wasn't diminished due to the tournament's cancelation. The Bearcats wanted a chance to defend their title, he said. They wanted a chance to compete. They yielded only to a pandemic, not the constant blows thrown at them from the strength of their conference schedule.
"It probably hasn't sunk in yet," McCollum said. "It's kind of a surreal experience to where something like that's canceled. It hasn't sunk in, in regards to how the season ended, to be honest."
Their season ended March 8 in Kansas City, Missouri, without the Bearcats knowing it. They beat Missouri Southern 78-76 for the MIAA Tournament Championship before cutting down nets at Municipal Auditorium for the fifth year in a row. They celebrated the victory before preparing for a tournament that wouldn't happen. They accepted a tournament championship trophy from MIAA Commissioner Mike Racy, one that now serves as a relic of the pandemic's ability to halt a nation, a reminder of what could have been.
McCollum doesn't like to think about what could have been, though his 11-year tenure at Northwest has given him ample reason to. There was the injury to Dillon Starzl in 2014 that helped end Northwest's season in the Central Region Tournament Championship against Central Missouri, the eventual National Champions. There was Justin Pitts' broken foot in 2018 that sidelined the star point guard as Northwest lost in the tournament's first round. And now there is COVID-19 and the country's reaction to it, leaving the Bearcats as passengers in the end of their own title defense.
As he climbed the yellow ladder beneath the south basket at Municipal Auditorium March 8, in front of a record number of fans in attendance, McCollum didn't know it would be the last time he'd cut down a championship net this season. He couldn't have.
---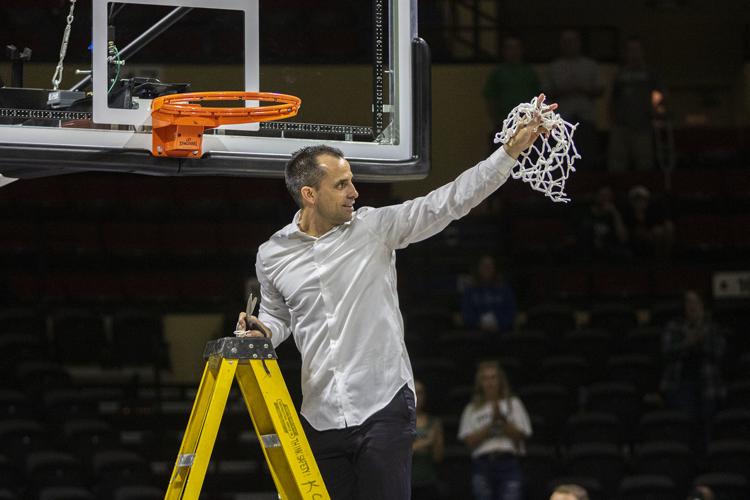 ---
The conference tournament provided a fine environment to end the season in, McCollum said, though he wishes things were different. He said he would have celebrated the tournament title with more energy, that he would have gotten more excited. He might have climbed the ladder a little slower. He might have enjoyed the view from atop it a little longer.
"We knew we had more games left," McCollum said.
But they didn't. They ended their season with a championship victory. It was not the one they'd hoped for.