If her list of accolades wasn't vast enough, Serena Sundell can now add being a Division I commit to that list. On March 29, Sundell publicly announced via Twitter that she will be taking her talents to Kansas State University in 2021.
The 6'1" guard caught the attention of numerous college recruiters before finishing her third season at Maryville High School in March. Sundell's attention, however, was grasped by a school that offered more than just a spot on its basketball team.
"As cliche as it sounds, (Kansas State) really was a place that felt like home," Sundell said. "Manhattan is just like Maryville, just a little bigger. I love that it's a college town, which is what I've grown up with my whole life."
Despite being the "Little Apple," Manhattan, Kansas, is home to nearly 42,000 more residents than Maryville. On top of that, Kansas State is no stranger to hosting big-time opponents as a Big 12 Conference member.
"(Kansas State) is in the Big 12, which is going to give me the best opportunity to play with some of the best players and teams in the country," Sundell said.
In the 2019 NCAA Division I Women's Basketball Tournament, the Big 12 was represented by four teams, one of which was Kansas State. That year, Baylor University (Big 12 member) won the national championship. Year after year, the Big 12 finishes with multiple teams ranked among the top 25 in the nation.
Even with the staggering competition, Sundell is expected to be able to play to that higher level. Maryville coach Quentin Albrecht said she could compete as early as her first year on campus.
"I think when she gets on campus and they get to work out and know her better, I think she will compete very well," Albrecht said. "I'll be surprised if we don't see her on the floor at least some of her freshman year."
Albrecht has had an eye on Sundell's talent since her seventh-grade season. The attribute that stuck out to Albrecht the most, he said, is her drive to play the game. He knew that she could play just based on her physical attributes, but her impact transcends her effort on the court.
"The way she practices has the best effect on our players because she models really well," Albrecht said. "I think the younger kids kind of idolize her a little bit. Any time we can motivate a girl to get a ball in her hands and get better, that's a positive for our program. She's done a lot of that for us."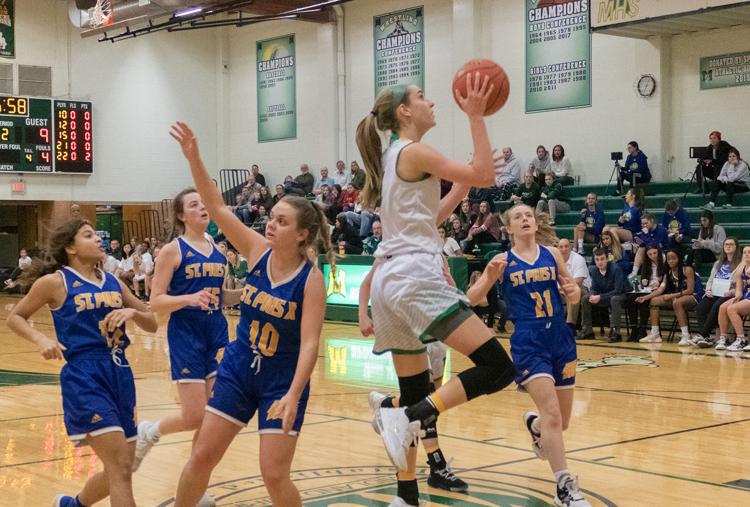 Since entering high school, Sundell's goal has been to receive a scholarship to play for a Division I institution. This goal manifested after receiving her first offer to play at the Division II level from Northwest her freshman year.
Playing on club teams during the summer opened up exposure opportunities to attract larger universities. With help from her parents, Sundell traveled to and from Kansas City in order to compete and showcase her talent to recruiters.
"I think Kansas State was very persistent in their pursuit and they came away with the prize," Albrecht said.
"It feels pretty good (to commit)," Sundell said. "It's been a long process and to finally know where I'm going to go after my senior year, I can relax."
Going into her final year, Sundell said she wants to focus on being more of a vocal leader to prepare herself for college. In the fall of 2021, Serena Sundell will join head coach Jeff Mitte to transition from a Spoofhound to a Wildcat.
"I think it's just a great opportunity," Sundell said. "All the work that I've put in is starting to pay off, and I'm really excited to be taking my game to the next level."