After every season, at least for the last handful of years, Northwest men's basketball coach Ben McCollum has been a topic of discussion when people talk about Division I job openings. He has been one of the premiere candidates at the next level since leading the program to its first national title in 2017.
The speculation will end early this year, as McCollum is expected to stay at Northwest for at least one more season.
"As of right now, yeah, I'm not going anywhere," McCollum said April 20 while sitting in his trophy-filled office on the upper floor of the Lamkin Activity Center.
McCollum staying within the plains of Maryville instead of searching for greener pastures isn't because Northwest Missouri State pays him more than he would make elsewhere. It isn't because he doesn't want to be a part of the accommodations that accompany a Division I program. It isn't because of any particular reason at all.
It's simpler than that, actually.
"I just like Northwest. I've got good kids, a good family setup — everything's good," McCollum said.
McCollum took over the program in March 2009, right after his former coach, Steve Tappmeyer, resigned. People were unsure at the time, as the then-almost 28-year-old McCollum was fresh out of an assistant job at MIAA foe Emporia State.
Since then, McCollum has secured 300 wins, three national titles, an all-time most four NABC Division II Coach of the Year awards, seven MIAA Coach of the Year honors and nine MIAA regular season titles.
He's given the program everything and then some. His players know that, and junior guard Trevor Hudgins now understands why McCollum hasn't left.
"Every program isn't for everyone, that's what I would say. I think he's built his dynasty here. I think he's built something amazing here," Hudgins said. "The culture is incredible. I just think everything he's built is great. I mean, you can't take away anything from him; he's just the man here. He has everything in control. He coaches how he wants to coach. He brings in the people he wants to bring in. He just continues the cycle. DI, I feel like it's a little more political and stuff like that. I feel like he has a great thing going here."
McCollum hasn't completely ruled out a departure, though. He told the Sioux City Journal in early April that "it has to be the right opportunity." Regardless, he'll be the Bearcats' coach for another national title run.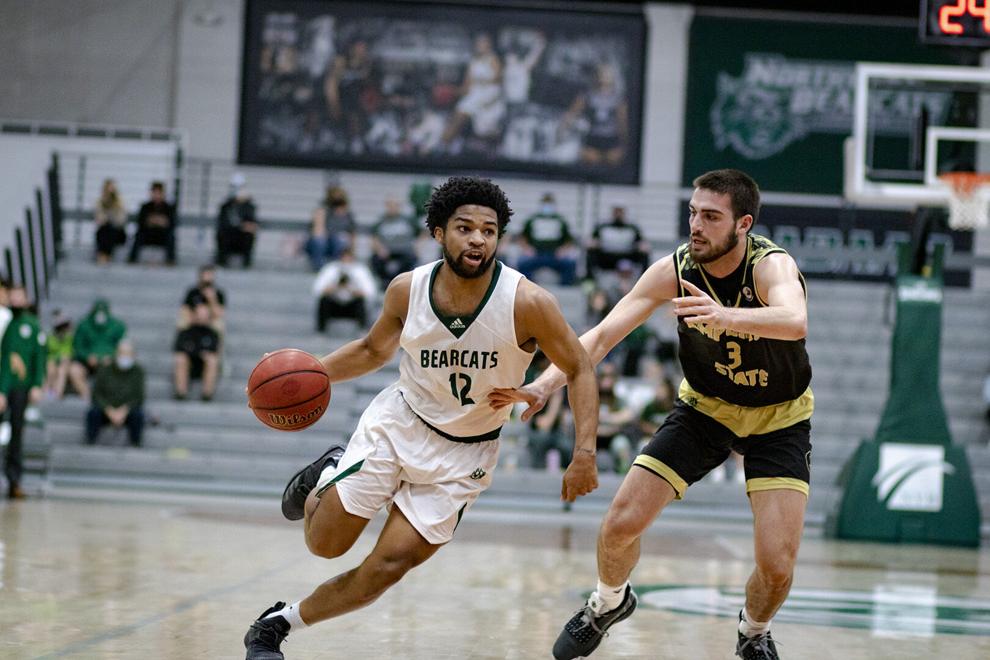 Just like McCollum, Hudgins isn't going anywhere, despite ESPN reporter Jonathan Givony thinking otherwise.
Givony, an NBA Draft analyst, reached out to Hudgins through Instagram to let the reigning NABC Division II Player of the Year know he wanted to talk to him about his plans for next season.
Givony thought Hudgins was perhaps going to enter the NCAA Transfer Portal in hopes of calling a Division I program home next season. Hudgins planned on staying in Maryville all along.
"I just told him I was coming back," Hudgins said. "I didn't think it was that big of a deal until everyone started asking me about it, so. I just told him. It went public, and everyone went crazy, I guess. I mean, I signed up for classes two weeks ago. … I'm staying here."
"Part of my thing is making sure that if I thought the best interest of a player was to go somewhere, I would tell them that," McCollum said about Hudgins, along with the other mid-major-caliber players that make up the roster. "I really feel like I would if that was in his best interest to reach his top potential. I don't think it is. I don't think it is in other people's cases, and I think they're in the right spot. They're loved, and they love being here. We love having them."
For Hudgins, though, he's perhaps one of the best men's basketball players to ever play at Northwest. He's third on the program's all-time scoring list, second on the program's assist list, only the program's second NABC Division II Player of the Year, a two-time MIAA Player of the Year and was the Elite Eight's Most Outstanding Player as a redshirt-freshman in 2018.
He still has two years of eligibility left, too.
"I think the thing with him, and quite a few of our guys, those guys are really good basketball players," McCollum said. "He's an extremely self-assured, confident human being, so he doesn't need a lot of ego boost. From his perspective, he will play professionally."
Before Hudgins can do that, he's planning on finishing his degree during this upcoming year at Northwest. He expects it to be his final collegiate season before exploring his options among the professional ranks.
"I'm getting old," Hudgins said through a laugh. "My plan was to do five years here, and that's what I'm going to do, COVID or not. Last year was taken away from us, which was unfortunate, but can't get time back. I'm doing my five years, and I'm out."
For now, coaches in the MIAA can plan on Hudgins keeping them up the night before each matchup next season.
"He's scary regardless," McCollum said. "I think he's given a lot to this program, and he just kind of wants to complete the tasks, especially his degree. That was a big thing when he came in, was making sure he got his degree."
Forward Ryan Hawkins, a two-time MIAA Defensive Player of the Year, will also return to the program, utilizing the extra year of eligibility he was granted due to COVID-19 modifying this previous season.
Guard Diego Bernard, who will be a senior next year and who was this year's MIAA Defensive Player of the Year, is also planning on returning to the program, his dad said.
The Bearcats will return 100% of their starting lineup from this past national title-winning season, including the mastermind behind all of the program's success over the course of the last decade.
It's something unique, McCollum and Hudgins said, and they're not quite sure if they'd get that anywhere else.
"I feel like I've built a family here. We made a family here," Hudgins said. "I love winning. I love being a part of this program as much as anybody, and I feel like we have something special here."