Ben McCollum was about a month away from graduating from Northwest when he voluntarily threw his life off the rails.
McCollum, who transferred to Northwest from a community college in 2001, was in the latter half of the second semester of his senior year, set to walk the stage in May, 2003 with a degree in finance. He sported a GPA around 3.5 and even had a job lined up with Wells Fargo, but after years of careful planning, McCollum threw caution to the wind.
Wells Fargo was not his future, McCollum decided. He wanted to coach basketball.
Now, McCollum has led Northwest men's basketball to six straight MIAA titles, four consecutive conference tournament championships, a 35-0 record this season and an appearance in the NCAA Division II Elite Eight.
What the Bearcats have done this season, which includes sweeping their way through their schedule while starting two freshman guards, seems as remarkable as it does unlikely.
Perhaps the most impressive and improbable facet of Northwest's dominant run — which has stretched not only over the last 35 games but more-so over the last half-decade — is McCollum's path to where he is now: on the cusp of his second national championship.
---
Before McCollum was a basketball coach, and before he ever thought about being one, he was a number of other things.
McCollum was an all-state guard at St. Mary's High School in Storm Lake, Iowa, where he thrived as a sprinter on the track, earned all-conference honors in baseball and, at some point, learned the names of all 99 counties in Iowa in alphabetical order. He fielded full scholarship offers from multiple Division II hoops programs as a member of the class of 1999.
But McCollum was chasing Division I dreams and elected to go the JUCO route, spending the first two seasons of his collegiate career at North Iowa Area Community College in Mason City, Iowa. He earned all-region honors as a freshman and a sophomore but didn't receive the traction he'd hoped he would on the transfer wire. McCollum chose to attend Division II Northwest.
"(I) ended up on a partial scholarship, actually, I think it was a $3,000 scholarship here at Northwest," McCollum said. "I went from fulls to a $3,000 scholarship to Northwest, but they won. Then I came here, and I didn't play as much as I would have liked."
In terms of playing time, McCollum's residence at Northwest was not what he wanted it to be. But the time McCollum spent on the Bearcat bench paid dividends, McCollum said.
"I learned this probably the hard way when I came to Northwest Missouri State: when I came, my first I think three or four games, I didn't play a second," McCollum said. "I didn't play a second ... and then kind of had to work my way in and play a little bit and still didn't play the minutes I would have liked."
The experience gave light to something McCollum had never gone through before. To him, the concept of not playing was foreign. He had been a lot of things in high school and at North Iowa, but he had never been a benchwarmer.
To McCollum's surprise, not playing was, in some ways, harder than being a starting guard.
"I learned the importance of those guys that don't play a lot because that's a heck of a lot harder to do than playing 30 minutes a game," McCollum said. "You can, as somebody that doesn't play a ton, you can take a team down really, really quick."
It's the reason McCollum so often credits players like senior Dray Starzl and junior Daric Laing, who average less than seven minutes a game, for their ability to remain positive. Externally, McCollum said, it seems easy. But it's easier said than done.
"No one from an outside perspective understands that you're keeping a good attitude, because it's like, 'Well, that's what you're supposed to do,'" McCollum said. "Well, try it. It's not that easy."
Through his time as a Bearcat, of course, McCollum met Steve Tappmeyer, the Missouri Sports Hall of Fame coach he would later replace.
McCollum described how lucky he is that he got to work beneath and alongside Tappmeyer at Northwest, but the good fortune extends both ways, Tappmeyer said.
Tappmeyer and his staff didn't do all their homework on McCollum when they took him on as a transfer from North Iowa. They knew he was a good basketball player, Tappmeyer said, but they didn't really know much about his character.
"We probably got a little bit lucky," Tappmeyer said.
McCollum panned out. His play was never in doubt, really, but he had all the intangibles Tappmeyer wanted in his players. He was diligent, he worked hard, and he was a great teammate.
One day in McCollum's two-year tenure as a player, he came down with the flu. Knowing that if he told Northwest's trainers about his illness he would likely be held out of that day's practice, McCollum drove himself to the hospital and got an IV so he could participate.
"That was something that afterward I looked back and thought, 'God, how many guys would have done that?'" Tappmeyer said.
Despite McCollum having all of the intangibles, Tappmeyer never really viewed him as a coaching prospect. The reasons were simple: he was a finance major with a post-graduate job lined up at Wells Fargo, and he seemed to have everything planned out.
McCollum was never on Tappmeyer's radar, the Hall of Famer said, until one day, well-after McCollum's senior season came to an end, he walked into his coach's office with a change of heart.
"He walked in and said, 'Coach, I've been thinking it over, and I want to, I want to be a coach,'" Tappmeyer said. "And first of all, with as good of a student and everything with his degree, I thought he was crazy. So I was like, 'Hey, if you want to do this, we'd love to have you.' We knew he'd be good at whatever he did. And he did it, and evidently, it was the right choice."
After four years of pursuing his degree, McCollum essentially decided to throw it out the window. Further, Tappmeyer had already filled his graduate assistant spot for the upcoming season, so McCollum served as a "volunteer assistant," paying his own way along.
First, McCollum had to make a phone call to Kansas City, where his now-wife Michelle had moved to be with him.
"So instead of making money, I spent money, and I think I'm still paying off some of those loans," McCollum said. "My soon-to-be-wife at the time, when I called her and said, 'Hey, I think I might want to pay for my own way,' ... She probably doesn't like to talk about this story, but that didn't go over so well, but we're still married, and so, that's fantastic. And Tapp thought I was crazy too. But yeah, now I'm a basketball coach."
On the surface, McCollum's forgoing of the start of a promising career in the finance industry seems to border between illogical and foolish. But for the Iowa native, the choice was rather simple. It came down to who he was, not who everyone thought he would be.
"I wanted to make an impact, and I felt like that was the best way to do it," McCollum said. "I felt like I could really make a difference in kids' lives and kind of make, essentially, the world a better place by being a coach. That's why I chose it — not to win games, not to accomplish any of that stuff, but literally to make an impact on these kids' lives."
At some point in Kansas City, near the beginning of his journey into the world of coaching, McCollum made a list with his wife. Ben and Michelle wrote down some life goals, one of which pertained directly to his basketball career.
McCollum wanted to be a head coach at the Division II level by the age of 27.
To do that, of course, he had to be an assistant first. That's what pulled McCollum away from the best coach he'd ever known in Tappmeyer, to the best offensive mind he'd ever meet. That's what took McCollum to Emporia State.
---
David Moe, the son of former NBA coach Doug Moe, was the head coach at Emporia State when McCollum was in his second year working under Tappmeyer, this season, as a true graduate assistant. Emporia was set to play a team in the Hillyard Tip-Off Classic that the Bearcats had played the week before, and Moe wanted the scouting report of the team from Tappmeyer.
McCollum happened to be the assistant that scouted the particular team, making it his job to fill Moe in.
"He actually drove up and Tapp said, 'Ben's got the scout, he'll meet you up there and give you some of that information,'" McCollum said. "So I met David Moe that day, and he said, 'Hey, give me a call once you're done as a GA; I know some people.'"
Moe, who spent a decade coaching the Hornets, knew the day he met McCollum that he wanted to hire him on his own staff.
"When I met him, I liked him," Moe said. "His work ethic and everything kind of stood out, but then, bringing what he was bringing from Northwest Missouri made it that much more of a bonus. So, yeah, 99 percent yes (I knew I wanted him that day)."
McCollum came with a sterling recommendation from Tappmeyer and a reputation for preparedness that preceded him. Every preconceived notion Moe had of McCollum was confirmed before McCollum's interview for an assistant coaching position even started.
"One of my players was in my office when Ben came on his interview," Moe said. "We were sitting there talking, and I told the player, I said I guarantee — it was about, I don't know 15 to 20 minutes 'til (McCollum's) time was to show up for the interview — and I said, 'I guarantee you can go out there and drive around that parking lot, he's sitting out there somewhere waiting for the right time to come in.'"
McCollum had to make the nearly-three hour drive from Maryville to Emporia and didn't want to risk being late for the interview.
"He said, 'Don't dress up,' and of course I'm going to dress up, so I dressed up," McCollum said. "I walk in and he starts laughing at me and he says, 'What are you dressed up for?,' and he goes, 'How long were you in the parking lot?' About a half hour or 45 minutes. He just lost control, just hysterically laughing."
The instance defined McCollum's work ethic both then and now. In some ways, his tenacity has been the calling card of his career, so much so, that as Moe told stories about McCollum's time at Emporia, he intended to leave his unrelenting passion out of it.
"The positivity and the energy — you know, the energy he always brought every day, the enthusiasm and contagiousness — all those positive attributes go without saying," Moe said. "There's no need to mention those."
In his time at Emporia State, McCollum served effectively as the Robin to Moe's Batman. McCollum brought with him from Northwest and Tappmeyer a set of distinctive intangibles. He knew basketball well, but what he thrived on was his ability to connect with people.
McCollum complimented Moe well. He described Moe as one of smartest "basketball minds" he had ever been around, while Moe said McCollum had traits that most coaches simply don't.
"He has all the intangibles that I didn't have or didn't care to have," Moe said. "He's a likable guy, and he does it the right way. There's a book on the right way to do things, the right way to treat people, the right way to act. There's a code… and I think Ben has always lived his life by that code."
McCollum reaped the benefits of Tappmeyer's coaching style for years, both as a player and a coach, and he picked up offensive schemes and cues from the mind of Moe. Tappmeyer, Moe and McCollum all knew that after four seasons at Emporia, McCollum seemed ready to coach his own team, he just needed the opportunity to do so.
---
Former Northwest Director of Athletics Bob Boerigter wasn't expecting Steve Tappmeyer's resignation and ensuing retirement to come as soon as it did.
Boerigter and Tappmeyer each knew that it would come sooner than later, but when the Hall of Fame coach decided to end his Northwest career slightly earlier than planned in March 2009, Boerigter had to find a replacement sooner than anticipated.
Boerigter and company knew there would be an oversaturation of applications for the position, so they started hunting for the Hall of Famer's replacement as if they had zero. They compiled a list of potential candidates, many of whom were from Tappmeyer's coaching tree, and they started making phone calls.
It was an open secret at Emporia State, Boerigter said, that Moe was nearing retirement as well, and McCollum was all-but-guaranteed to take over when he did. Still, Moe and Tappmeyer each did everything in their power to push McCollum's name toward the top of Boerigter's list.
"I mean, if he wanted that job it was going to be his job as soon as I left," Moe said. "But under no circumstances would I have tried to stop him from getting that job at Northwest or even convince him in any way. I think as the MIAA is learning, he was the best hire."
Tappmeyer felt similarly. He considered reaching out to McCollum when he had an assistant opening a few years prior but wanted his former player to have the best chance possible at landing a head coach job — be it at Northwest or Emporia. He did what he could in his final days at Northwest to put McCollum's name at the forefront of Boerigter's search.
McCollum, of course, was already on Boerigter's radar. After getting permission from Emporia to move forward with an interview, the athletic director called McCollum on a Tuesday night, setting up a meeting with him scheduled for the following Thursday morning in Kansas City.
"We interviewed three people that day in Kansas City, and he only had (roughly) 24 hours to prepare for that," Boerigter said. "He was so incredibly impressive … I came home that night and I said to my wife, 'My goal is to find somebody better than Ben McCollum.' We couldn't. I was convinced that he was the guy."
The decision was met with mixed reactions. The public, Boerigter said, was fine with the decision, which he chalked up to the loyalty of the Northwest fanbase. Privately, the narrative changed.
Boerigter received a lot of flak for his decision from higher-ups and those with influence in Northwest's community. Boerigter interviewed a number of battle-tested veterans for the position, some of whom had coached the game longer than McCollum played it. To many, McCollum's hiring was questionable at best.
"It was one of the two most unpopular decisions I ever made," Boerigter said. "I took a lot of grief over that. We were replacing a Hall of Fame coach. I got calls from people of importance saying, 'I don't understand. You're taking a guy with no head coaching experience to replace our Hall of Fame coach.' But I was just convinced he was the right guy."
Looking back now, McCollum considers himself lucky. He wonders how many athletic directors would have been so indifferent to outside opinions as Boerigter was when he made the choice.
"You don't see that happen (very often)," McCollum said. "You don't see a guy that is comfortable enough in his own skin to make that kind of decision because that's what he felt like was right. And I was lucky that he was the athletic director at the time and hired me."
It's difficult to determine how many athletic directors or hiring committees would have made the same call Boerigter did. But it ultimately doesn't matter. Boerigter was the right guy seeking the right guy, and McCollum was announced as Tappmeyer's replacement March 31, 2009.
McCollum was the second youngest head coach in Division II basketball when he took over the program. He was 27 years old.
Boerigter knows how good McCollum has made him look for the last 10 years, coaching his way to seven MIAA titles and five MIAA Coach of the Year awards. Moe and Tappmeyer can't help but feel proud. They all hoped he'd be good, and perhaps they even knew he would be. But none of them thought he'd be this good.
"I thought he had a chance to be really good; he was obviously a smart guy, and he loved the game," Tappmeyer said. "But I don't think anybody could see any coach getting to the level he's gotten himself to at this point. What he's done at Northwest, at any level of basketball, it's hard to compare it to what anyone has done."
Like most, McCollum's success story didn't come without hardships. In fact, it nearly didn't come at all — at least not at Northwest.
---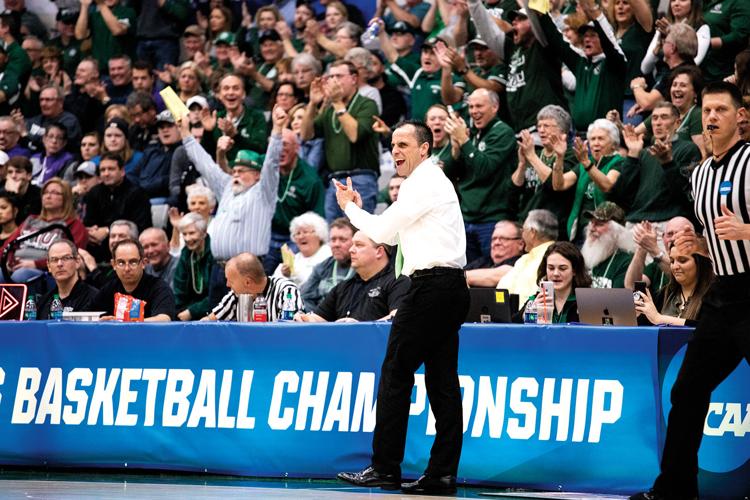 McCollum's career as a head coach at Northwest didn't get off to a fairytale start.
The Bearcats went 12-15 in McCollum's first season at the helm, finishing ninth in the MIAA. The following year, things got worse. The Bearcats finished McCollum's second season at 10-16, leaving his job security in question.
Still, midway through that dreadful campaign, things began to change.
More than halfway through McCollum's second year, Northwest found itself at 4-12, limping its way toward a matchup with Fort Hays, who at the time, was the best team in the conference. McCollum noticed the week before how frustrated he found himself at times, and he believed his attitude was rubbing off on his players. He decided to make an adjustment.
"We changed some things," McCollum said. "The day before (Fort Hays), we completely changed our offense. And in that game we kind of — I think they might have been up 10 or 12 at halftime — and then (in the) second half we slowly chipped away. And, again, we were in last place, they were in first."
McCollum's Bearcats, playing a top-five ranked team in the nation in Fort Hays, began to battle back.
"I looked up, and I'm like, 'Man, this is like a five-point game,'" McCollum said. "We ended up winning that game at Hays and broke a huge winning streak that they had. So after that I think is when everything changed."
With an adjusted offense and an altered approach, the Bearcats moved forward. Starting with the Fort Hays game, Northwest finished the season on a 6-3 run.

McCollum embraced the offensive schemes he picked up from Moe and epitomized the intangibles preached by Tappmeyer, but in a way, the key to his newfound success was not emulating either coach's style, rather, McCollum just needed to be himself.
"The first year I tried to be coach Tappmeyer, and not myself. And that didn't seem to work," McCollum said. "My second year I tried to be David Moe, and that didn't work. Then the next year, I was kind of like about to get fired and I said, 'Maybe I should just be Ben McCollum; that would be a good deal.'"
Encompassing and embracing his own personality, the high-strung coach marched forward as the Bearcats and his career took off. Northwest won its first MIAA title in McCollum's third season, and the team has won six more since.
McCollum was named the Clarence Gaines National Coach of the Year in 2012 and was recognized as the National Coach of the Year by both the NCAA and the NABC in 2017 when he led the Bearcats to a national title.
Perhaps McCollum's most impressive accomplishment, though, is what he's done this season in leading these Bearcats to where they are now. After graduating the winningest class in program history last spring, McCollum has led a team, starting two freshman guards, to a 35-0 record despite most-everything working against him.
McCollum said he always expected to win, yet even those close to him didn't think the Bearcats would be what they are now, and what they've been all season.
"I'd like to tell you I saw this coming," Tappmeyer said. "Freshman guards aren't supposed to be able to play in the MIAA. That got proven wrong. (McCollum) seemed confident, so I knew they weren't going to be bad, but that was a good senior class that they lost last year; for them to come in and do what they're doing now (is) amazing."
Moe echoed a similar sentiment as Tappmeyer. The MIAA veteran said the league is too tough for anyone to have predicted the Bearcats' ridiculous run.
"He does what I wish my teams could have done," Moe said. "What he's done is amazing. For him to go be 33-0 in that league is amazing to me."
No one expected it, that is, except McCollum.
He's chalked his black-coffee-fueled tear through this season up to the coaches and staff around him, to his players and their parents and, perhaps most often, to the program's culture.
But the coach's decision to be himself, to embrace his high-strung, demanding-yet-relaxed personality, is what has guided Northwest to the Elite Eight, knocking on the door of another national title.
McCollum's choice to be Ben McCollum is what has led him to where he is, and what seems destined to lead him forward.
"I never expected it to be like this," McCollum said. "But I always wanted it to be."