Northwest football's Marqus Andrews, whenever it might be or however it might happen, hopes to be on an NFL roster by the completion of the 2020 NFL Draft weekend.
Everything leading up to the draft, including the novel COVID-19 pandemic, has shaped the manner in which Andrews approached one of the biggest weekends of his life. In this instance, for anything other than the better.
"It's been pretty tedious, honestly," Andrews said. "Starting off, I was working out five days a week, going to see a chiropractor weekly just to make sure my body stays right, getting treatments that I needed on my body. Once the pandemic happened, it's just a big waiting game at this point."
"Like, I couldn't go to my pro day, I couldn't go show what I can do to scouts who were gonna be there," Andrews said. "I think there were like 20-or-something confirmed scouts were supposed to be there. … So that was frustrating. It's just all a big waiting game — it's tough."
Playing at a Division II program, even if it's one of the winningest programs in the country, puts athletes at a disadvantage compared to those that grace the Division I ranks — it's the nature of the business. Of course, there's the occasional outlier, but it's seldom.
The coronavirus handcuffed Andrews when faced with a situation in which he could've received a seventh-round draft grade. Multiple teams, he said, let him know that he was tiptoeing the line between being labeled as a priority free agent and being labeled as a late-round pick.
The inability to participate in his pro day, he said, was the difference.
"Coming from a DII school, obviously, I feel like … if you're talented then scouts are gonna come find you," Andrews said. "Coming from a DI, you have exposure on national television. … I feel like scouts are more likely to go with someone like that instead of a DII guy."
Andrews was a four-year starter as a tight end at Northwest. In his career, he compiled 638 yards and 11 touchdowns on 51 receptions. In some games, he was a focal point of the game plan, such as last season when his three touchdowns pushed Northwest past Pitt State in Arrowhead Stadium.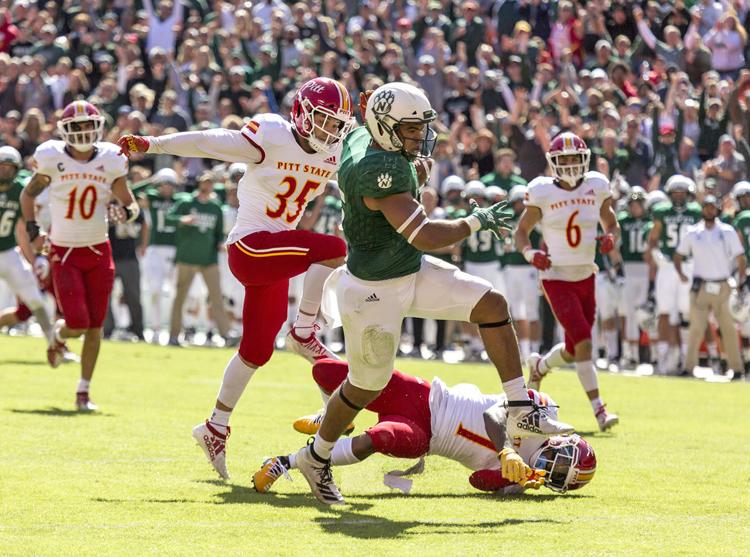 In January, he made a trek to Fort Worth, Texas, to participate in the College Gridiron Showcase. The annual event is one that allows small-school players the opportunity to display their talents to NFL scouts. Once there, scouts told Andrews that his 6'2" build was perhaps not the ideal build to play tight end in the professional ranks.
Instead, he said, he was moved to working out with the fullbacks. It, of course, isn't his primary position, but it's one that Northwest featured him in at times. But, he said, he never thought that'd be where he'd play should he reach the NFL.
"Honestly, there was a lot of competition down there," Andrews said. "That's kinda how I got to gauge myself against that competition. … It was a good experience for sure."
Andrews is going through this process with former teammates Justin Rankin and Isaiah Strayhorn. All three have remained in contact throughout all of this, despite Strayhorn being home in California and Ranking returning home to Ohio while Andrews is in Blue Springs, Missouri.
Even though they're going through it together, Andrews knows that his path is a little more difficult.
"They're running backs," Andrews said. "So, every team uses a running back. Obviously, not every team uses a fullback. So that's why our processes are a little different."
Andrews could be drafted in one of the late rounds, or he could be waiting for a call shortly afterward. He'll be watching the third day of draft coverage at home with his family. Despite when or who might call, he'll be ready for it — after assuring it's the one he's been waiting for.
"First of all, I'll see who it is," Andrews said. "The thing I noticed is, scouts — they're from all over — so the other day I got a call from Atlanta, Georgia, and was like, 'Oh, maybe the Falcons or something?' But no, it was a Detroit Lions scout trying to get my information. I was like, 'What the heck?' … I don't know; it'd be pretty crazy. I think any call during that time gets your mind and heart racing a little bit."