Working three jobs right after graduating college might seem a little excessive to some, but not to Trayvon Taylor.
Taylor, a Chicago native, moved to Maryville during the summer of 2017, when he was a sophomore in college. He transferred to Northwest from Heartland Community College in Bloomington, Illinois, because one of his older brothers was a recent alumnus.
Being new to small towns, Taylor quickly adapted to the environment. Taylor graduated from Northwest in the fall 2019 with a bachelor's degree in organizational communication.
When he moved to Maryville, Taylor applied at Aramark, a food company that runs through the J. W. Jones Student Union, to ensure he would have enough money for tuition and the other financial nuances that college life brings to students. Taylor didn't plan on staying in Maryville after graduating, but things took a turn.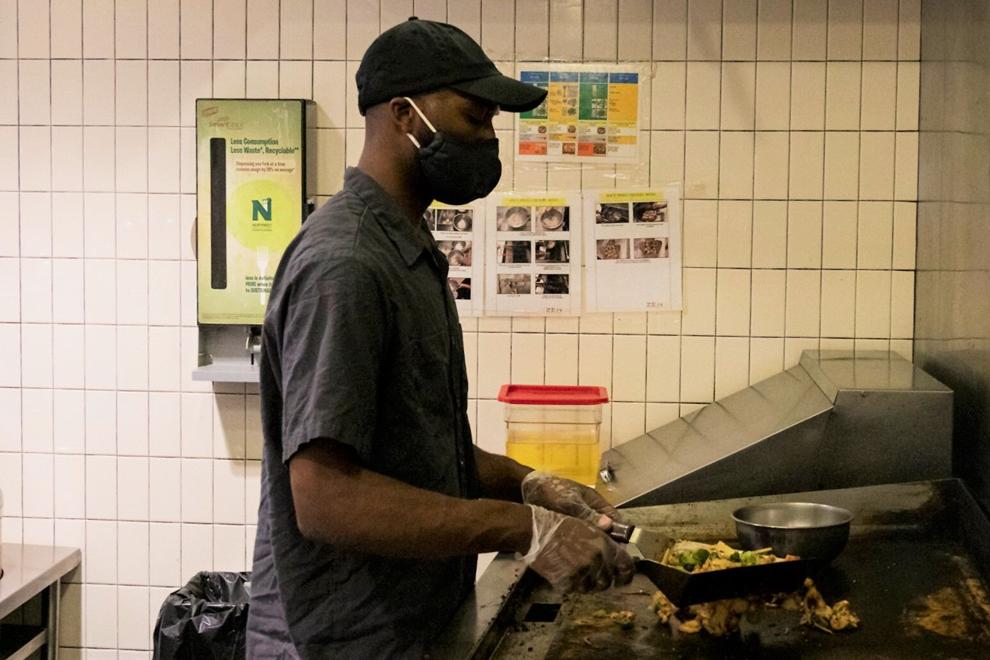 In addition to his job with Aramark, Taylor took on two more jobs after he graduated to make sure he could save enough money to move to Kansas City, Missouri, comfortably.
"Maryville has offered me the opportunity to grow and prosper in so many different ways," Taylor said.
Taylor moved to Maryville on his own will, wanting a fresh new start and opportunities to meet new people. He periodically visited his brother when he attended Northwest before his brother graduated in 2014. Taylor enjoys the company of himself and not having to rely on anyone.
"This allowed me to mature by not having any dependency on my parents for financial obligations that I may have needed," Taylor said. "This allowed me to realize it's just me in this world, so it's do or die."
DeAngelo Johnson, commonly known among his peers as "Coffee," is one of Taylor's assistant managers at Aramark. Taylor and Johnson both manage Chick-Fil-A, Zen and Einstein Bros. Bagels. Johnson has been with Aramark for three consecutive years and has known Taylor for as long as he's been there.
"Tray does his job right the first time, shows up on time or even before his time to clock in," Johnson said. "He's definitely the most reliable and available worker we have seen in a while."
When Taylor gets off work at Aramark, he rushes to the basketball court to help coach boys basketball at Maryville High School. Taylor is the assistant head coach for the boys varsity basketball team and the head coach for the boys junior varsity team.
Taylor played basketball, baseball and football throughout his high school career. He enjoyed playing basketball the most.
"The most notable experience I had with my sports career was when I went all-state for basketball my senior year 2013 at Metea Valley High School," Taylor said.
Taylor wanted to continue his basketball career, either playing or coaching. When the offer to coach high school came into the picture, he was more than thrilled to be a part of it.
Matt Stoecklein has been coaching basketball at Maryville High School for 18 years, spending the last seven years at the helm of the program as head coach.
"Tray brings a lot of energy to the court as an assistant coach," Stoecklein said. "He doesn't mind going and doing his own thing with his JV team."
Taylor and Stoecklein work hand in hand when coaching the basketball team.
"The other day, I had a group that's at a certain basketball skill level, and he had a group that's at a different basketball skill level," Stoecklein said. "He took it on his own to adjust the practice plans because he had a group that just wasn't ready for what we were doing yet."
Taylor's plan is for everyone to achieve greatness. By doing that, he ensures that nobody is left behind or confused, whether that's on or off the court. Taylor plans on pursuing a new coaching position in the near future.
"I eventually want to start my own Amateur Athletic Union travel basketball team," Taylor said. "This organization is designed to promote and develop amateur sports and physical fitness. Here, kids get the opportunities to display their abilities and talents for collegiate teams."
While Taylor is off Aramark's clock and off the court, he can be found at his third job. Mostly on the weekends, Taylor works at the Cobblestone Inn and Suites, where he folds laundry and greets customers as they walk in.
Taylor has been at the hotel for nearly eight months and enjoys the extra money. He works night shifts at the hotel, logging about 18 hours a week.
"I enjoy working at Cobblestone Inn and Suites. It's doable, and it's good money for my savings account." Taylor said. "I don't really need it, but I keep it so I have enough money saved up for when I move."
The former all-state basketball athlete doesn't have much free time. With the little free time he does have, he enjoys to sit back and relax with friends.
"With the little free time I have, I like to sit at home on my couch and play video games like Madden 2020 and MLB," Taylor said.
Taylor hopes this is just the beginning of his long career. He knows that hard work will always pay off — whether it be as a coach, manager, greeter or in his savings account.