EVANSVILLE, Ind. — Northwest men's basketball was never supposed to be here. 
The Bearcats watched last season's title run crumble due to COVID-19 halting the world of sports, and they weren't sure if they'd be able to play this year either, at least not until the MIAA announced Oct. 1 that a 22-game, conference-only season would take place. 
After battling through the gauntlet that is the MIAA, the Bearcats were three minutes away from having their season ended courtesy of Northern State in the Central Region Championship. Northwest trailed by 11 points with 3 minutes and 4 seconds left before battling back to defeat Northern in overtime. That win punched their ticket to the Elite Eight for the third time in five years. 
The Bearcats beat West Liberty 98-77 in the Elite Eight March 24. The Bearcats defeated third-seeded Flagler 77-46 in the Final Four March 25. And the second-seeded Bearcats took down top-seeded West Texas A&M 80-54 in the National Championship March 27, which secured the program's third national title. 
That's where they are now — not cutting down the nets inside of the Ford Center, but, once again, at the pinnacle of Division II basketball. 
"It's a great day to be a Bearcat right now, that's for sure," Northwest senior forward Ryan Hawkins said during his virtual press conference after the beatdown of the Buffaloes in the title game. "The feeling never gets old."
"It was probably the most difficult one," said Northwest coach Ben McCollum, who has been at the helm of the program during all three national titles. "Just in regards to handling success, the emotions of COVID, the emotions of last year — all of those different things — it made it really difficult."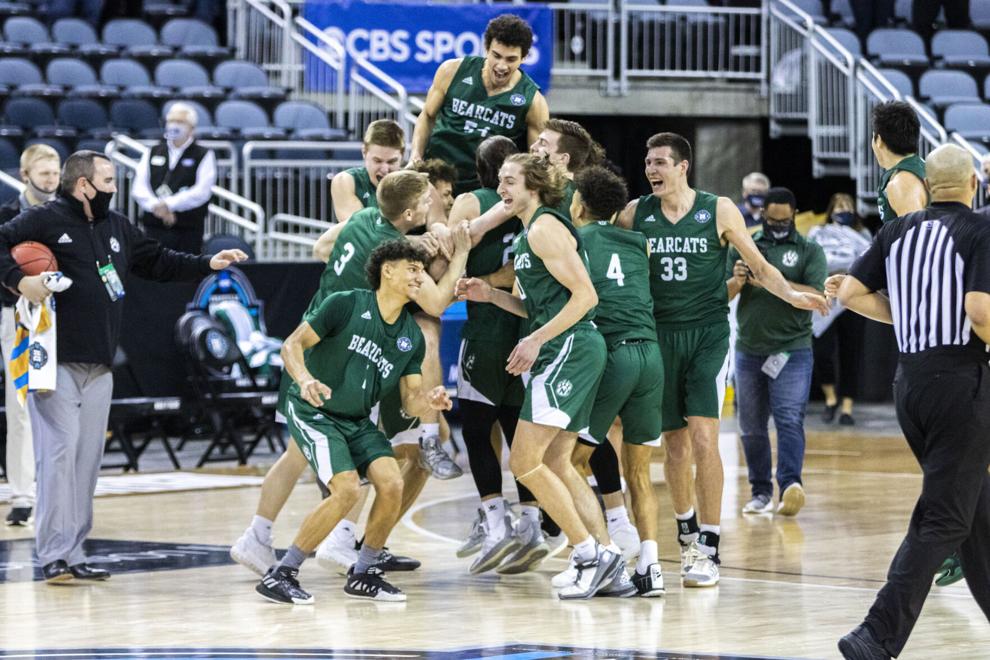 The Bearcats (28-2) had a 23-day period in December in which they were in quarantine due to COVID-19 issues within the program. That, of course, didn't set them too far off track for their latest national title run, as their beatdown of the Buffs (19-3) made them the first team to win back-to-back national titles since Cal State Bakersfield in 1993-94.
They only had a couple of days of practice before defeating Northeastern State 74-55 Dec. 31. It was a culmination of moments like that, McCollum said, that willed the Bearcats toward hoisting the most coveted trophy in Division II basketball. 
"It makes it a mental grind. It's a mental grind," McCollum said. "I said at the beginning of the year that the team that was going to win this was the toughest, mentally."
"We had to find a way to stay in shape. We were outside shooting in December in Maryville," Hawkins said. "There were days where it was cold, but we still had guys, individually, that went out shooting."
As difficult as the entirety of the season was, every game Northwest played in Evansville, Indiana, seemed to be the complete opposite. The Bearcats outscored their opponents 255-177 during their final three games of the season, which is the largest victory margin for a team throughout the three Elite Eight games (78). 
Hawkins was at the forefront of all three of the victories, averaging a double-double throughout the postseason with 25.8 points and 10.4 rebounds per contest. He tallied 31 points and 18 boards in the title game, which capped off his run of individual dominance and led to the senior being named the Elite Eight's Most Outstanding Player. 
He had 15 points and 10 rebounds at halftime, which made him the first player to have a double-double in the National Championship since 2017 — when former teammate Chris-Ebou Ndow did it in the program's first title-game victory. It was the 30th of Hawkins' career.
"Yeah, he's a pretty good player," said McCollum, who recruited Hawkins from Atlantic, Iowa. "He puts a lot of work into it. … He got on at the right time and that helped us quite a bit."
Hawkins wasn't alone, though, as sophomore forward Wes Dreamer tallied 19 points and 11 rebounds for the third double-double of his career. 
Hawkins and Dreamer personified the dominance Northwest displayed for the entirety of 40 minutes. They knew it'd be like that when the ball was tipped, mostly due to the Bearcats' size advantage over the Buffs. 
"I felt like through the first possession we knew we would be able to control the game and take what we wanted," Hawkins said. "Under 10 minutes left in the game, we knew they were going to try and make a little push there … kind of thought it was over then." 
To start his postgame press conference, McCollum — who had just won his 300th game — assured everyone in attendance that the Buffs didn't have anything to hang their head on. The 12th-year coach was near the lowest of lows before rising to where he is today. 
McCollum went 22-31 in his first two seasons at Northwest, which were his first ever years as a head coach. The rest is history. 
"I think, sometimes, you have to suffer a little bit to improve," McCollum said. "Those first two seasons, I suffered quite a bit. I think in order to really reach some type of pinnacle, I think there needs to be some of that."
"That team is not a Division II team," West Texas A&M coach Tim Brown said after the 26-point loss. "That team, I think — this is just my observation — I think they could beat half of the teams in Division I, and I think they're actually in the wrong tournament. I think they should be in the Division I tournament this year — they're that good."
McCollum doesn't care about his own personal accolades, though. He isn't too concerned that he's won 300 games in 12 years. The 300th means as much to the coach as the first, which came Nov. 16, 2009 in a 105-55 triumph of Manhattan Christian College.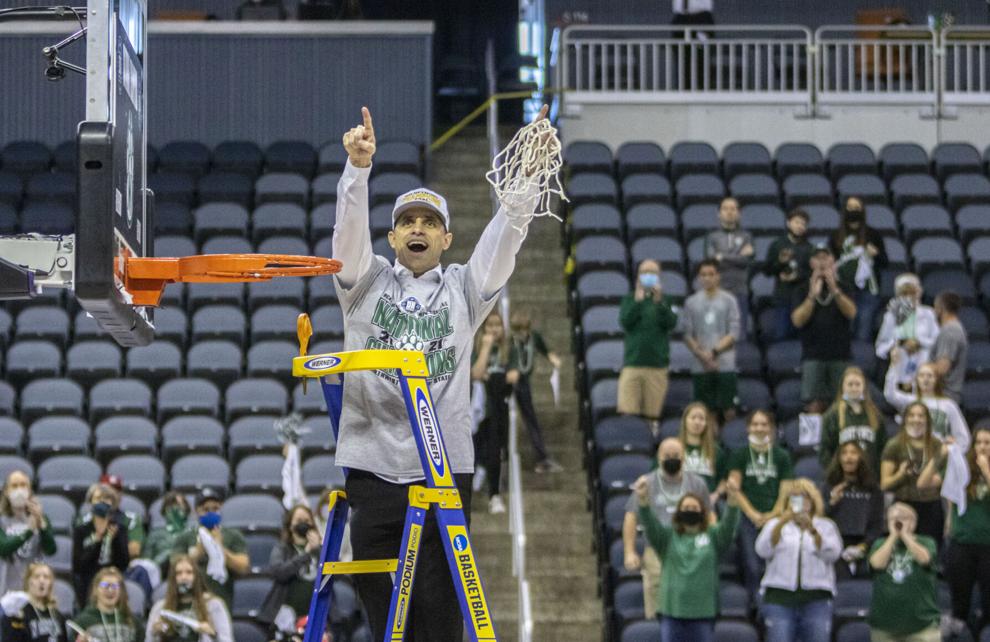 He's more so concerned with building the program, still, even though the Bearcats are 97-3 over the last three seasons. 
"I think it just goes to show the eliteness that he is as a coach," Hawkins said while donning his newly-acquired, celebratory National Championship hat and shirt.
This season wasn't an outlier, either. The Bearcats' dominance isn't something they're unfamiliar with. 
In the last five seasons, Northwest has captured five MIAA regular season titles, four MIAA Tournament titles, three national championships and a record of 159-8. The Bearcats' latest run is one that'll go down as one of the best in Division II history, at least McCollum thinks so. 
"I don't think there's been many better, if there is any better," McCollum said about the Bearcats' sustained success. "It's pretty unbelievable — unprecedented, really."