Prior to Maryville football's Week 3 game against Chillicothe Sept. 11, the program honored 14 seniors who are now competing in their final season as a Spoofhound.
Only one of them was honored while in a wheelchair.
Ben Walker came into the 2020 season expected to be the quarterback primed to lead Maryville's offense for the third consecutive year.
During the first half of Maryville's season opener against Blair Oaks, Walker suffered a leg injury that left his status for the remainder of the season hanging in the balance.
On the morning of Sept. 10, Walker underwent surgery to repair a torn ACL.
The next day, he was in attendance to wheel his way across the audience he played in front of for the three seasons prior.
"His team's important to him," Maryville coach Matt Webb said about Walker after the Spoofhounds' 62-7 dismantling of Chillicothe. "He just had surgery yesterday, and 24 hours later, he's here with his teammates. Again, it's just a good example of what type of young man he is and the character he has."
Perhaps the biggest honor of the night's festivities didn't present itself in the form of cheers from the crowd, an escort from his family, or even hearing his name and future goals over the sound system at the 'Hound Pound.
But instead, Walker was honored by senior running back Connor Weiss exchanging his usual No. 4 jersey for Walker's No. 2.
"Seeing him in that wheelchair was just really depressing," Weiss said. "He's our brother. We've played with him since third grade. It's terrible to see him not be able to play. So, it's an honor to be able to wear his jersey and play in honor of him."
"We talked about it before the game, I thought it was a great idea," Webb said of Weiss's choice. "These guys love each other. That's just an example of, you know — I don't know if it's like that everywhere, but it sure is special here."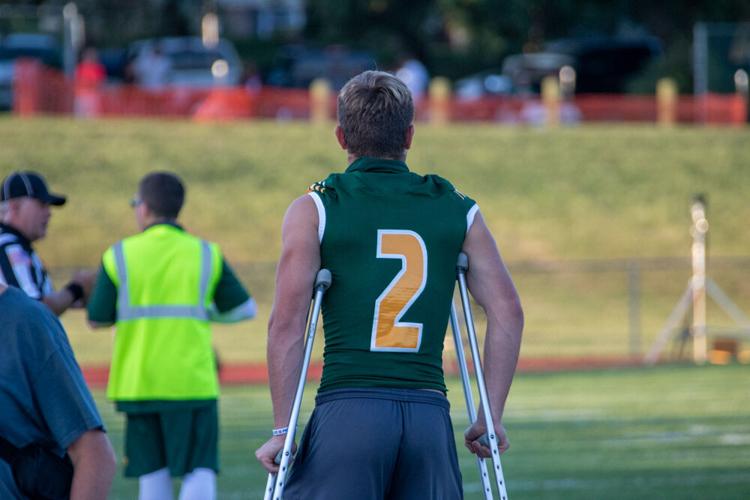 Weiss didn't play in Maryville's first two games of the season after sitting out due to COVID-19 related issues, making the game against the Hornets his season debut. And as the Spoofhounds faced a 7-point deficit late in the first quarter, Weiss found the end zone from 21 yards out. A failed extra-point attempt kept Chillicothe ahead by a lone point.
Two drives later, specifically the one after senior running back Trey Houchin gave Maryville the lead, Weiss scored again. The second of his scores in the game came via a 27-yard rush through the thick of the Hornets' defense, one that gave Maryville a 20-7 lead with 2:23 left in the second quarter.
The nightcap of Weiss's hat trick occurred when junior quarterback Connor Drake, Walker's replacement, connected with the running back for a 23-yard catch-and-run score.
Weiss's debut, and seemingly effective tribute to Walker, ended with the senior tallying 138 yards rushing with two touchdowns on eight carries, along with the efforts receiving.
"It feels great to actually get it done," Weiss said about the victory against the Hornets. "It's an honor to be able to represent (Walker) in such a fashionable way."
"He's a great athlete, and a better friend, so I wasn't shocked when he had the game he had," Walker said about Weiss. "But I was proud of him coming out for his debut and putting up the numbers he did."
Walker, despite being the obvious focus and motivation of Weiss's action to exchange jerseys, was clueless of the gesture.
"I had no idea about any of the jersey deal," Walker said. "But when I wheeled up and saw No. 2 out there, it hit me pretty hard and showed how good of friends we all are. But it just felt good."
And now, with Walker likely out for the season, Weiss and the senior class is down a member that was there since the beginning. The chances of Weiss strapping up the pads alongside Walker again are slim.
Weiss's decision was one that honored not only a teammate, but someone who has played a significant role in his life for most of it.
"It means a lot to me," Weiss said about his tribute to Walker. "Ben's been one of my day-ones since way back in the day. There's a lot of love."
"It's pretty emotional," Weiss said. "But it's great — just an honor. It's amazing, especially when you get to ball out for your brother."