Hey there, Chiefs fan. If you've been living under a rock, or just now hopping on the bandwagon, then you might be unaware that the Kansas City Chiefs, for the first time in a half-century, are going to the Super Bowl.
It's not my job to judge you when you became a Chiefs fan. Whether it be when Elvis Grbac was trying to make things happen or Tyler Thigpen doing whatever he did, I feel for you, that's all I'm saying. Or perhaps if you were a part of the Alex Smith Fan Club (I hope that's an actual thing), or if the only quarterback that you've ever known is Patrick Mahomes, I'm here to say: Congrats.
Ohhhhhhh man 🚀 pic.twitter.com/iZ1MjJseTj

— Kansas City Chiefs (@Chiefs) January 21, 2020
As a Denver Broncos fan, I have no dog in this fight, Super Bowl LIV, that is. I know plenty of people that do, however. I was fortunate enough, thanks to my sister and brother-in-law, to attend the AFC Championship game against the Titans. That, I might add, is one of the coolest experiences that I've been a part of.
I was there to witness Mahomes' 27-yard scramble for a touchdown. The Tyrann Mathieu hit stick on Corey Davis. The dagger that oh so delicately dropped into the hands of Sammy Watkins.
Those moments, and a whole season worth of moments prior to the hoisting of the Lamar Hunt Trophy, lifted a weight that had sat on top of the organization, fan base and city, for years.
A win, with under two minutes left and an 11-point lead, was sure. The dream that everybody in the organization had pictured, for what probably feels like forever, came to fruition once Frank Clark knocked down Ryan Tannehill on the final fourth down. That play, in that particular moment, with a trip to the big time on the line, meant more to the city and organization than the other 49 years combined since beating the Vikings in Super Bowl IV.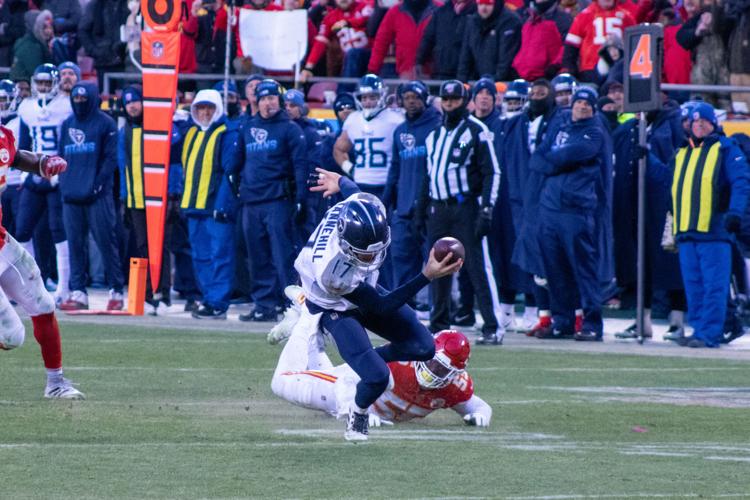 Chiefs fans live all over the country — actually, all over the world. Whether it be the state of Missouri, Kansas, Nebraska, Maine or California, there's a state that Chiefs fans have resided in for the past 50 years: despair.
Every quarterback struggle, every offsides penalty, every Tom Brady scoring drive, those are all washed away. Those moments, for Chiefs fans, are what you see through a jaded lens. But now, with 2020 vision, if you will, there's one sight still in mind: hoisting the Lombardi Trophy.
With that being said, do just that. Go conquer that team from California. If you're reading this, you more than likely have no effect on the outcome of a game that will be played in Miami. But don't let your confidence, your hope and your support waiver if the big game appears to be a little too big for the Chiefs at first.
I would love nothing more for lifelong fans to experience a win on the grandest stage of them all. It's something that everybody should experience in their lifetime. This opportunity, for players, coaches and fans, is truly once in a lifetime — don't lose sight of that.
It's not every day that you get to wake up and find your team AFC Champions. When you woke up Jan. 20, that was the case. Cherish it. Love it. Relish it.
One thing that I'll leave you with, from a sincere fan of your division rival: How about those Chiefs?
Congrats, Kansas City. Won, not done. Now bring it home.