Five aging men walked off the turf field, away from the bright lights of a high school football stadium, down a hill and toward a blue and white shed in desperate need of a paint job. The dimly-lit building served as a makeshift locker room for the group, tucked behind a football field in Harrisonville, Missouri.
The group's location on this particular Friday night, Sept. 6, didn't really matter as the men entered the shed, unplugging their walkie talkies and beginning to strip off their zebra-striped shirts. Their venue would be different next week and the week after that. There are construction tools and paint buckets in one corner, old couches in another, a pair of minifridges in a third corner offers the only sense of accommodation.
The five men talk amongst themselves as they rehydrate and undress. They sip red Gatorade and try to come to a consensus on a controversial call they made earlier in the evening. The group had just finished officiating an MSHSAA football game between Harrisonville and Maryville High School in Week 2 of Missouri's season.
They talk about questionable calls, about coaches who think they know more than the group of men, about how tired they are. They've got another game next week and the week after that. They've got a whole season together.
But right now, as the men tuck their black and white officiating hats into protective cases, they're not thinking about next week or the rest of the season. Steve Rupert isn't, at least. At 71 years old, with 35 year's experience in the perpetual grind of officiating, Rupert is thinking about how he feels.
"Exhausted," Rupert says.
Officiating high school football isn't easy work for young men. Rupert, an umpire, and Chris Mack, the referee heading Rupert's officiating crew, know that it's even harder for old men, though that's the age group that accounts for high school officials in the state of Missouri across all sports, 60% of whom are over the age of 55. Less than a third of the state's officials are between the ages of 30-55. Ten percent are under 30.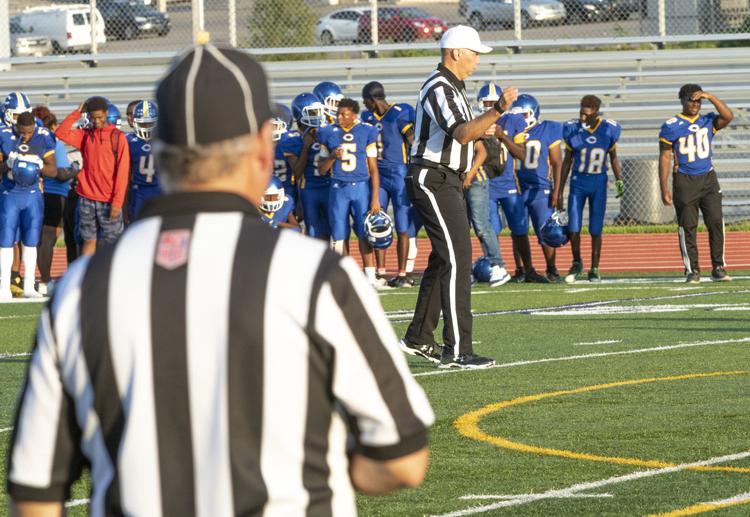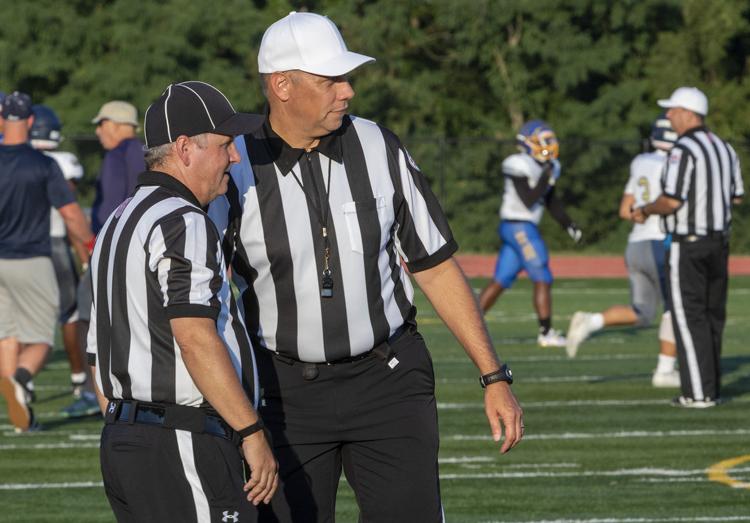 Mack, 53, and Rupert's crew embody the statewide statistic unerringly. Three of the five men that make up the unit have celebrated their 50th birthdays by now, the other two are still in their 40s. Interest in officiating, across football and every other high school sport, has dropped dramatically in the last 15 years.
The decrease in interest, particularly among younger people, coupled with the effects of time, has left Missouri where it is today: at what MSHSAA hopes is the tail-end of a shortage that has threatened the fabric of high school sports in the state.
There wasn't one single cause of the shortage, which first grabbed the attention of MSHSAA and its executives in the last decade. Kenny Seifert, the association's assistant executive director, doesn't think there's one single solution, either.
Seifert said he thinks the root cause of Missouri's officiating shortage lies in both aggressive fan behavior and a society growing accustomed to a lack of consequences, and in the competitive culture of high school athletics and scheduling conflicts that simply disallow young officials to keep at it.
"There are things we can't do anything about," Seifert said. "Things change in their personal lives that don't allow them, from a scheduling standpoint, to officiate. But I think the big contributor are things that are in people's control."
---
"You guys are blind"
In their combined half-century of officiating football, guys like Mack and Rupert have heard it all, though neither have a particularly horrifying experience to tell of — no postgame threat from a fan or overly aggressive game-long earful from a coach. And that's perhaps why they're still showing up at 5 p.m. every Friday, a full two hours early, to prepare for four quarters of continuous running, snap judgments and, undoubtedly, verbal attacks from coaches and fans who nearly always know less than them.
Some officials, like Rupert, ignore the disrespect thrust at them from all directions. MSHSAA and Seifert have identified fan and coach behavior, sometimes characterized as "umpire abuse," as a leading cause in the nationwide official shortage. Seifert is hesitant to use the term "abuse," he said, but MSHSAA is actively trying to solve the problem.
"The behavior of coaches and fans has become a detriment to new people considering getting into officiating," Seifert said. "I think it's becoming more of an issue through time. … I think it's a direct reflection of society."
Rupert and Mack both agree that spectators and participants at the Pop Warner and lower levels of high school football tend to be more egregious in their insults, a trait Mack said is often rooted in unrealized ignorance. At football's lowest levels, neither fans nor coaches really know the rules, yet they complain the loudest for complaining's sake, Mack said.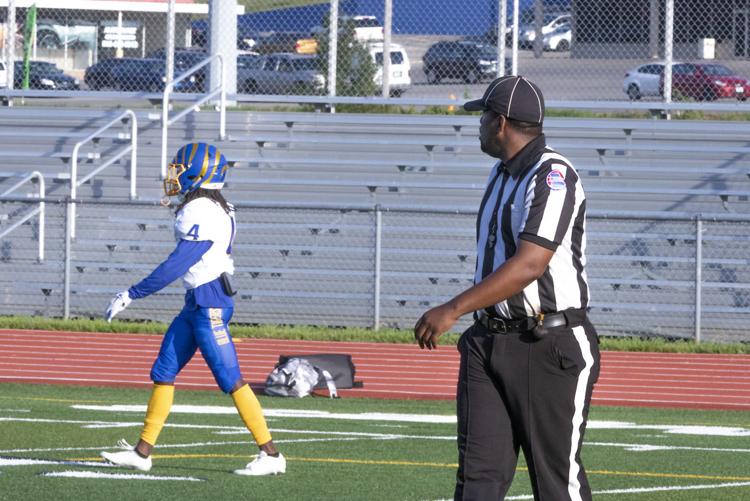 The verbal indignities tossed at generally well-meaning officials are typical, Mack said. He's been hearing the same rude remarks for 13 years. They come a dime a dozen. He's used to it.
"We've all heard fans walking off the field; 'How much do they pay you?' You know, this, that and the other," Mack said. "'You guys are blind.' That's just a part of the territory. I mean, that's just fans being fans."
Kelly Martin is used to it, too. But he doesn't understand it. Martin, who has worked as a sports official in Missouri for 29 years, has a different view. Martin serves in a number of roles for MSHSAA and its affiliated organizations. At 58 years old, he's been reffing basketball for nearly three decades and football for half as long.
Martin, who coached football for more than a decade before trading in his playsheet for a penalty flag, is as seasoned as they come. Beyond the hours he's logged on high school fields sprinkled across the state, Martin has worked as an official in collegiate competition.
Martin serves as a de facto consultant to on Seifert on all-things officiating. He's helped spearhead recruitment efforts. His primary role now is as an assigner for the Northwest Missouri Officials Association, a group accredited by MSHSAA responsible for scheduling umpires and referees to scores of sub-varsity sporting events in northwest Missouri.
Martin is responsible for assigning officiating crews to sub-varsity football in the area, a job he said has grown harder in the last half-decade. He's not convinced it will be any easier in another five years, he said. And he knows why. The explanation is shouted from fans and coaches toward well-meant officials every Friday night.
"You don't boo a kid who fumbles, or throws an interception or throws the ball out of bounds or something like that," Martin said. "Why would you boo a young official?"
The chirps and insults are often enough to drive young, inexperienced officials away, Martin said. They aren't yet equipped to deal with it. The old men have grown accustomed to it. Martin tolerates it. Rupert ignores it. Mack revels in it.
In an officiating world where most referees and umpires claim to be deaf to tossed criticisms and fan taunts, Mack listens to all of it. It doesn't bother him, he said. It's amusing.
"I hear everything," Mack said. "I may have super-sonic ears, but I hear everything. It entertains me. I don't take offense to anything, you know, if somebody's getting on me about it. To me, it's entertaining."
Mack recognizes the official abuse as a growing problem, though, one that's become increasingly prevalent in the last decade or so. Like Seifert and Martin, he sees it as a detriment to MSHSAA's recruitment efforts.
Mack often asks athletes he interacts with, officiating football, baseball and basketball in high schools across Missouri, if they would be interested in becoming officials themselves. He guesses about 3% of the student-athletes he surveys have an interest.
The noted lack of young officials and the seeming disinterest from high school athletes weighs on aging referees like Rupert, Mack and Martin. They're all closer to the end of their careers than they are the beginning. Right now, there aren't enough officials to take their places.
"The concern down the road, of course, is when officials like me get to the point where we don't want to or can't work at a high level," Martin said. "Who's gonna take our place?"
---
"It's going to be a huge issue"
The effects of the nationwide bind have crept to the corner of northwest Missouri and into the cramped office of Maryville High School Activities Director Mat Beu. The number of registered high school sports officials saw a small increase between last fall and now for the first time in a decade.
But Beu doesn't think the increase has been enough. MSHSAA and high school activities directors like Beu, responsible for assigning officials and crews to some sports on their own, aren't out of the woods yet.
"We still need to move the needle a lot further," Beu said.
Seifert hopes the state will be in better shape in five years. Beu isn't convinced. He's seen firsthand the struggles of scheduling five-man crews to high school football games. He used to be responsible for assigning his own crews, a task assigners like Martin have since begun to shoulder.
It isn't uncommon for the best officiating crews, Beu said, to be booked two or three years in advance. Martin said scheduling five-man officiating teams to 11-man varsity football games is probably the most difficult task at an assigner's office. Crews from heavily-populated areas of the state like Kansas City, St. Louis and Springfield frequently drive well-over an hour for a Friday night game.
"Our numbers are growing," Martin said. "But we aren't at the point where we really need to be."
Beu deals with similar hardships in less-populated sports. He said there are only 10 wrestling officials in all of northwest Missouri, booked for every match and tournament throughout the winter season.
The challenges the sparsely-populated region presents are unignorable, and those challenges are what makes Beu's job tough. They existed before the state-and-nationwide officiating shortage took hold. Since then, it's only grown worse.
Pulling officials from more-populated areas from the state has been a common resort for Beu and other activities directors in rural Missouri. But it's an easier sell for some sports than others. For the most part, Beu doesn't often run into problems with sports like baseball or football. Other sports, particularly those that compete on weeknights, present a different challenge.
"You're asking somebody to take off work from their regular employment to make the 90-minute-plus trip to Maryville to officiate a middle school volleyball match," Beu said. "It just isn't realistic."
The uptick in officials, one of roughly 3% in the last year, has helped, Beu said. But the advanced age of what Beu called the "vast majority" of high school sports officials leaves him unsure of what to expect in the coming years.
"It's going to be a huge issue (in five years)," Beu said. "I think from an age perspective, a lot of those guys know — they want to do it, they have a willingness to do it, of course, they have the knowledge to do it — but physically, it's challenging for them.
---
Tackling the shortage
Kenny Seifert is tired of talking about the officiating shortfall in Missouri. It's not that discussing the shortage bothers him, it's that the vernacular used isn't productive to his efforts.
As one of MSHSAA's top officials, and perhaps Missouri's leading man in spearheading the shortage, Seifert is no longer worried about the lack of officials. He's focused on fixing it. He cares more about statistics regarding a potential influx of young prospective officials than he does the fact that most of his crop is aging out.
MSHSAA and Seifert are done talking about it as a shortage, he said. He sees no recruitment value in focusing on the negative.
"At the end of the day, no one really cares that we have a shortage," Seifert said. "The only thing people really care about is whether they're going to enjoy (officiating), if it's going to be a positive in their life, and whether they're going to make some money doing it."
The positive attributes MSHSAA is focused on now have led to the roll-out of several programs that have become the heart of MSHSAA's enhanced recruitment effort. The payoff from recruiting efforts so far has been tangible, Seifert said, but he hopes for and expects further growth.
MSHSAA's has implemented the 4-for-1 initiative, a program that asks every registered official and high school coach in Missouri to recruit one new official every four years. Another program targets two graduating seniors from every high school in the state and allows those selected by each school's activities director to become registered for free, Seifert said.
A third recruiting effort rolled out by MSHSAA in the wake of the shortage is the association's Trade Your Stripes program, which allows current and active members of the armed forces to register as an official for free, a program that Seifert said has paid dividends since its inception. Together, the programs have helped increase MSHSAA's workforce and provided cause for optimism.
"I do think there's light at the end of the tunnel," Seifert said.
From a recruiting standpoint, the promising statewide outlook is in some ways at odds with the local reality. Beu's success with recruiting Maryville students through the 4-for-1 initiative has been mixed. The same is true for the high school graduate program.
The activities director has introduced several students to officiating through MSHSAA's touted initiatives, but his efforts have, so far, been fleeting. Former and graduating athletes take advantage of the waived registration fee and dip their toe into the high school officiating, but, for the most part, they don't often stick with it.
"Not too many," Beu said. "It's been a little bit tricky. It's definitely been an uphill battle to get that done."
Beu has no one diagnosis for his former students' hesitance to continue officiating after their first year. He acknowledged the taunts officials tolerate and cited the evolving lives of recent high school graduates.
He's not sure what the chief cause that's driving young officials away, but he knows it's not the money. Officials can make anywhere from $30 to $50 an hour when working MSHSAA events, a salary Beu called "pretty good for a part-time gig."
"It's definitely not a pay issue," Beu said. "I can tell you that."
The pay, of course, is another positive attribute MSHSAA is pushing as it tries to resolve its shortage and correct an age deficit that grew quietly for more than a decade. It's still too early to tell whether the newly-introduced recruitment efforts will settle the shortage for good. And it's still unclear if the worst of the shortage is in the rearview. But Seifert is encouraged by what he's seen so far.
"I hope (the worst of it is over)," Seifert said. "We'll need to watch it for a couple of more years to find out for sure. I hope so, but I'm not — enough time has not passed to where we can verify the accuracy of that."
---
The aging workforce
The officiating shortage, of course, is still in flux. And as MSHSAA holds its breath, Rupert is busy catching his. The 71-year-old is easily the oldest man in his crew — one of the oldest in the state, he figures. MSHSAA needs him and refs like him now more than ever.
Men like Mack and Rupert have become the aging face of officiating in Missouri. They both keep themselves in shape throughout the year to ensure peak performance when fall rolls around. Rupert reads up on the latest in officiating to keep himself mentally sharp.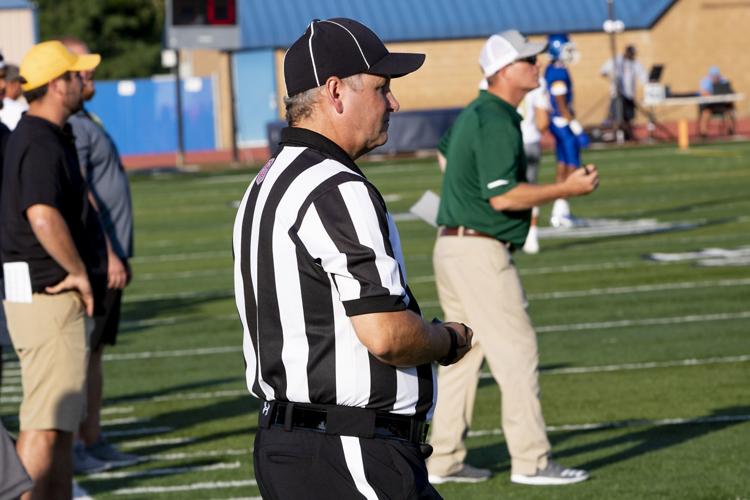 Though he's nearly two decades younger than Rupert, Mack follows a similar calendar. He works out year-round and adopts a yoga routine and sprint regimen starting in June, running fields on his lunch break to prepare for football in the fall. He prides himself on keeping up with high school athletes. His only regret, Mack said, is that he waited until he was 40 years old to enter the world of officiating.
Both Mack and Rupert have kept at it for the same reason: they genuinely enjoy their jobs.
"The feeling on the field, there's certain nights we have games you're just out there and say, 'Isn't this just the best thing ever?'" Rupert said. "You're just excited to be on that field. You just want to go back to it."
But the job, Rupert admits, is taxing. Between all levels of high school and Pop Warner games on the weekends, it isn't uncommon for Rupert to officiate more than five games per week. Rupert and Mack are both aware of the shifting focus of MSHSAA, and though it isn't talked about, the shortage is reflected at every official gathering they attend.
"If you go to an association meeting or if you go to a state meeting or something like that, there's a lot more gray than there is brown, black or blond hair," Mack said. "Gray seems to be a predominant color in the meetings."
Still, the gray-haired men like Mack and Rupert continue to do the job. They train all summer, show up two hours early on game day and do their best to make every call. But the job they're doing is taxing.
They feel the effects in the Harrisonville locker room — some, more than others. They feel the effects as they walk to their car and throughout the drive home. They feel the effects on Saturday morning. And they do it so high school athletes never have to feel the effects of Missouri's official shortage.
Mack, naturally, is less affected by this. He said he'll officiate until they wheel him off the football field. Rupert is too old to think like that. He wants to officiate another state championship game before he hangs up his whistle and tucks his black hat away for good. He's not sure if he'll get there.
"Some days I feel like I can't do this anymore," Rupert said.
MSHSAA isn't sure what the next half-decade holds for its officials. Rupert isn't sure he'll be back next year. But every Friday evening for the rest of this season, he'll find his way to another locker room cached on the outskirts of another high school football field in Missouri. He's got a game next week and the week after that.