As Northwest senior catcher Alixon Herrera took the field against Fort Hays State April 5, he walked to the edge of the dirt behind home plate, crouched down and scribbled two names, surrounding them with a circle.
For Herrera, the names serve as reminders for everything — for why he plays the sport, how he got here, for everything he's worked for.
"I put down the names of my son and my dad," Herrera said. "My dad because he taught me almost everything I know about work ethic and fighting for your dream. Every time I put it down in the field, it reminds me to go 110% every day. (I put) my son because he's the driving force that motivates me to get better and that's why I'm out there every day. They are both very important in my life."
In Herrera's homeland of Venezuela, things aren't quite as simple as they are in Maryville.
Over the past few years, a country once known for its rich baseball tradition and its joyful people has been redefined by political unrest and stricken by poverty.
Baseball is a way of life for most in Venezuela, and for Herrera, the sport served as a place of refuge and a way out of the politically abundant climate.
"Political stuff down there (is a) big thing," Herrera said. "It's not like here. You don't see people talking about politics very often. Down there, you see people every single day talking about politics. Even growing up I remember a couple of my family members didn't talk to each other because they disagreed on political points of view."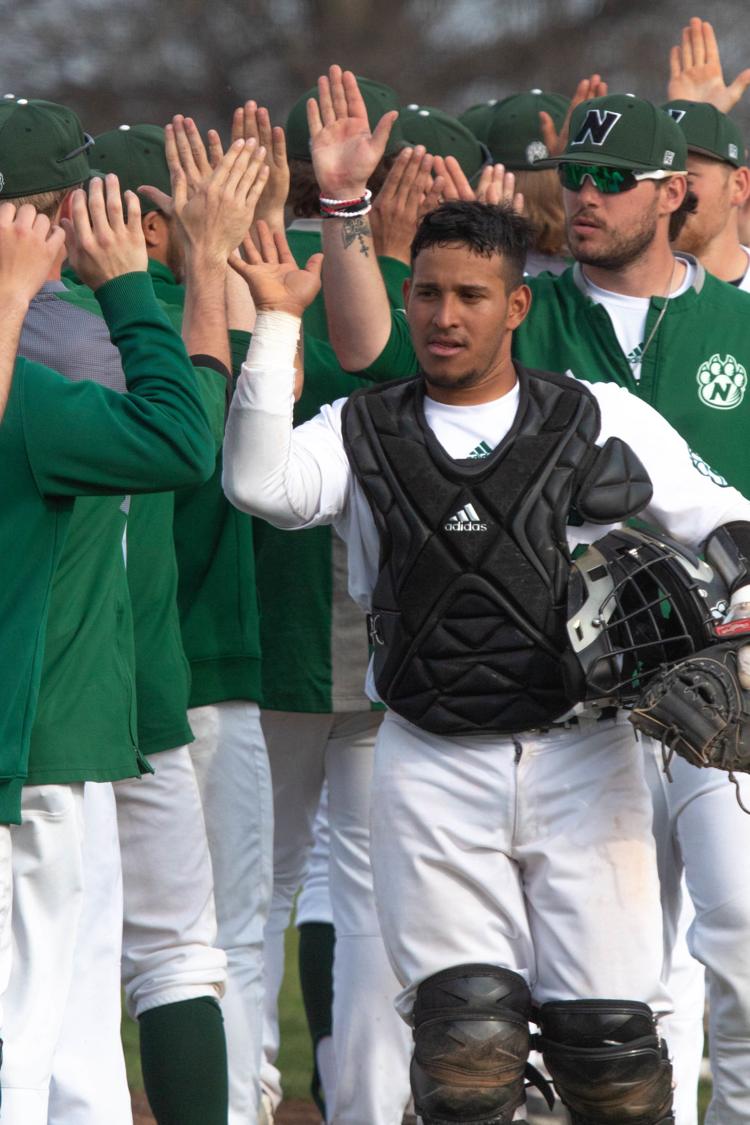 In April 2013, Nicolás Maduro was narrowly elected as the president of Venezuela after the death of his socialist mentor and predecessor in office, Hugo Chávez. Maduro won the election by 1.6 percentage points. After his first term, the economy took a turn for the worst, and many people blamed him and the socialist regime for the decline.
After a rough first term, Maduro was controversially elected to a second six-year term in May 2018. Some opposing candidates during the election were prohibited from running due to legal allegations, while others were jailed or fled the country for fear of being incarcerated. During his swearing-in ceremony, the National Assembly argued that because the election was unfair, Maduro was a dictator and the presidency was vacant.
Because of the unfairness of the election, the president of the National Assembly, Juan Guaidó, cited articles 233 and 333 of the Venezuelan constitution, which explains the head of the National Assembly takes over as acting president if the current president is unsatisfactory.
On Jan. 23, Guaidó declared himself the acting president of Venezuela.
Herrera explained the political unrest in his homeland caused an abundance of unwanted negativity.
"It brought a lot of hate to the country," Herrera said. "I think that these people have screwed up a really beautiful country. (The people) are really happy people, and they just came in and did the damage and they are still doing the damage. There's nothing we can do as of right now."
Since then, the United States has declared its loyalty to Guaidó. This – for obvious reasons – upset Maduro, so he cut all ties with the United States and gave all American diplomats 72 hours to leave the country.
Herrera has had the opportunity to go back to Venezuela since he moved to the states but he said nothing is the same as he remembered.
"Each time I went down there, everything looked way worse," Herrera said. "It's deteriorating every single time I went. It's heartbreaking because (I) grew up in a place that doesn't even exist anymore. The Venezuela that I remember, the Venezuela that is on my mind is way different than what is going on now. It's a whole other country."
The South American country has suffered from food and power shortages, and because of this, more than 3 million Venezuelans have left the country they once called home, according to the United Nations. Countries all over South America and the Western Hemisphere have taken in refugees from this struggling state.
Herrera said he makes an effort to reach out to his family but because of the circumstances, he often goes a while without hearing from some of them.
"I try and talk to them every single day," Herrera said. "It's difficult, especially with the situation in Venezuela. Right now there is an electric shortage, so in the cities, they might have three or four hours of electricity and go 20-25 hours without electricity."
Hyperinflation has paralyzed the country as well. Herrera recalled when he first moved to the states one U.S. dollar was worth four Venezuelan bolívars. In today's markets, one U.S. dollar translates to 50 Venezuelan bolívars.
By the end of 2018, prices doubled every 19 days throughout the country. The International Monetary Fund projects Venezuela's annual inflation rate will rise to 10 million percent in 2019.
"It's a little tough, especially whenever you can't do anything to help more with the struggle they're going through," Herrera said. "They're great about it. They try not to bother me or say anything because they know I have my problems too. … Just having a good conversation eases my mind and takes everything away from the political side."
Herrera's struggle doesn't go unnoticed. Coach Darin Loe said Herrera deserves recognition for what he's been able to do for himself to better his family.
"Credit goes to what Alixon has been through, his character coming out of Venezuela and coming to the United States and learning to speak English and getting the opportunity to play at cloud then ending up at Northwest," Loe said. "He's been through a lot as a person and as an athlete, and he's done a great job."
Playing ever since he can remember, Herrera grew up idolizing MLB stars such as Miguel Cabrera who also call Maracay their home. Herrera went to a baseball academy in his town that was just an hour and 27 minutes west of the capital city.
Before entering the academy, Herrera played all over the infield, starting games in all positions on the diamond when he was younger. When physical tests were done at his academy, one of the coaches suggested that he would have more success if he was a catcher.
"When I was 16 and went to the academy, I had never caught before in my life," Herrera said. "It's one of the scariest things to do. Catching a guy (pitching) 92-93 mph is not easy. Even though I had been playing baseball 15 years before that, catching wasn't easy at all for me."
When Herrera turned 20, he made his way to the United States. Once in the country, he didn't know any English and started an English program in Kentucky while trying to play baseball. Herrera was able to make his way to Concordia, Kansas, to Cloud County Community College where, through a friend, he found his way on the team there.
During his time with the Thunderbirds, the 5-foot-9 catcher batted .335 with 19 RBIs and a home run.
"We contacted the coached at Cloud County and we were in the market for a catcher," Loe said. "We wanted to obviously find the best catcher we could, and we found Alixon and we were able to get him to school here, and he's just been a great representative for our program."
Herrera joined the Bearcats in 2017 for his junior year, where he hit .205 with 10 RBIs and six multi-hit games in 34 appearances. Behind the dish, he caught six would-be base stealers.
In what would've been his final season at Northwest, the Bearcats were 15 games into the schedule when Herrera was involved in a collision at the plate that left him with a torn MCL and a partially fractured fibula.
"He got injured in the middle of our season, and fortunately, we were able to send in the NCAA paperwork and get him an extra year," Loe said. "Obviously he's a great player and a great person, and we're very excited to have him back for his second senior season.
Back in the regular lineup, Herrera is having one of the best years of his career. The 26-year-old is batting .327 with a career-highs in both RBIs (34) and doubles (14) while playing in the most games in a season.
"He's always full of energy and has a great arm," Loe said. "He swings the bat extremely well. On the field, he does a great job but his personality off the field we are going to miss. He's a great leader and a great person and a great part of our team."
As Herrera's time with the Bearcats draws to a close, he said he wants to go back to his home country and give back to the kids that are in the situation that he was in growing up.
"I would like to try to help the kids from the ghettos," Herrera said. "(I want to) try and create a baseball academy, that's what got me here. When I was a little kid we didn't have many resources; we didn't have any money. Through hard work, through having dreams, I set my goal and I tried to achieve my goal, and here I am."