Eighteen days into the new year and seven games into this season's conference slate, Northwest men's basketball coach Ben McCollum summed up the strength of the MIAA and the dual-edged sword that has come to define his program.
In the aftermath of Northwest's 65-56 win over Missouri Western Jan. 18, the latest in a series of physical, hard-fought matchups for the Bearcats (16-1, 6-1 MIAA), McCollum sat alone in a converted classroom on the second floor of Lamkin Activity Center, across the hall from Bearcat Arena, and described the familiar gantlet his team is running in a way that made it sound brand new.
"It's a strange year," McCollum said. "You know, I think the shots that we're — we took shots last year. I don't know that I've ever seen anything like this. I mean it is the Super Bowl every time we come out."
The trend McCollum described has been a constant for the No. 2 Bearcats for much of the last four seasons — they've been a top-ranked team in Division II for the duration of that stretch, accumulating a 116-6 record since the start of the 2016-17 campaign. The nature of Northwest's recent standing within the ranks of Division II has brought with it a perpetual target on the team's back.
That's the reality in which Northwest has played its games for the last four years. But this year, McCollum said, the urgency in the Bearcats' opponents seems heightened, and with it, the physicality and focus they bring to the floor against Northwest.
"Yeah, I would say it's different this year," junior forward Ryan Hawkins said. "Every year is different; every game is different. I do think teams are playing a little bit harder against us. They're trying to take us out of what we do. And so we've just got to make sure we stick to what we do best."
The phenomenon was on display in Northwest's early slate of conference games at the start of the new year, which saw the Bearcats win relatively close matchups over Northeastern State Jan. 4 and Rogers State Jan. 6 by scores of 76-65 and 74-55, respectively.
But the occurrence was perhaps best depicted in Northwest's 73-68 back-and-forth win over Washburn Jan. 11, one in which McCollum utilized six players and articulated the toughness of the conference matchups on the Bearcat Radio Network in the aftermath of the 5-point victory in Topeka, Kansas.
"We're taking some serious shots right now, too," McCollum told KXCV's John Coffey Jan. 11. "I mean, some serious shots. They are playing their best basketball every time they play against us. I mean, it is ridiculous. … It's just how it is when you're as highly ranked as we are."
The case helps depict the parable of the MIAA and Northwest's place within the conference. It provides context for close wins over the conference's mid-level teams. It poses further challenges to a team trying to navigate an already-challenging league schedule. But, McCollum said, it does not serve as an excuse.
"Find their best instances, and that's what you prepare for," McCollum said Jan. 14. "You don't sit there and hope that they are gonna play bad. You hope that they play their best and that you can beat their best. … That's what we want. If we can beat you, we can beat you. If not, we can't. And that's just how it is."
Northwest, of course, has been burned once this season by the conference's unforgiving schedule and by the notion that teams play differently when playing Northwest. The Bearcats lost to Central Missouri 62-50 Dec. 7, falling to a team that had already lost to the likes of William Jewell and Missouri Western.
In the loss to Central, the Bearcats' offense was anemic. They shot 36.5% from the field and 24.1% from 3-point range, falling well short of season averages of 51.7% from the field and 43.6% from beyond the arc. But it was Central's performance that perhaps veered further off-brand in the matchup.
The Mules performed well from the 3-point line, shooting 44% from beyond the arc despite a season average that hovers just above 36%. And their field goal percentage in the matchup, at 46.9%, served as a modest improvement over their season average of 43.4%. But perhaps their most notable improvement, one that McCollum highlighted as a symptom of opponents' matchups with Northwest, was the Mules' own refusal to take ineffective shots.
---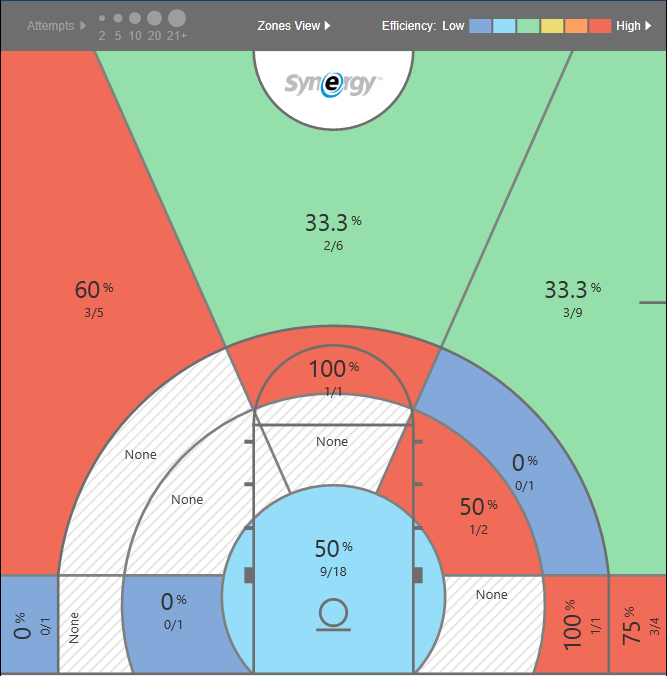 ---
Central has taken 72 shots from 15-20 feet out, shots worth 2 points but are converted at similar clips as 3-point shots, in its 16 matchups this season, according to Synergy shot chart data provided by Will Warren of statsbywill, a Tennessee-based statistics and scouting website. The Mules took three in their matchup with Northwest, converting two of them.
"The kids play completely different," McCollum said.
"I think that's exciting because that means that we've got to be at our best too," Hawkins said.
The Central matchup, though, is still the only instance this season of an opponents' best shot being enough to overcome Northwest's ball-screen offense and generally-daunting defense. Even shorthanded, playing without senior guard Kirk Finley for the season and missing junior forward Ryan Welty for two games in mid-January, Northwest has escaped the early portion of its 2020 slate unscathed.
In the last two weeks, the Bearcats have survived single-point contests with Western and Washburn and a 15-point game against Emporia State. Utilizing seven players — and six players in their Kansas tour — the Bearcats have been stretched thin and pushed to the brink of defeat, but they haven't been beaten since the matchup with Central, their only loss in more than 20 months.
"Yeah, they're tough kids," McCollum said of his players. "I mean, they're tough. You're gonna have to beat us. Like, it's one of those deals that we're gonna fight. That's not my concern whatsoever, it's now, can I fight with a sense of that kind of killer mentality, that chip-on-the-shoulder stuff, that we had last year?"
Despite Northwest's continued winning, McCollum has insisted that the team needs to improve, repeating it after the team's win over Western and again at Northwest Athletics' weekly media luncheon Jan. 12. The offense, McCollum said, has to get better.
The path ahead for Northwest, a continued trek through the MIAA, isn't getting any easier. The Bearcats will host Nebraska-Kearney (12-5, 6-2 MIAA) Jan. 23 and Fort Hays State (7-9, 1-7 MIAA) Jan. 25.
Kearney, in particular, sits at third in the conference standings, trailing Missouri Southern (14-3. 7-1 MIAA) and Northwest. With a win, the Bearcats would move into first place. With a loss, they could fall as far as fourth.
McCollum said his focus was solely on the upcoming matchup with the Lopers, preparing schematically for a Kearney gameplan that will likely show up differently Jan. 23 in Bearcat Arena than it did through weeks of game film.
That's how it is for the team that has won the MIAA six years in a row, preparing for a game more akin to the Super Bowl for Kearney than a mid-January Division II men's basketball matchup, preparing for the Lopers' best shot.
"(Kearney is) as hot as any team in the conference — even country, for that matter," McCollum said. "As far as what I expect, you know, we'll figure it out during the game, usually, because they'll probably change their offense and their defense. And so, we'll just adjust to it and be ready for it."