Maryville senior quarterback Ben Walker, who suffered a season-ending knee injury Week 1 against Blair Oaks, announced his commitment to the University of Central Missouri to play football Oct. 6 via Twitter.
Walker will be on the football field for Central, but his recruitment began on the basketball court in his junior year.
"The Central Missouri recruiter found me playing basketball while he was there for another kid," Walker said. "From then on, we kept in touch."
Proud to announce my commitment to @UCMFootballTeam ! 🔴⚫️🐴@CoachLueds @Coach_McClung @jcboda pic.twitter.com/3q3mipdXIf

— ben walker (@ben_walkerrr) October 6, 2020
Although Walker and the Central football staff kept in touch, Walker wasn't officially offered a scholarship until July. However, Walker said he knew he wanted to be a Mule throughout high school.
Walker felt the family atmosphere Central had to offer as coaches checked in weekly. They talked about news and events in Warrensburg, Missouri, Maryville and in Walker's life.
There were a lot more factors that made Central appealing to Walker, but mostly the rise among the ranks of the MIAA that Central has been on.
"They're an up-and-coming program, and I like where they are going," Walker said. "I just see a lot of potential in their staff and the players they have."
In 2019, Central finished 11-2, which included an undefeated record at home. Central's second loss came in the first round of the NCAA Division II Super Region Three bracket against No.1 seed Ferris State, which effectively ended their season.
Walker elected to move away from home as opposed to playing for the hometown team. While Northwest was practically in his backyard, the Bearcats weren't involved as much in his recruiting process.
"I think UCM and I just clicked better," Walker said. "Northwest never really kept in touch with me. It really wasn't that hard of a decision to make."
Central recruited Walker as a quarterback, but standing at 6 feet 2 inches and weighing 185 pounds with a great deal of athleticism could land Walker at another position. Central coach Jim Svoboda mentioned this to Walker, he said, but didn't specify a specific position.
Walker would love to see himself as the leader for the Mule offense but wouldn't be disappointed if he was moved elsewhere.
"I just really love the game of football, and I love everything that goes into it," Walker said. "Wherever they want to put me on the field of play, I'll do that to my best ability."
The entire recruitment was a cool experience for Walker, but he said he'll never forget when he officially visited Central's campus.
Walker enjoyed seeing the Central Missouri Athletic Hall of Fame, being shown the trophies Central has racked up in previous seasons, trying on uniform combinations, looking at facilities and having a meeting with all of the coaches.
The night of Aug. 28, Walker strapped up for his last season with the Spoofhounds. During a year in which Walker wanted to continue to impress his future coaches, he instead saw his senior season end.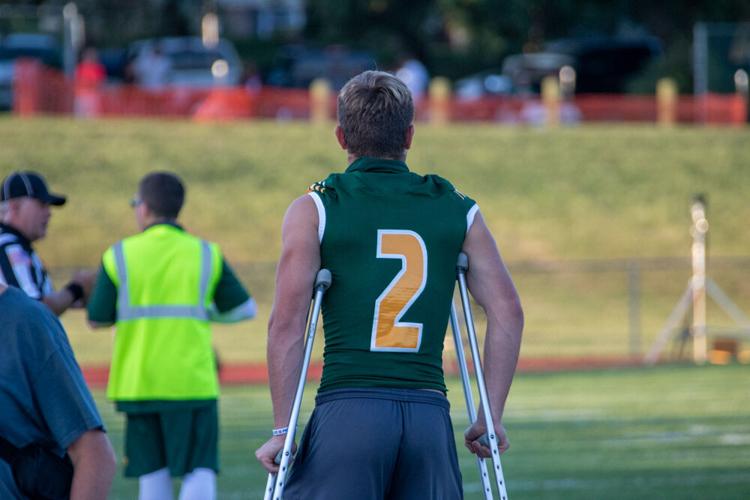 The season-ending injury took place at Walter Stadium in Warrensburg, Missouri, which serves as the future home for Walker. In attendance was Central staff, who witnessed their newest commit go down. Fearing the worst, the Central staff reassured Walker, telling him they will keep their scholarship promise.
"The coaches came and talked to me and my parents and said that if they wanted to watch me play my senior year and offered they would have, but they said they saw what they needed to see," Walker said. "They just jumped the gun and offered. That's really when I made up my mind that I wanted to go to UCM."
Walker had control of his own destiny, as his parents were not heavily involved in the decision-making.
"They told me to follow my heart," Walker said. "Whenever I told them that I wanted to go to UCM, they were pretty happy."
The first game day in Walker's collegiate career is still more than 10 months away, but he's had trouble containing his excitement.
"I'm excited for the atmosphere, the players, the fans, I'm just excited for the whole new experience," Walker said. "Getting out of high school and getting out of my comfort zone. Just experience new things."
Going from the 'Hound Pound to Walter Stadium in itself can be daunting, but one thing in particular keeps Walker up at night.
"I'm sure I'll be nervous for my first trip back to Maryville," Walker said through laughter.
The standout performances Walker showcased on Friday nights in Maryville landed him a scholarship. Without his teammates and the support of others, he said he wouldn't be where he is now.
"I just want to give a shoutout to all my teammates and everyone who has helped me along this process," Walker said. "They created so many memories that I won't forget. I'm just thankful for the guys I've been able to play with and the coaches who helped me develop as a player and a person."