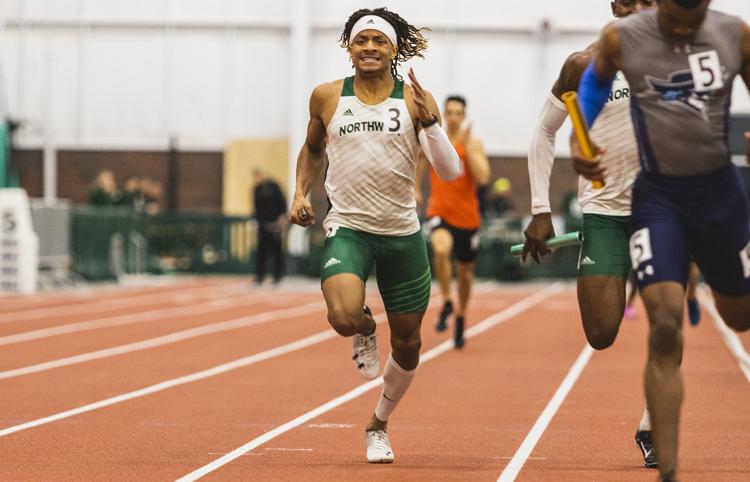 Northwest indoor track and field competed at the Wendy's Pittsburg State Invitational Feb. 1 in Pittsburg, Kansas.
As fast as the food is for the sponsor of the meet, Northwest sophomore Omar Austin wanted to be faster.
Austin won the 400-meter dash and finished with a time of 46 seconds and 87 milliseconds, which is the fastest time in the nation by 1 millisecond.
"It was not my best-executed race," Austin said. "I wasn't in my best condition."
Austin ran his now nation-leading time after what both he and coach Brandon Masters surmised was a five-minute break after his run in the 60-meter dash finals, where he placed fifth with a time of 6.79. The short break was due to the event schedule at the meet, Masters said.
"He was feeling pretty sluggish from the 60," Masters said. "Not having the ability to flush and really prep for a 400 and still run in 46 seconds is fantastic."
Austin will not be running in the 400 at the Bearcat Open Feb. 7-8 in the Carl and Cheryl Hughes Fieldhouse. Instead, he will focus on the 200-meter dash, will possibly make an appearance in the 4-x-400 meter relay and will run in the 60, the event that was rather unusual for him at the Pittsburgh State Invitational.
Austin slipped coming out of his blocks in the 60, which left him catching himself to avoid falling. That, of course, was costly towards his time. Austin managed to run 1 millisecond off his previous 60-meter time that netted him a first-place finish at the Bearcat Open Jan. 25.
"I don't know how he ran that fast and still put his hand down," Masters said.
Austin was pleased with his nation-best 400-meter and wants his 200-meter and 60-meter times to quickly follow suit.
"I just want to set a top five in the 60 and the two," Austin said. "I want to let them know I can sprint as well."
The attitude for Austin was the same as it has been all season, meet success is not enough — national success is the goal.
"There is nothing wrong with being top five in the meet; my goal is on the bigger picture," Austin said.
"He is gonna throw down at MIAA's, he's gonna run so fast in finals," Masters added. "He will go make nationals in the 60, two and four with what he has on his list right now."
Senior Hiba Mahgoub was another Bearcat to earn a first-place finish at Pittsburg State. Mahgoub won the women's 200 with a time of 24.41. Mahgoub, Masters said, was not satisfied with her time.
Masters said that going forward they will continue to build on Mahgoub's acceleration. Masters expects big things from Mahgoub in the 200 when it comes time for the conference meet Feb. 28-March 1.
The Pittsburg State Invitational was a different meet than the Bearcats are used to and a lot of that had to do with the number of competitors. Masters estimated that the meet had around 1,600 competitors, twice as large as the next largest meet for the Bearcats.
The lengthy list of competitors led to a lengthy list of scratches for many schools just trying to shorten the meet and keep athletes healthy, Masters said.
"People were just like, 'This meet's taking forever; we're heading home," Masters said.
Pittsburg State will play host to a smaller meet in competition size, but large in importance, as they host the MIAA Indoor Track and Field Championships. Masters likes the facility, but said it doesn't compare to the Bearcats' home track.
"It's not Hughes Fieldhouse, but it's still a solid track," Masters said.