Northwest men's basketball's roster has undergone a major makeover since the Bearcats won their Elite Eight matchup over St. Thomas Aquinas and went on to win the NCAA Division II National Citle in 2017.
The Bearcats (35-0), now playing in the Elite Eight for the second time in three seasons, are a different animal.
Justin Pitts, Northwest's point guard from the championship run, is playing for HLA Alicante of the Spanish LEB Plata. Chris-Ebou Ndow, a 2017 forward, is playing professionally in Norway, while teammates Zach Schneider and Xavier Kurth still find themselves on Northwest's bench, now sporting suits and ties as members of the team's coaching staff.
Junior forward Ryan Welty is the only Bearcat on the roster that logged minutes in the title game two seasons ago. Senior swingman Joey Witthus was still going to school at Minnesota State-Mankato back then, while sophomore forward Ryan Hawkins watched the run from the bench as a redshirt freshman.
Freshman guards Diego Bernard and Trevor Hudgins were still in high school.
Things, indeed, are different now, but the goal is unchanging. Northwest enters its matchup with Mercyhurst (26-7) in Evansville, Indiana, three wins away from another national championship. And the team knows its next three matchups will be the toughest of the season.
"You know, everybody asks, 'How do you like your matchup?'" coach Ben McCollum said last week. "I think in the Elite Eight, I don't think you really like any matchup. I think (Mercyhurst is) really good."
The Lakers, who knocked off No.2-ranked Indiana (Pennsylvania) in the second round of the tournament, presents a distinct challenge for the Bearcats. Ranked a No. 4-seed in the Midwest Region, Mercyhurst survived Fairmont State in a close 63-60 first round win before churning out double-digit victories over Indiana and West Liberty to earn a trip to Evansville.
"They're excellent defensively," McCollum said. "(They're) one of the best defensive teams we'll probably play. Offensively, they essentially score enough. You don't make the Elite Eight if you're not good."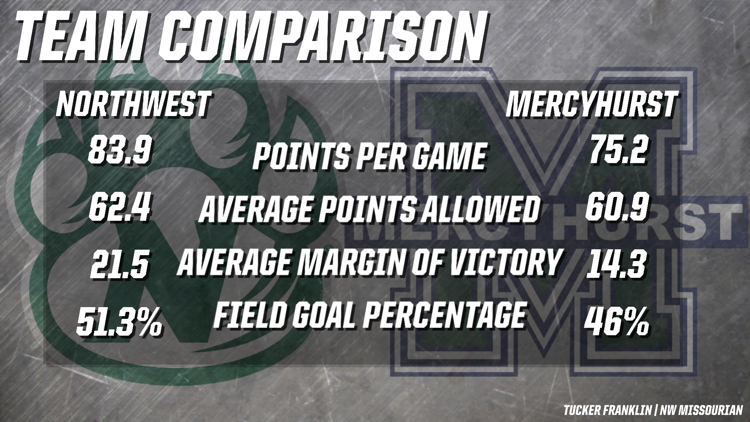 Throughout the duration of the Central Region tournament, McCollum talked about the toughness of the region Northwest plays in, highlighted by his comments in the aftermath of the team's second-round win over Southern Nazarene. In some ways, the coach expects the high level of play on display in the Central Region to help the Bearcats in their preparation for what's next.
"It definitely does (help), I think just the competition," McCollum said. "The styles is what's so different. Just watching some of the east coast schools … you know, their style is just so drastically different from what's out here. You just have to kind of figure out how your styles match up and then figure out what you're going to do."
McCollum said the Bearcats haven't seen an opponent this season bearing a similar style to that of the Lakers.
"No. No, not really," McCollum said. "I mean, we've faced a lot of zone this year, but it's not a zone that they play necessarily. They've got a few zones and then they'll junk it up a little bit with some random defenses. But no. I would say there's not a lot that we've faced that's similar."
Still, Northwest has imposed its will on its opponents for most of 35 games this season. The Bearcats have won all but four of their games by double digits and remain the only undefeated team in the NCAA.
In retrospect, the Bearcats' run to where they are now is hard to fathom in terms of likelihood. The season came on the heels of last spring's graduation of the winningest senior class in program history.
As McCollum pointed out earlier this season, most people thought Northwest would take a step back. And then the team won its first game of the season by just two points. And then the Bearcats kept winning, encompassing a fun style of play, embracing their cliched culture, sneaking past conference rivals in close matchups — they found ways to win. Doing so has brought them here.
The Bearcats know what's at stake and they know, of course, what three more wins would mean. But Northwest's focus isn't on the prospect of a second national championship. Instead, its focus is where it's been all season: the next game on the schedule.
"You think about it some, but it's not something I think about all the time," McCollum said about the possibility of a national title. "Every once and a while you think, 'OK, well, this could be pretty cool.' But then you refocus back on: 'You have to win the next game.'"
Northwest will take on Mercyhurst at 2:30 p.m. March 27 in the Ford Center in Evansville, Indiana.