TAHLEQUAH, Okla. — When the Northwest football team took the field Saturday afternoon for a matchup with MIAA foe Northeastern State, the No. 10 team in the country was hoping to avoid back-to-back losses for the first time since fall 2017.
On the heels of a 17-16 loss courtesy of Washburn Oct. 16 in Topeka, Kansas, fifth-year coach Rich Wright tasked the Bearcats to respond to their first defeat of the season.
They did exactly that, earning a 59-7 win against the RiverHawks on Gamble Field at Doc Wadley Stadium.
"I was really pleased," Wright said. "I was confident that they would come out and respond, and they did. … When you're disappointed in a loss, it's how you're gonna bounce back."
The Bearcats (6-1) were able to assert their dominance early against the RiverHawks, using Division II's fourth-best scoring defense to force a Northeastern punt on the game's opening drive. They followed that with a six-play, 61-yard drive that ended when sophomore quarterback Mike Hohensee connected with sophomore tight end Cole Hembrough for a 3-yard score to take a 7-0 lead with 8 minutes and 52 seconds left in the first quarter.
It was a point of emphasis throughout practice this week, Hohensee said, to start fast.
Prior to the matchup with Northeastern (2-6), Northwest's offense was shut out in the first half for two consecutive weeks. They were able to overcome one of those deficits, trailing 13-0 at the break against Pittsburg State before an eventual 20-19 win in Week 6. During the aforementioned loss to Washburn in Week 7, the Bearcats trailed 3-0 at halftime.
"Anytime that you can win by a lot, it's great," Hohensee said in the aftermath of the 52-point win. "We knew we wanted to come out here and just execute our plays, offensively, and we did that, and it was great to start fast."
Hohensee's initial score of the game was the beginning of Northwest's offensive onslaught and the beginning of the end for the RiverHawks' chances of taking down the No. 10 Bearcats.
Northwest's offense scored almost as fast as it took the field for its second drive, going 71 yards in four plays and a minute and 50 seconds, a drive that was capped off when Hohensee threw his second touchdown pass of the day — a 16-yard connection to junior wideout Jamar Moya.
That was the first of a four-touchdown performance from Moya, who is making his way through the gauntlet of the MIAA for the first time after transferring to Northwest from MidAmerica Nazarene during the 2019-20 school year, though football season was canceled due to COVID-19.
"It's a long trip down here," Wright said of the six-hour trek. "There's not a lot of atmosphere, so we just talked about creating our own, and that's what we were able to do from start to finish."
Hohensee had a four-score outing, too, going 15-of-19 for three touchdowns and 143 yards, while carrying the ball twice for 6 yards, including a 4-yard rush into the end zone to give Northwest a 21-0 lead toward the beginning of the second quarter.
His day wasn't perfect, though, and he finished the day with two interceptions. The first error came on the end of a pass over the middle, which was intended for senior wideout Imoni Donadelle, before Northeastern junior linebacker Issac Little tipped it into the air and reeled it in.
The second was a pass intended for the running back in the flat, but a miscommunication between both parties resulted in 'Hawks sophomore defensive back Jordan Lamotte snagging Hohensee's pass and returning it into the end zone for Northeastern's first points against the Bearcats since Oct. 27, 2018.
"The back went the wrong way, and Mike rolls out — that ball needs to go into the third row of the bleachers," Wright said. "That's something that we've gotta get fixed, because in a big football game, that's what's gonna get you beat."
But Moya — who had only mustered 14 touches prior to Saturday while being primarily used as a slot receiver — was more than productive while assuming the duties of Davonte' Green, a junior running back who wasn't available for the Week 8 matchup.
The Swiss Army knife of Northwest's offense carried the ball eight times for 169 yards and two touchdowns. He added four catches for 22 yards receiving and two scores, including the aforementioned one, along with a 71-yard dash through Northeastern's defense during the fourth quarter for his final touchdown of the day.
"I'm like that," Moya said, emphatically, while walking back to Northwest's sideline after his final score.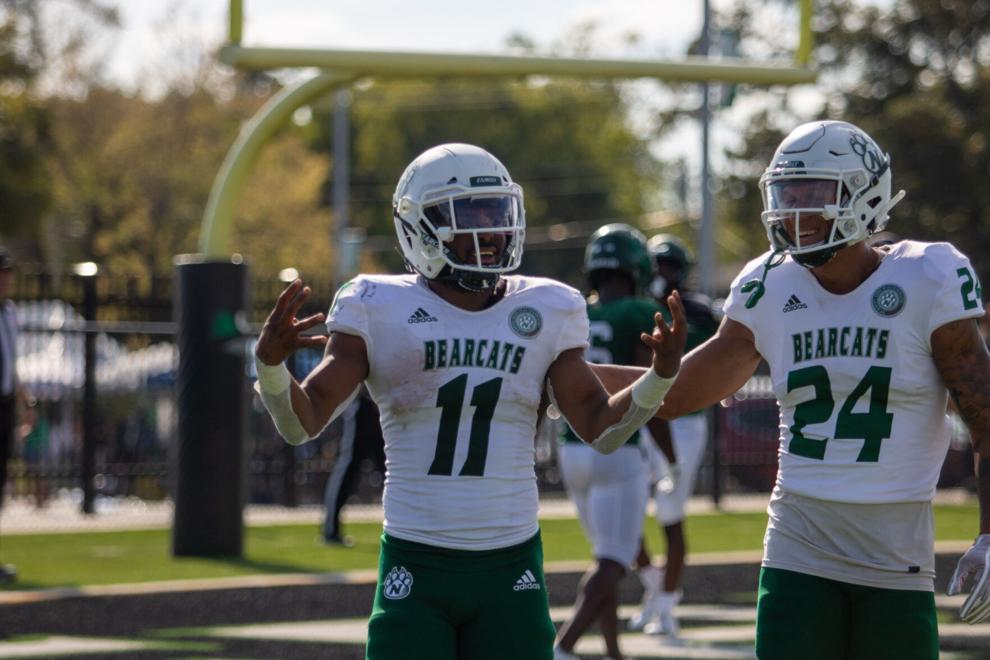 It was a statement he was trying to let the RiverHawks know was true, because they didn't think so throughout the entirety of the game, he said.
He, coupled with senior running back Al McKeller, was part of a rushing attack that bulldozed Northeastern's defense for 387 yards rushing.
McKeller compiled 131 yards rushing on 16 carries, marking the first time Northwest had two players rush for 100 yards in a game since the Bearcats' 42-17 win against Grand Valley State Nov. 17, 2018.
"It's lightning and thunder," Moya said of the backfield duo. "We're gonna bring the energy everytime, so we've just gotta make plays."
Moya was joined by a familiar face in the backfield when the offense took the field with 8 minutes and 25 seconds left in the third quarter: junior quarterback Braden Wright, the starter who played for the first time since undergoing emergency surgery in early September.
"We've been waiting on that," Moya said. "Me and him have been talking about that all — since he got injured. So — it's crazy — I'm glad he's back."
Braden Wright said he knew there was a chance he could play for the first time since the Bearcats' Week 1 win against Fort Hays, but he understood business needed to be taken care of first.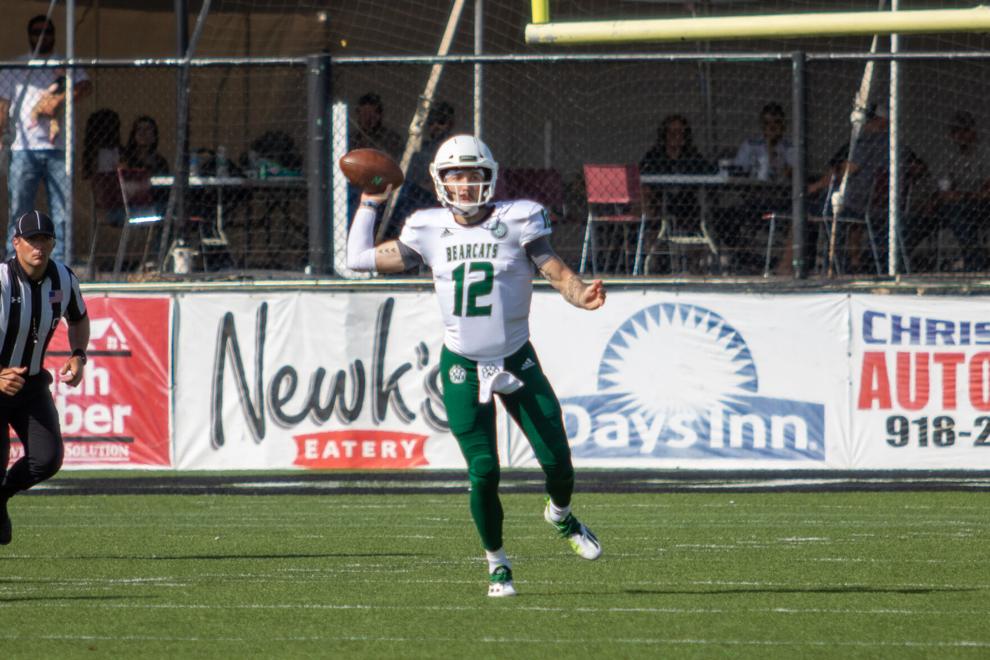 Still, he said, it was a perfect opportunity to return, and he's appreciative he was able to get back on the field as quickly as he did.
"I was excited on the sidelines, then it was kind of like a black out, adrenaline, just going to play," said Braden Wright, who finished 4-of-5 for 81 yards passing and a touchdown. "I can't even remember the plays we ran already, but it was just awesome. It was so surreal to be back out there."
Now, the Bearcats will turn their attention to a homecoming matchup with Nebraska-Kearney, the lone team in front of Northwest in the MIAA. When the Lopers head to Maryville for the Week 9 showdown, the winner will be in the driver's seat to be named the champions of the MIAA.
"We've got a heck of an opponent coming up this week," Rich Wright said. "But I can tell you that our kids will be ready."