There sat Davonte' Green, on a makeshift wooden bench on the outskirts of a mostly-cleared-out construction site in the basement at Lamkin Activity Center Sept. 6.
Amid recollecting roughly the week that led up to that moment, the junior running back couldn't stop twiddling the bottom seam of his white tank top while sitting hunched over with an elbow resting on each black-shorts-covered knee.
"I'm just trying to be strong for a lot of people right now," Green said on the verge of tears. "This is me being strong, just being here today."
Green — a native of Hammond, Louisiana — never expected to end up in the northwest corner of Missouri. He did to bolster the backfield of Northwest football's offense.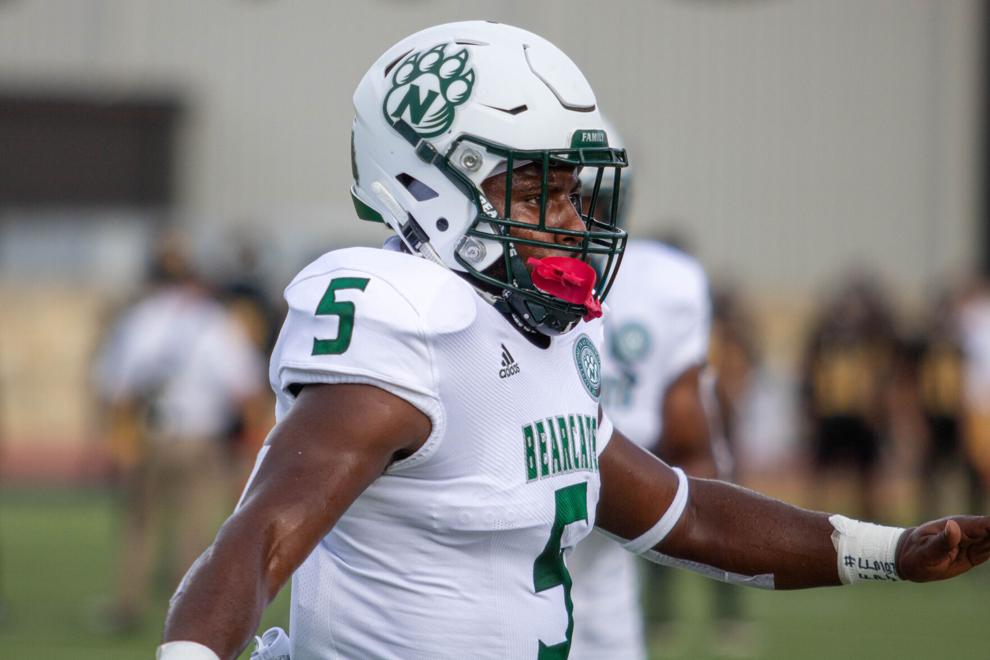 He spent his first two years of collegiate football playing at College of the Sequoias in Visalia, California, where he tallied 1,655 yards rushing and 12 touchdowns before searching for greener pastures.
Accompanying him to Maryville were only his hopes of aiding Northwest's program to its seventh national title. Green's hopes grew, too, when he carried the ball 11 times for 53 yards en route to the Bearcats escaping Hays, Kansas, with a 15-7 win against Fort Hays Sept. 2.
"That game, it helped me breathe a little bit," Green said. "I was going into a game, like, that's my escape. … It just helped me feel like myself again."
Despite preparing for his first football game since November 2019, he hadn't felt like his usual self for the better part of the week leading up to the Bearcats' season opener.
That's because prior to that game, Green had things on his mind that are bigger than football.
His family, which was directly in the path of Hurricane Ida, remains in Louisiana. And while they're at home in Hammond, he's in Maryville, though he wishes he wasn't.
"I'd rather be there with them," Green said. "It's just, being here and trying to be around people who don't really understand what you're going through — trying to keep a smile on your face, a focused face — that's tough. It's a lot to deal with."
There are, of course, not too many hurricanes that leave everlasting impacts in Missouri, and that's what Green is starting to realize.
He doesn't expect his teammates, coaches and classmates to understand what he's going through, because without surviving one of the most renowned hurricanes in the history of the United States, he knows they never could.
Green, 23, has been through this before, as Hurricane Katrina destroyed much of New Orleans and the surrounding areas — including Hammond — in August 2005, when he was 7 years old.
"One day you're at home barbecuing, the next day you're just swimming in water," Green said. "That's not normal. Like, it's a natural disaster, and we understand that part, but that's nothing normal that a person should have to go through."
Hammond was on the outskirts of the effects of Katrina, Green said, and there wasn't too much damage to his own community, at least not compared to downtown New Orleans.
His city hadn't been in the eye of a hurricane — until Aug. 29.
---
Lawanda Moore, Green's mother, knew the hurricane was going to eventually reach shore. She knew that Hammond was going to feel its wrath, and despite wanting everything to be OK, she knew that it probably wouldn't be.
Still, she wanted to anchor down until she couldn't any longer.
"Me, my mom and dad, we just stayed in the house. The lights went out around 4 o'clock in the evening, and we just hung around and tried to wait it out," Moore said. "Throughout the night, the wind was blowing so hard I couldn't sleep. … Some medication I'm taking had me out of it, but I kept feeling water dripping on my chest. I thought I was dreaming, but I really wasn't. When I woke up, it was raining inside the house. A tree had fell through the roof."
Moore suffered a stroke in 2018, one that's left her with regularly-occurring seizures ever since. The aforementioned medication is to help her sleep through the night, though the storm effectively prevented her from doing just that.
The effects of her stroke create an additional complication for her, too, as she has to assure she's with someone who could care for her in the instance she had a seizure. Finding help in the middle of a hurricane, she said, isn't as easy as some people might think it is, especially with a destroyed home and nowhere to go.
"I didn't sleep for, like, two or three nights after the storm hit. Like, the first night, we couldn't find anywhere to stay because the power was out in the area, so we had to sleep in a car," Moore said. "We were sleeping in vehicles until we were able to find a hotel."
They eventually found a hotel, but it took a four-hour drive in order to do so. That was the case for most people in the area, Moore said.
It's been a financial burden on the people of Hammond, and especially Green's mother. Her stroke and its effects left her with a disability, and thus, an inability to work. Not only will Moore have to spend money to fix a house, but she'll have to spend even more than that on a hotel until she can go home.
"I'm on a fixed income, can't even afford to travel this far," Moore said. "It's just mind-boggling. There are small children involved, and they're finding dead bodies in homes now. We have a nursing home in Hammond, and they had to evacuate the patients to a warehouse — and, like, six patients died in that warehouse."
In some ways, Moore is better off not being at home right now.
"Due to the lack of light and places to live, there are so many people breaking into houses," Moore said. "They're stealing generators off peoples' houses, just trying to have power. It's crazy. They're taking risks to go to jail so they can survive for their family."
But for now, she'll be stuck four hours away from home, with virtually nothing but a mess to go back to.
"Where I live, the lights won't be back on until the 20th," Moore said. "That's if they can even restore them by that time. All of the major power lines exploded or are down."
---
Despite being days away from his first football game in 21 months, Green couldn't stop wondering what was going on back home.
He was in Bearcat Stadium, studying the offense's approach to attack Fort Hays at practice, when the eye of Hurricane Ida reached Hammond.
That was the day power went out in his hometown, which Moore witnessed firsthand, and that meant Green wasn't able to reach his family for nearly 24 hours.
"I actually saw a light transformer just explode," Moore said. "Like, I literally saw it with my own two eyes."
"The health of my family, knowing that they're OK and safe, that was the most important thing," Green said. "You're just sitting around and waiting on a phone call just to hear if they're OK, or really anything. That was devastating. … Like, not knowing, that s--- is tough."
His mother knew he was worried about his family back home, she said, and that was one of the first things on her mind when the power went out. She knew that's all he was thinking about, too, even though he didn't have to.
The people of Louisiana, the mother and son both said, are built to withstand whatever adversity is thrown at them. Green, an emotional wreck amid not knowing his family's status, shared numerous posts in support of the people of Louisiana.
There was one in particular, though, that referred to Louisiana natives as "Louisianimals."
"With the storm, being from Louisiana, you show a lot of resilience," Green said. "It ain't gonna be the last, it ain't the first, but you know you'll be prepared for whatever in life. That's what makes us so unique."
"It's just tough out here," Moore said, referring to some of the living conditions in Louisiana. "The people here know how to survive through tough times because we've been through them so many times."
Now, with Moore in a hotel, and with Green preparing for a Week 3 matchup with Central Missouri, there isn't much more the duo can do than what they're doing right now.
Moore has directly felt the toll the hurricane has taken since it struck Hammond in late August. She was rained on in her sleep. She stood in water almost as tall as her in order to reach safety.
And although Green was never grazed by a single drop of the water that destroyed his city, he's feeling the effects and the stress and the worry, now twiddling with the tape around his left knee on that same makeshift wooden bench in the basement of Lamkin, 900 miles away from Hammond.
"Seeing them go through that, and being nowhere near to help, it'll kill you, mentally. Physically, like, it drains you," Green said. "I mean, that's home. What is home if you don't have a home to go to?"