In the aftermath of Northwest men's basketball's physical 73-64 win over Pittsburg State Feb. 22 at Bearcat Arena, coach Ben McCollum faced a group of reporters in a converted classroom in Lamkin Activity Center and did not lean on clichés.
Sporting a bright-green bracelet his son made for him, McCollum didn't talk about any kind of process. He wasn't overly happy with the 9-point win. He didn't make excuses or shy away from candid answers. On the heels of Northwest's 18th consecutive victory, McCollum trafficked in the truth.
"I didn't think our preparation was very good — not everyone, but quite a few of our guys," McCollum said. "It's really disappointing because I thought we had a really good crowd. And I'm just disappointed in some of the concentration issues, you know, some of the effort issues. That's just not how we play."
There were a few players, McCollum said, who's concentration and energy willed No. 1 Northwest (26-1, 16-1 MIAA) to a victory over Pitt State (9-17, 5-12 MIAA) in front of 2,033 fans at Bearcat Arena. He noted the efforts of sophomore guard Diego Bernard, who scored 16 points and grabbed 10 boards, and of freshman forward Wes Dreamer, whose impact on the game went beyond the 4 points he added off the bench, McCollum said.
---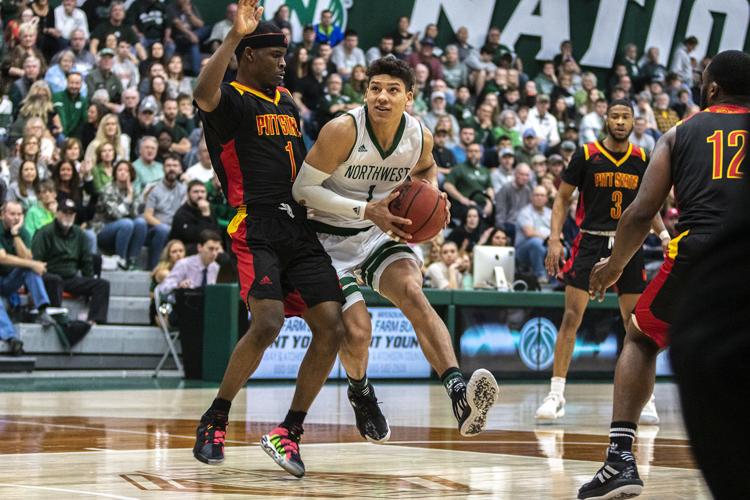 ---
But for much of his eight-minute session with reporters following the Bearcats' 32nd-consecutive home win, McCollum lamented about what they didn't do in the matchup.
They didn't shoot well in the first half, in which they didn't lead for a single second, going 8-of-25 from the field and 1-of-10 from beyond the arc. McCollum said the team was "just shooting shots for no reason" in the game's first 20 minutes.
They didn't play with concentration, McCollum said, something that improved slightly in the second half, only after the coach began to micromanage the game, shouting commands at his players, namely sophomore guard Trevor Hudgins and freshman forward Luke Waters, from his position on the sideline.
They didn't play like Northwest, McCollum said. He chalked much of Northwest's lack of concentration up to a sort of mental hangover, the after-effect of the Bearcats' 77-76 comeback win over Missouri Southern Feb. 20 at Bearcat Arena, one that came via a last-second prayer from Hudgins, one that clinched the team's seventh straight regular-season conference title and one that appeared taxing on the court 44 hours later.
"I think that's the problem, is that there probably is (a mental hangover), and that's the problem," McCollum said. "Can't be. Can't be."
The coach grappled with the notion of a mental hangover before starting on a rant of sorts about its causes and effects.
Lasting effects from a previous win aren't supposed to be a symptom the Bearcats are capable of displaying, McCollum said. Mental hangovers aren't for teams that are 126-6 in the last four seasons, he said. Northwest is supposed to be immune to games like the one it played against the Gorillas.
"Look — how many games have we lost in four years, three-and-a-half years? Six games, right?" McCollum said. "You don't get hungover by losing six games in whatever amount of years. That means you're ready every day. That means the hangovers don't happen. That means the human nature that every other team in the country feels, you don't feel it. Or you fight it. And we didn't tonight."
"To be able to be ready the way we are every single night — it's not natural. It's not normal human being tendencies," McCollum said. "Tonight was not that way. We were normal. And I don't like normal."
The win, of course, came with at least some cause for cheerfulness for McCollum. After trailing for the entirety of the first half, Northwest took its first lead of the contest of a layup from Hudgins nearly three minutes into the second half. The play gave the Bearcats a 35-34 lead and served as the first points of the matchup for the freshman point guard.
From there, Northwest pressed forward. The Bearcats did not engage in a game of back-and-forth like they did with Southern Feb. 20. They led for the game's final 17 minutes. Hudgins' layup was the only lead change of the contest.
"It was dead and (Pitt) was scoring and we was just getting down on ourselves," Bernard said. "We just had to come together and we did that at halftime."
After going up on Pitt State, the Bearcats failed to put the Gorillas away for much of the second half. The team's biggest scoring run of the contest was eight points. While the second half came with a degree of renewed concentration and a scoring outburst from Hudgins, who scored all 16 of his points after the break, it still came with a number of miscues and missteps that defined the first half.
"You hate to get upset about a victory, but I'm more (focused on) how we play," McCollum said. "That's more what I'm interested in. I wasn't overly interested in tonight's game in regards to our concentration."
While Hudgins broke out in the second half, it was junior forward Ryan Hawkins, who scored a game-high 25-points, who provided the biggest highlight in a game that provided few. Hawkins, who McCollum said began to lock in after a shaky start and was limited throughout the game by foul trouble, slammed a fastbreak dunk with 44 seconds left on the game clock to give Northwest an 11-point lead.
---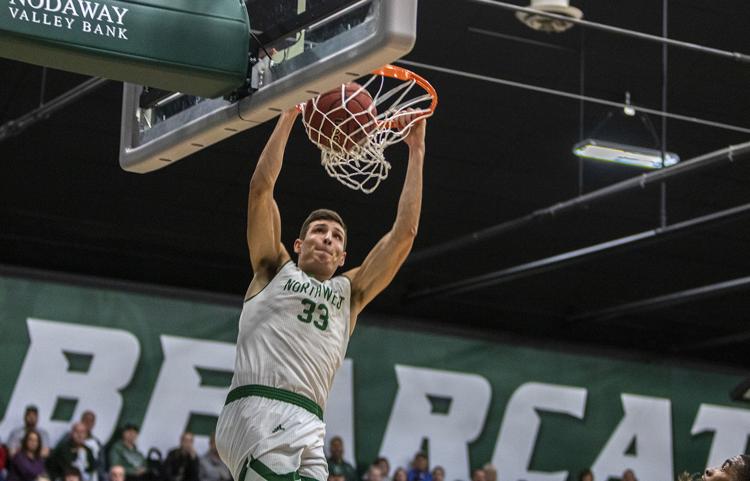 ---
The moment served as a late dagger for Northwest in a gritty victory over Pitt State. It led directly to a technical foul called on Pitt coach Kim Anderson, after which Hawkins sunk a pair of free throws. And it provided a flash of concentration for Northwest in a game defined more by a lack of it.
Hawkins said the win was important for the Bearcats, proving to the conference and the country they can win without shooting threes. But for McCollum, the win defined what Northwest shouldn't be. With two games between the Bearcats and the conference tournament and with a Feb. 25 matchup against Missouri Western, it was the kind of performance they want to avoid this time of year, the kind of performance McCollum wants to improve upon.
"We've got to be better," McCollum said. "We'll get there. We'll get there. It's good to have a couple of games like that, isn't it? We'll see Tuesday, won't we?"