There were eight seconds left on the shot clock and 27 seconds left in the game when the point guard took a step back beyond the top of the key. His coach was shouting something, but he ignored it.
Northwest men's basketball was hanging on to an 11-point lead as both the shot and game clocks neared their expiration, but the game was far from over. Trevor Hudgins, the sophomore guard who found himself near the three-point line with the ball in his hands, didn't have much time to think. Running a play was off the table. He just needed to score.
"(Coach Ben McCollum) was trying to call something and I saw the shot clock, saw the time on the clock, I was like, 'Nah,'" Hudgins said. "I was like, 'Nah, let's just go at 'em right now. I have the matchup I want. Just go at it."
He briefly scanned the floor ahead of him before dribbling between two Missouri Western defenders and driving toward a third, leaping as he reached Western forward Tyree Martin and forcing a layup toward the basket, one Hudgins said he didn't think would go in.
"I just threw it up there, to be honest," Hudgins said. "I didn't even know where it was going. It just went in though, I guess. I was just in my rhythm."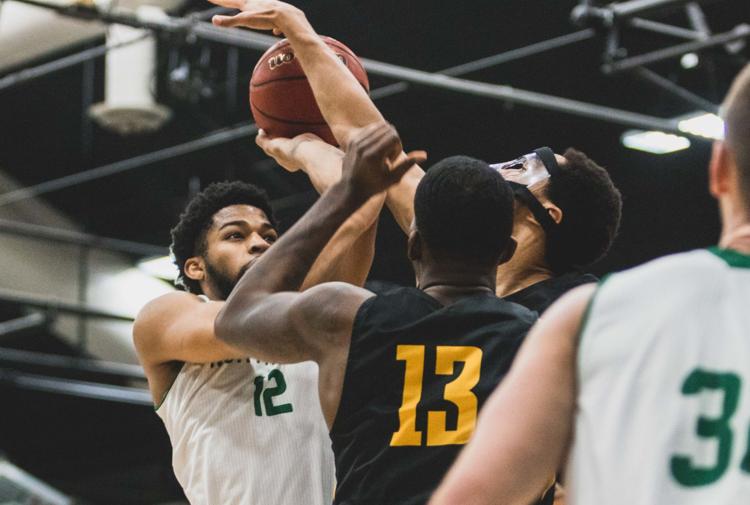 Hudgins' shot, indeed, went in, giving Northwest (16-1, 6-1 MIAA) a 65-52 lead that would turn into a 65-56 win over Western moments later Jan. 18 at Bearcat Arena. The game marked the 14th consecutive win for the Bearcats over the Griffons (7-11, 3-4 MIAA). Hudgins' last shot marked the real end of it, though it wouldn't become finalized for 22 more seconds.
The play helped bookend and depict the entirety of the contest for both Hudgins and the Griffons. The sophomore scored 21 first-half points to help Northwest carry a 31-25 lead into the break. He was the only Bearcat to make a single 3-pointer in the first half of the matchup. He made five of them in 20 minutes.
For much of Northwest's roster and lineup, the Griffons had answers. They poked holes in Northwest's ball screen offense and disrupted the team's ball movement. They held senior forward Ryan Welty, in his return from a head injury, to 0-of-2 shooting in the first half. They held junior forward Ryan Hawkins, the three-time MIAA Player of the Week, to 1-of-8 from the field in the first half and 2-of-9 for the game. They allowed every Bearcat not named Hudgins to make 2 of 11 attempts from beyond the arc.
But for Hudgins, the Griffons had no answers. The guard shot 5-of-6 from three in the first half and finished the game 6-of-9. He scored 31 points, a new career-high. He shot 61% from the field and made as many shots in the contest (11) as the rest of his team combined.
"He's been shooting at a high level for a few games," McCollum said. "And, obviously, we needed him to hit a few tonight."
In the aftermath of Northwest's 9-point win and his own career night, Hudgins was mostly uninterested in talking about himself. He acknowledged his own rhythm but credited his teammates for the open looks he received. He praised McCollum and Northwest's offensive system for his 31-point outburst. He said after his last shot, the one in which he evaded three Western defenders to take, he felt more like fellow sophomore Diego Bernard than he did himself.
His teammates, though, were quick to pass the praise back to the point guard. Freshman forward Luke Waters, who logged more than 30 minutes for the fourth-consecutive contest after playing sparingly for the first half of the season, reminisced on his time last season as a redshirt, when he watched Hudgins score more than 700 points and play his way to MIAA Freshman of the Year.
"Trevor is a baller," Waters said. "His name is with the greats. Obviously, I know Trevor is a very unselfish player too. He's gonna try to get everyone involved, so I knew when I was in there I just gotta be ready to shoot, ready to play my role. I mean, it was a lot of fun watching Trevor play last year."
Hudgins, of course, had help in the win over Western. Waters added 8 points and 4 boards to the effort. Hawkins scored 8 and grabbed 6 rebounds. Bernard scored 9 points, recorded 6 boards and added 3 assists. McCollum said Bernard's defense, which came primarily against dynamic Western guard Tyrell Carroll, was the difference in the matchup.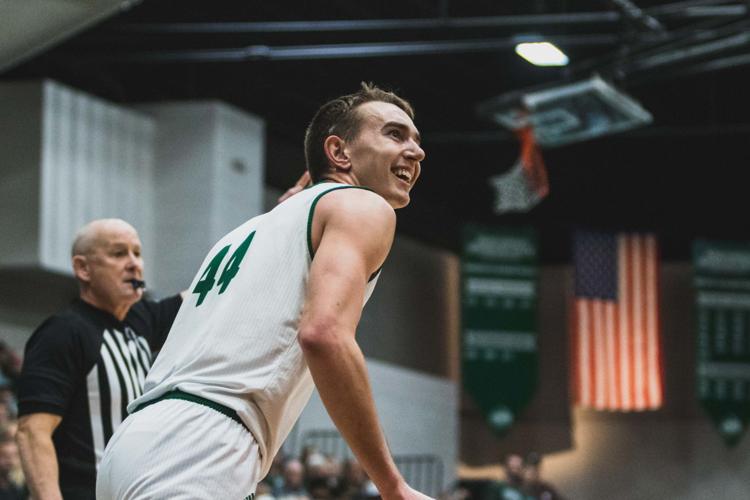 But it was Hudgins whose offensive prowess lifted Northwest over the Griffons, Hudgins who guided the team through a back-and-forth first half and Hudgins who hit shots when no one else could.
"He was incredible," Waters said. "When I had the ball, I was looking for Trevor. I was just — 'Where's Trevor?' He was on a heater. He was the reason we had the lead after the first half."
Hudgins' career night came on what was a historic day for the point guard. With his first point of the game, a free throw he made less than four minutes into the contest, Hudgins surpassed the 1,000 career point mark. He's the 25th player in the program's history to accomplish the feat, and Jan. 18, he became the fastest player to do so, taking 55 games.
In the aftermath of his performance, Hudgins didn't know he had dropped 31. He didn't know he was the only Bearcat to make a trey in the first half. And he didn't know that he is on pace to surpass Justin Pitts, Zach Schnieder and DeShaun Cooper — along with every other player in program history — in the points-scored category by the time his career is said and done.
"Glory to God, man. I just — I don't know," Hudgins said. "I have no idea. I'm speechless. Those guys … are greats. Those guys are really, really good. Just being on pace to become one of them is just unbelievable. … Just getting my name mentioned with them in points is outrageous."
Pitts, who scored 2,549 points in his career, was still starting at point guard for Northwest when Hudgins, a native of Manhattan, Kansas, was recruited to the program. It seemed improbable then that Hudgins could compare to Pitts, who's point total sits atop the program's record book.
But two years after the two guarded each other in practices throughout Hudgins' redshirt season, the sophomore is inching his way toward Pitts' total. After a 31-point showing in a 9-point win, one that thrust Northwest atop the MIAA standings, Hudgins is a step closer.
"It just blows my mind," Hudgins said. "I'm just blessed — blessed to be here."