As Maryville football coach Matt Webb finished his postgame interview, sophomore running back Caden Stoecklein approached a group of reporters to face a similar set of questions.
With his arms covered in scratches and newly-formed bruises, one thing didn't look beat down, and it was his shirt that read, "You can't stop me."
Whether or not Stoecklein's shirt was a coincidence, Harrisonville had trouble stopping him.
"I mean, it makes sense," Stoecklein said about the cutoff he wore under his shoulder pads. "I couldn't be stopped today."
Stoecklein went from watching the Week 1 matchup from the sidelines due to not having participated in enough preseason practices, to breaking a 49-yard touchdown rushing on the first play of the game.
"I was so upset that I couldn't help my team out last week," Stoecklein said. "In order to come out here, and get the win, tonight felt amazing."
Stoecklein and the Spoofhounds (1-1) battled their way to a 42-40 win against Harrisonville (1-1) Sept. 4 in the Hound Pound
Stoecklein's inexperience, and the talent in front of him, made his role in the backfield seem limited, until senior running back Connor Weiss was ruled out due to COVID-19 related issues.
"Going into the season, I knew my role of rotating in-and-out," Stoecklein said. "I just had to fill in Weiss's place and do the best I can while he's gone."
Stoecklein was responsible for the bulk of Maryville's rushing attack, including two significant runs for 42 and 41 yards, respectively. But those were insignificant compared to the 26-yard touchdown rushing with 7:18 left in the game to bring Maryville within 4 points.
"Caden had an unbelievable night," Webb said. "He's just 16 years old, and he came out here and played extremely hard because he loves his teammates."
In a game that didn't see the three-year starting quarterback Ben Walker under center due to an injury that sidelined him for the remainder of the season, Maryville looked to junior quarterback Connor Drake to lead the offense.
Drake did not see much passing action in the first half. Two of his four first-quarter passes were completed 2-point conversions.
Adversity struck the young quarterback in the third quarter when his pass was intercepted and returned for a 44-yard Harrisonville touchdown.
"I told him you have to flush that one and move onto the next play," Webb said. "He'll learn from that and not make that mistake again."
The Wildcats outscored Maryville 32-6 in the third quarter, and the atmosphere surrounding the 'Hound Pound was dismal. Drake kept his composure, however, and showed up when it mattered most.
With 2:58 left in the game, Drake dropped the ball perfectly over the shoulder of senior wideout Kade Wilmes. The 16-yard touchdown pass would be the go-ahead, and eventually game winning, score for the Spoofhounds.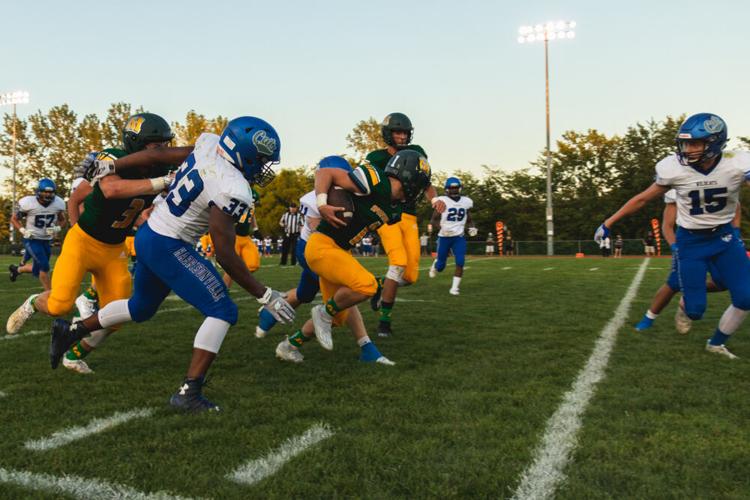 "Nothing surprises me," Webb said. "Connor is an awesome kid. He cares for his teammates and he knows he has to execute the offense. He's going to do his one-eleventh."
Drake had mixed emotions when the scoreboard clock read zero.
"I wish Ben could be out here with us," Drake said about the player that he filled a void for. "It's just fun to get my opportunity. It's a team win and team effort."
The show wasn't strictly run by younger players. Senior running back Trey Houchin had two touchdowns on the ground. Wilmes had a catching touchdown. Senior wideout Caleb Kreizienger converted a two-point try. Senior running back Brady Farnan also found the endzone via a 28-yard rush.
Kreizienger wasn't only causing havoc on the offensive side, but he also made an impact on defense. With 10:16 remaining in the first quarter, Kreizienger intercepted Wildcats' quarterback River Riley.
The Spoofhound defense, holding the Wildcats to 8 points in the first half, kept Maryville in the game throughout the night.
"If we didn't come up with that jump at the beginning, we're not winning that ball game," Kreizienger said. "We need to come out that strong every game, but we need to continue it in the second half."
Harrisonville junior running back Jace Reynolds gave the Spoofhound defense trouble in the second half. A kickoff return and an 80-yard touchdown run gave the Wildcats the 10-point advantage. Reynolds finished with three touchdowns.
The Spoofhounds' second wind, combined with the fans inside the 'Hound Pound, was enough to avoid an 0-2 start.
"I've never been more proud of a group of kids," Webb said. "That family tonight wasn't going to lose, and I'm so proud of every kid on our team."