In late July 2016, Ben McCollum took a trip to Lawrence, Kansas, for an up-close look at one of two guards that he and his staff were recruiting that summer.
But it didn't take long for a third to catch his eye.
Sitting at an AAU tournament, McCollum pulled out his phone and texted Austin Meyer, his right-hand man and top assistant at the time.
"Who's this kid? I haven't seen him," McCollum asked.
"They've been in Chicago and all these different places, so we haven't had a chance to see him," Meyer responded.
That's all it took for his sights to narrow on Trevor Hudgins.
And even though the Northwest Missouri State men's basketball coach didn't know much about him, Hudgins had McCollum's attention the rest of the day.
McCollum turned to the mid-major assistant sitting next to him and asked what he knew about that kid from Manhattan, Kansas.
"Yeah, he's not good enough for us," McCollum recalls the assistant saying. "I'm not sure if he's quite good enough for you, either."
McCollum usually laughs as he reaches that part in the story nowadays, because he knows exactly how it ends.
Six years later, the two sat on separate benches in Bearcat Arena, where they had just finished a workout in preparation for the 2022 NBA Draft.
They went through a lot during the years leading up to that very moment. They made many impossibles happen together. They rewrote the program's record book together. They won an unprecedented three-straight national titles together.
A few minutes after their workout — and weeks after Hudgins' storied Northwest career had come to a close — McCollum stood up and walked toward the gym's south exit. And before he got too far, he pointed at Hudgins and let go of the words that already hung in the air.
"The best player in Division II history," he said. "Not arguably. He is."
---
Hudgins wasn't exactly sure what to make of his freshman year at Manhattan High School. Nobody expects their head coach to be relieved of his duties in the middle of the year at that level.
Insert Benji George.
George, one of two men tasked with co-coaching Manhattan to the season's finish line, didn't immediately know he had a future star in his program, but he saw enough for Hudgins to play a little bit of varsity in the latter half of the Indians' campaign.
"We really, at that point, didn't have anybody else in the program ready to take over that point guard spot other than him," George said. "He was a distributor."
So that's what carried him into the mix for his sophomore year: trying to help Manhattan flip the script on an 11-9 season from the year before, and trying to help George — who was eventually handed the keys to the program — start his tenure on the right foot.
With the help of Hudgins and Pierson McAtee, who went on to be a member of Kansas State's 2020-21 Big 12 regular-season title, George built a foundational culture within the program. The results were evident, too, as Manhattan finished that season 18-3 and with a Centennial League title.
Hudgins' helping hand never came by way of scoring, at least not early on. That was fine by him. It was by choice. He used his pass-first approach to the position to set everybody else up, turning the spotlight away from himself and onto his teammates.
"He would not look to score probably as much as he could've," George said. "We had to really pull it out of him to look to score the basketball or take a game over. … Even then, he didn't do it as regularly as he could have. It almost was a deal where — you kind of have to tick him off."
The spotlight eventually found him, though, whether he liked it or not.
He helped lead the Indians to a second-straight Centennial League title as a junior and was named the conference's player of the year in the process. Still, nothing changed. He remained that same level-headed, humble kid that got him to that point — never basking in the highest of highs or sulking in the lowest of lows.
---
Division I colleges started to reach out to Hudgins, albeit none of them ever issued an offer. A few Division II programs did, including MIAA schools Pittsburg State and Lincoln.
But in order for McCollum to, he needed to see just a little bit more.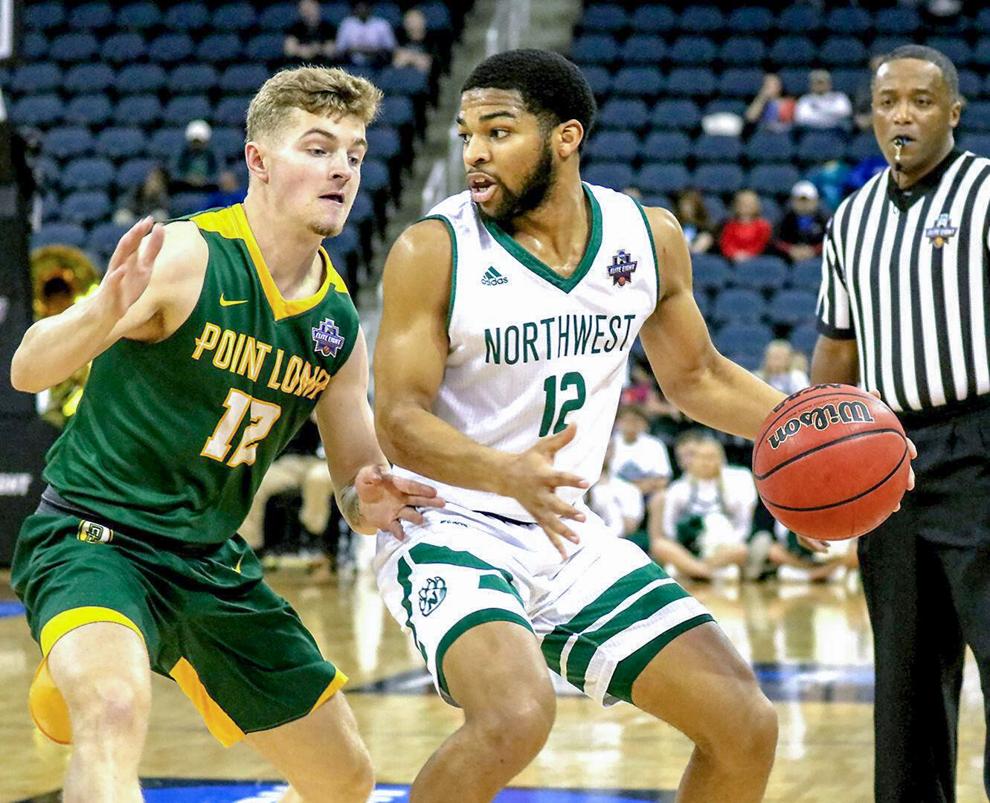 He made another trip to the Sunflower State, this time to Hudgins' hometown to watch him play pickup at the Ahearn Field House at Kansas State.
"I didn't even know what Northwest was until he came to Manhattan, honestly," Hudgins said.
And if it weren't for what he did on the court that day, he likely never would have.
McCollum watched and watched, just as he did weeks before. He was observing with a purpose this time, though. He wasn't just intrigued by Hudgins anymore. He wanted to see if the kid had what it took to make it in his program.
After watching what Hudgins did that past winter, McCollum decided he needed to see him be a little bit more aggressive with scoring. He needed to see that same aggression on defense, too.
"He was good, went through the motions and did good," McCollum said. "It was, like, 'Gosh, he's still kind of passive with it.'"
Then, McCollum said, his demeanor changed. Someone ticked him off.
"He got in a stance, guarded and went at him over and over and over," McCollum remembers. "It just kind of pissed him off, and I'm like, 'OK, there it is. That's all I needed to see.'"
"Right then I was convinced that he was gonna be a good player"
Hudgins had an offer to Northwest the next day.
---
Hudgins and his parents made the three-hour trip from Manhattan to Maryville that fall to attend a Northwest football game and get a feel for how much the town of 10,000 actually supported the university.
As they toured the Lamkin Activity Center, Hudgins wasn't particularly taken by all Bearcat Arena had to offer. But his mom, Pat, was.
 "I remember seeing a poster that said 'Culture wins,' and I loved that one," she said. "I love to see the culture of what (Northwest) did. When they did win, it wasn't about showboating and that kind of stuff. You know why? Because it gets to be something you do enough that you don't have to showboat about it."
They eventually went and enjoyed the football game, and then they left. Hudgins made another trip back shortly after to play pickup with some of the Northwest players before that season got underway.
After that, McCollum didn't hear from him again.
"He's pretty focused. He's not a guy you can really influence," McCollum said. "So he just didn't answer and didn't answer. He just didn't answer."
"I mean, I'm not a big talker. At that point, once I started to get to know Mac — and all these teams were calling me and all these coaches were texting me — it got overwhelming," Hudgins said. "Last year of high school, still playing ball, I just wanted to have fun and not think about it until later. I missed a couple calls, I think, but it worked out in the end."
---
McCollum and company captured the program's first national title in March 2017, and that was enough to make Hudgins finally commit. Maryville turned into his home that summer, when he arrived at Northwest and joined the team for offseason workouts.
He was on the heels of a high school finale that included a third-straight Centennial League title and a second-straight year of being recognized as the conference's best player. Manhattan made it all of the way to the state semifinals before a season-ending loss.
But he showed up knowing he wasn't going to play that year, and it was solely because of Justin Pitts.
Pitts, the program's crown jewel point guard, was readying for his senior season after leading the Bearcats to their title-winning punctuation of the year prior. He wasn't planning on letting some freshman come in and give him a run for his money.
After all, he was Northwest's all-time leading scorer. For now.
The new kid on the block wasn't afraid to jump in and challenge the best of the best, though. He had to at least try.
"I was hearing he was like that, and I was thinking to myself, 'I feel like I'm like that. Let me push his buttons real quick,'" Hudgins said. "While I was thinking that, somebody was like, 'Hey, don't talk to him. Don't start. Don't do it.'"
"I've gotta see what he's about," Hudgins answered.
He got an up-close-and-personal look that day, seeing exactly why Pitts was the reigning NABC Division II Player of the Year. Hudgins remembers saying one thing to him, and Pitts responded by draining more than a handful of 3-pointers in a row.
"They were all in my face," Hudgins said. "It was just 3 after 3 after 3. I was like, 'OK, he's legit. He's real.'"
---
Hudgins, after sitting for a year, prepared to take the court in a Northwest uniform for the first time ever.
The Bearcats were moments away from opening the 2018-19 season with a matchup against Northern State, a clash between two heavyweights from the NCAA's Central Region. McCollum, Hudgins and company were hoping to turn the page from the season-ending loss that they were eight months removed from.
They weren't expected to do that, though. That first-round defeat was supposed to be the beginning of a slippery slope in Maryville. Pitts had graduated that spring after shattering a multitude of program records, so there wasn't a single person that could emulate the legacy he had just left behind.
Or at least that's what everyone thought.
Hudgins dropped a game-high 25 points to go along with five assists, four steals and a trio of rebounds. The 'Cats needed overtime, but they escaped with a 72-70 victory.
"Oh my lord," Hudgins thought to himself after playing 42 minutes that night. "Like, this is college."
A game that was supposed to be the beginning of the end for Northwest instead marked the start of perhaps the most historic Division II season of all time.
---
Four months later, after winning 37 consecutive games by an average margin of 20 points per game, Northwest had one final obstacle between it and the program's second title in three years.
The Bearcats were tasked with facing Point Loma, led by Division II Player of the Year Daulton Hommes, on that Saturday afternoon in late March. When it was all said and done, their 64-58 win over the Sea Lions completed the first undefeated Division II season in 10 years.
They exceeded every expectation placed on them going into that season, and they flipped each and every script that was written before the year even started.
"Our attitude didn't change the whole year," Hudgins said. "It was weird. Everyone was so focused."
That win helped the 'Cats surpass Findlay's jaw-dropping 36-0 run in 2008-09, and it blew by Indiana's 32-0 campaign in 1975-76.
"That team was just unbelievably talented," Hudgins said. "I mean, I'm still speechless about that year, because it was crazy. I don't even know what to say about it."
Hudgins was named the Elite Eight's Most Outstanding Player in the process, dropping 12 points and six assists in the title game. That performance was emblematic of the season that the MIAA Freshman of the Year had just strung together.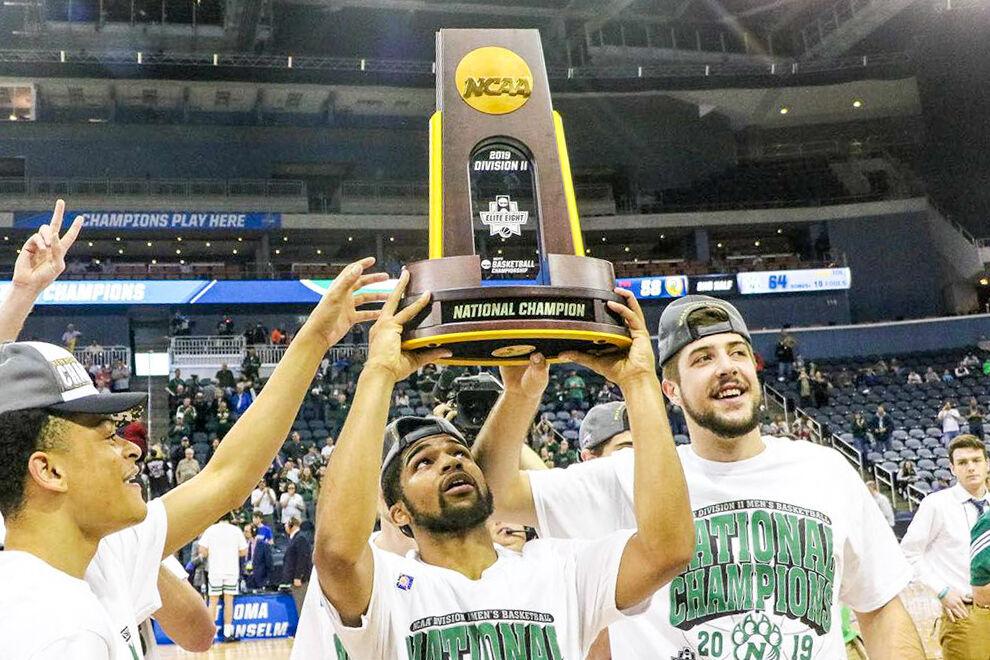 It was just him being the same player he was at Manhattan.
He didn't need to go toe-to-toe with Hommes' game-high 26 points. Instead, he did the only thing he knows, and that's putting his teammates at the forefront while taking a step back.
"The word humility just screams at me," said George, who continues to keep up with his former player. "He's the most humble player that has the most talent of anybody I've ever coached."
"It was fun. I'll always have a lot of memories with that group," Hudgins said. "It was great basketball."
---
It's tradition for Hall of Fame coach Mike Krzyzewski and Duke to invite the reigning Division II champs to Cameron Indoor Stadium for an exhibition to kick off the following season.
So there Krzyzewski was, fielding questions from a room full of reporters in the aftermath of the Blue Devils' 69-63 win over Northwest.
Then he needed to ask a question of his own.
"Do you guys have one-and-dones in Division II?" Krzyzewski asked, eliciting a roar of laughter from those in front of him. "Tell those two guards, especially Hudgins — I think he's gonna go late first round."
Hudgins was a star that night, stealing the show from a gym full of future first-round draft picks. He dropped a game-high 27 points on Tre Jones, who was selected by the San Antonio Spurs with the 41st pick in the 2020 NBA Draft, and that's what left Krzyzewski in awe.
That's what made one of the members of college basketball's Mount Rushmore very much wish that Division II did, in fact, have one-and-dones.
"Have him thinking, have him test the waters," Krzyzewski instructed through a smirk.
More than two years after the fact — moments after he finished his workout with McCollum — Hudgins couldn't help but think of that moment when Coach K, of all people, knew about some kid from a small school in the northwest corner of Missouri.
"He's one of the, if not the best college basketball coach," Hudgins said. "You never know that you're going to see Coach K or shake his hand or for him to talk about you. Just, him saying those words, it's kind of cool. I just see him on TV — a superstar to me."
---
Hudgins always wanted a Dwyane Wade moment.
The Miami Heat legend made it his signature to stand on the scorer's table and share a celebratory embrace with the crowd after hitting a game-winner, and Hudgins wanted a chance to do that, too.
There were only 6.8 seconds left on the clock in Bearcat Arena, and Missouri Southern's Braelon Walker was at the free-throw line. Walker only had one shot ahead of him, and a make would've given the Lions a 77-75 lead.
He missed.
The Bearcats had torn through the league up until that point in Hudgins' sophomore year, aside from an anomaly of a loss to Central Missouri in early December. If Northwest was able to take advantage of Walker's miss and convert on the other end, it would've secured the program's seventh MIAA regular-season title in a row.
Hudgins crossed half court and immediately went to his left, where he was met by two Southern defenders. He used two dribbles and a step-through to create a leaning, yet open look at the rim.
He nailed it.
Trevor Hudgins lean-in, off-balance jumper at the buzzer lifted @NWBearcatMBB to a 77-76 victory over the Missouri Southern Lions at Bearcat Arena. Northwest captured its seventh consecutive @TheMIAA regular season title. #SCtop10 #OABAAB pic.twitter.com/3V7kspSAFZ

— Northwest Athletics (@bearcatsports) February 21, 2020
"Those kinds of things, where it takes the wind out of the audience, is when those are his moment," Pat Hudgins said. "He knows that he can, and then he does it, and he makes it look like it was a piece of cake."
Just when her son thought he was going to get the moment he envisioned for so long, a chance to imitate what Wade had done a handful of times, everyone else in the venue had other plans, including teammate Diego Bernard.
Hudgins headed back toward the other end of the court when he realized the opportunity in front of him. He started to detour toward the table in front of the roaring crowd, and that's when Bernard dragged him down to the hardwood to celebrate.
"That is one of my bucket list hooper things," Hudgins said. "Diego — he got me pretty good, too. I remember that."
---
Less than a month after Hudgins' heroics at home, Northwest took down Missouri Southern in the MIAA Tournament title game. It was a victory that propelled the 'Cats to the Central Region's No. 1 seed, and that meant Maryville was set to host the Central Region Tournament for a third-straight season.
Hudgins remembers being at practice Thursday, March 12 — two days before the Bearcats' first NCAA Tournament game. That's when they — the world — ran into an immovable object.
"That's it, Coach," Hudgins recollects a man telling McCollum in the middle of practice.
COVID-19 put a halt to any title aspirations Northwest had that year, effectively slashing any chance for the program to walk away with three titles in four years.
The 'Cats were 31-1 at that point, the No. 1-ranked team in the country and had just started playing some of their best ball of the season.
"I felt like we were there," Hudgins said. "Coach Mac always talks about, 'We haven't arrived yet.' But I felt like that was it. We were just only gonna get better from there, too. I felt like we were the best team in the nation. I feel like we would've won the National Championship."
---
McCollum never expected one of the two guards he was recruiting in that summer of 2016 to cause him problems in the future, but that's exactly what Washburn's Tyler Geiman did.
Hudgins and Geiman were both in their fourth year, though Geiman never redshirted. They evenly split four matchups that season and, in the process, created one of the greatest head-to-head rivalries that the MIAA has ever seen.
The Ichabods struck first, upsetting then-No. 1 Northwest in early January. The Bearcats exacted revenge in February to clinch an eighth-straight MIAA regular-season title.
And, to follow the trend, Washburn answered back. It seemed like Northwest, clinging to a 68-66 lead with 2.7 seconds left, was going to take a sixth consecutive MIAA Tournament title. But Geiman had other plans, using a 57-foot heave as time expired to claim Washburn's sixth-ever tournament trophy.
"I feel like the MIAA Tournament loss to Washburn — off that buzzer-beater — really refocused us," Hudgins said.
The two teams were pitted against each other in the first round of that year's Central Region Tournament. Nothing that happened leading up to that game mattered. The winner was going to enjoy the last laugh. The loser was going to dread the seven-hour trip home from Aberdeen, South Dakota.
But with a newfound focus, and the motivation from their last-second loss, the fourth and final meeting wasn't anything like the first three, and Northwest pummeled Washburn, 85-44.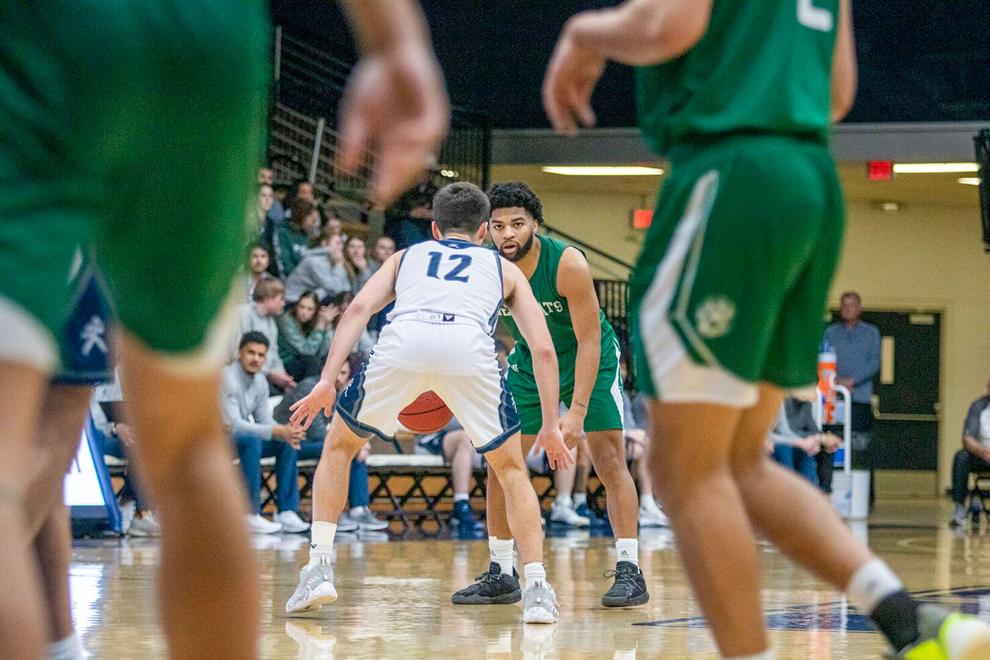 After being named the MIAA Player of the Year for a second-straight season, Hudgins decided he wasn't quite done winning awards yet. He wasn't finished winning trophies, either.
Northwest trailed Northern State 79-76 with 12 seconds left in the title game of the Central Region Tournament. The Bearcats had just fought their way back into the game after trailing by 11 with 3 minutes and 4 seconds left.
Hudgins had the ball in his hands and drove to the left wing, where a Northern defender awaited him. He didn't use two dribbles and a step-through this time, though. Instead, it was a behind-the-back, step-back triple to force overtime and keep the Bearcats' season alive. 
"People practice those kind of shots," Pat Hudgins said. "So, when those moments come, and you need to stand up and do it, you do it."
"All right, this team's got some fight," Hudgins thought to himself that night. "We might have a chance."
Northwest ravaged through the competition in Evansville, Indiana, winning its Elite Eight and Final Four games by a combined margin of 52 points. An 80-54 win over West Texas A&M in the National Championship secured the largest victory margin for a team throughout the three Elite Eight games (78).
The day before Hudgins had 15 points and dished out five assists in the title game, he became only the second Northwest player to ever be named the NABC Division II Player of the Year.
His part in the Bearcats winning the first back-to-back titles since 1993-94 created a whirlwind full of people thinking — and Division I coaches hoping — he was going to enter the transfer portal. 
"Honestly, I was always going to come back," said Hudgins, who entered his name into the 2021 NBA Draft to get feedback from scouts. "I always knew I was coming back."
---
There aren't any official consensus players of the year in Division II, but if there were, Hudgins would've become one of very few.
He did anything asked of him — doing so to put together a farewell tour for the ages.
He was named the MIAA Player of the Year, MIAA Tournament MOP, Central Region Tournament MOP, Elite Eight MOP, NABC Division II Player of the Year and Bevo Francis Award winner.
If there was an award to win, he won it.
"I mean, I don't even think about it. I see it on Twitter or something when people mention me, but I don't even think about it like that," Hudgins said. "I see it after a game, and I'm just like, 'Oh, that's cool. I've been here for awhile.'"
He explicitly remembers one particular tweet, though.
Northwest was beating MIAA foe Central Missouri with roughly seven minutes left in an eventual 89-49 win over the Mules on Jan. 29. That's when Hudgins nailed a 3-pointer from the corner in front of the Bearcats' bench, officially passing Pitts to become the program's all-time leading scorer.
That moment happened not even two full months after Hudgins recorded the 576th assist of his career, passing Pitts in that, too.
"Knew this day would come, couldn't be more proud of you!" Pitts tweeted at Hudgins. "Knew all them days busting yo ass would pay off."
"All I remember is coming into Northwest and the GOAT, Justin Pitts, was in front of me," Hudgins said. "I had big shoes to fill, and all I told him was that I was going to break his assist record. Four or five years later, I'm like — man."
---
As the clock expired at the Ford Center in Evansville, each tick seeming to move as quickly as his career did, Hudgins knew exactly what he wanted to do when the final buzzer sounded.
He had just exhausted himself, using "everything he had left" to will the Bearcats to a third-straight national title — something that had never been done until the latter half of this March. His game-high 31 points and five assists in Northwest's 67-58 rout of Augusta led to him, once again, being named the Elite Eight's Most Outstanding Player.
Then the buzzer sounded, the confetti started to fall, and after years of hard work, after years of focus, Hudgins saw the table. It was his Dwyane Wade moment.
He shared a quick hug with Bernard, his teammate of four years, and then, he leaped onto the scorer's table and bellowed into the Northwest faithful before him. It was everything he dreamed it to be, and it was seemingly the only ending fit for a career of that magnitude.
"When I saw him jump up on the table, I knew that he probably felt like Atlas," Pat Hudgins said, referring to the greek Titan. "It was like the world was that ball. He had let that ball go, and he had done what a lot of people didn't think could be done."
"I just knew it was, just — I still don't have words for it."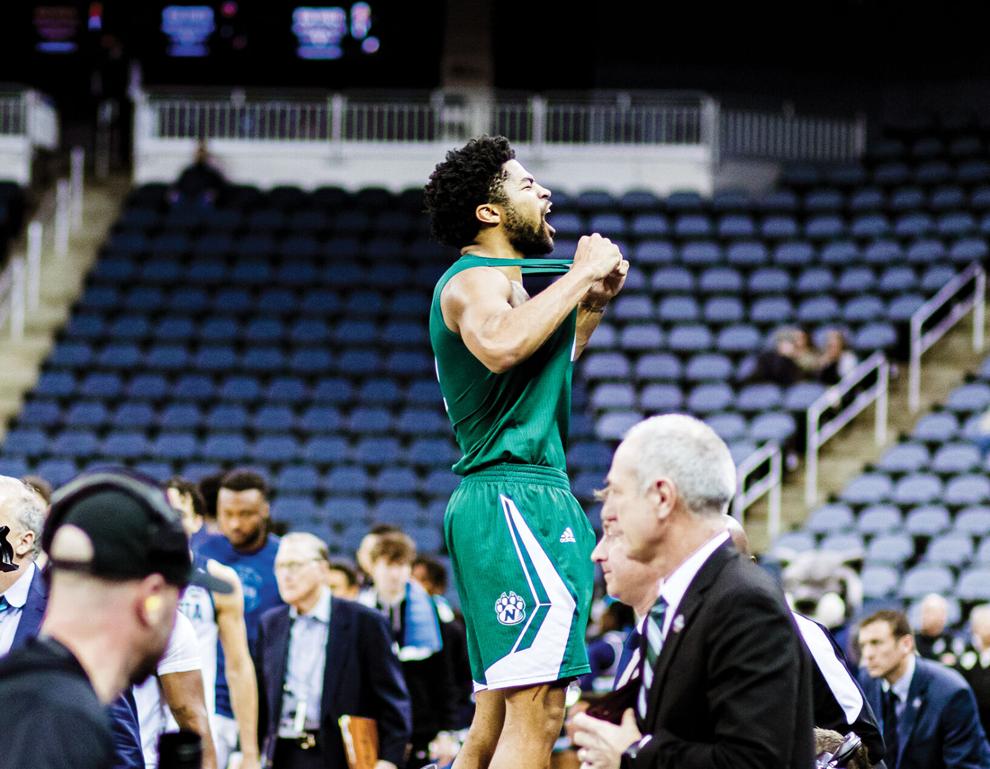 On a Tuesday afternoon earlier this April, Hudgins was sitting in the front row of the westernmost bleachers in Bearcat Arena while McCollum made his way to the venue's exit.
Still, to that day, he couldn't fathom anything he had accomplished over the last handful of years.
"It was God's will," Hudgins said. "Like, I never could imagine me getting all of these awards, our championships. … I would've never thought."
And despite being preoccupied yet again, his eyes started to wander. McCollum was almost out the door at that point, but Hudgins is glad he hadn't left just yet. Even though they had just finished a grueling workout, Hudgins was ready for another.
"Are we going again?" he asked, causing McCollum to stop.
"I'm leaving at 2:45 today," McCollum replied. "If you want to, you better be in here stretched and ready to go by 2."
Then, McCollum left.
Hudgins stuck around for a few more minutes, sitting there in the wake of the hourlong workout to let his exhausted legs rest. It was a routine that had gone on for the few weeks leading up to that day, and it was a routine the two planned to follow until the NBA Draft in June.
And after he sat there — reminiscing on each and every moment, each and every memory he was set to leave behind — he got up and started to drag his feet toward the locker room.
He wouldn't be gone for too long, though.
There was only about an hour before he planned to be back, stretched and ready for whatever McCollum had next.