EMPORIA, Kan. — As Parker Sampson stepped up, 53 yards away from the goalpost he was getting set to kick towards, he had a lot to think about.
Northwest's junior kicker had missed his last kick, an extra point attempt less than 10 minutes prior. And he had missed every kick attempt of more than 50 yards this season, failing to convert on two 51-yard tries in the campaign's first four weeks.
But in the midst of Northwest football's matchup with Emporia State Oct. 5, with his team leading the Hornets by 2 points with 3:46 left in the game's third quarter, Sampson had more on his mind than a few missed field goals.
A week ago, Sept. 28, the same day Sampson and the Bearcats throttled Central Oklahoma 59-10 at Bearcat Stadium, Sampson's half-brother, James, died in what Sampson described as a "tragic accident."
With the weight of the missed point-after attempt, and more heavily, the death of his half-brother on his shoulders, and with a tribute to James penned onto Sampson's cleats, he promptly drained the 53-yard field goal, the second of four kicks Sampson made in the contest, giving his team a 28-23 lead.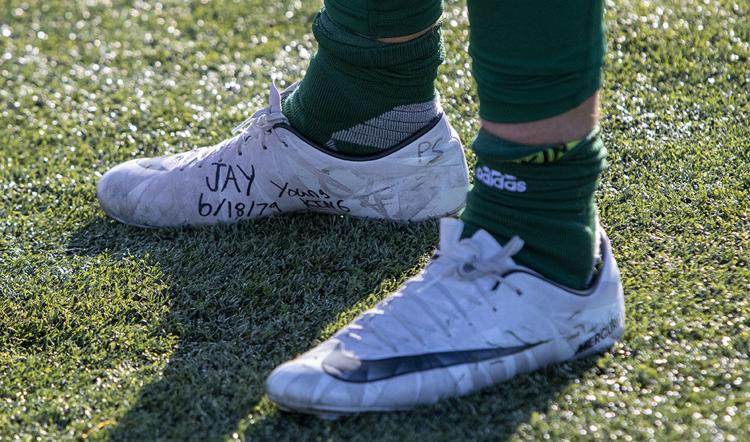 No. 7 Northwest (5-0) beat Emporia State (2-3) 34-23 in a back-and-forth road game for the Bearcats Oct. 5. Sampson's right foot alone accounted for 12 points in a game Northwest won by 11.
In the aftermath of the victory, Sampson thanked Northwest coach Rich Wright for sending him out to try the 53-yarder. He said he was "blessed" by the wind at his back. He said he flushed the memory of the missed extra point out of his head before attempting his career-long field goal. And he said this win meant more than most.
"It means a lot to me and my family," Sampson said. "The best thing for me was just to come back and be with my teammates and I wouldn't rather be anywhere else. … I don't want to get emotional, but I just — I think he was with me today. I'm kind of just lost for words right now."
Sampson's performance served as a bright spot for the Bearcats in a game that came with few. Northwest's defense allowed Emporia to score a touchdown 71 seconds into the contest, marking the first time the Bearcats had trailed since the third quarter of their matchup with Washburn Sept. 14.
Rich Wright said he warned his team throughout the week Emporia would give the Bearcats its best shot. His players heard him, he said, but they didn't listen. In some ways, the game's opening drive was an embodiment of that effort.
"I always think it's good when you can learn a lesson and still come out victorious," Rich Wright said. "But we've got to play a heck-of-a-lot better than what we played in the first half."
Emporia implemented a hurry-up offense in the game's opening drive, one that served effectively. The Hornets drove 75 yards in five plays, capping off the drive with a touchdown pass from quarterback Dalton Cowan to wideout Cole Schumacher.
The drive saw Northwest's secondary scrambling for answers to Emporia's potent pass offense, answers that wouldn't come until the Hornets' next drive.
"We're DB's, we're gonna get burnt," junior safety Blake Bayer said. "But we've got to come back the next play. We can't have our heads down and mope around about it, we've got to come back and compete every play."
While Emporia's offense began the game hot, the Bearcats' offense was cold for much of the first half. Northwest's first points came via a safety, forced by senior defensive end Spencer Phillips. The Bearcats' initial first down didn't come until more than 10 minutes had ticked off the game clock. Their first lead didn't come midway through the second quarter.
After Phillips' forced safety, Northwest and Emporia swapped field goal drives, giving an Emporia a 10-5 lead more akin to a baseball score. Northwest trailed until the team engineered a 13-play, 89-yard drive, capped off by a 2-yard rushing touchdown from redshirt freshman Mike Hohensee that gave the Bearcats a 12-10 advantage.
The lead, of course, didn't hold. Emporia responded with a touchdown drive of its own, taking a 17-12 lead it would carry into halftime against an offense that averaged 52 points per game entering the contest.
Facing a five-point deficit to the Hornets in Emporia, where Northwest hasn't lost since 1965, Rich Wright challenged his team during the halftime break.
"I just said, 'This is not to our standard," Rich Wright said. "'You can't do anything about what we did in the first 30 minutes, but you darn-sure can do something about what we do in the next 30.' And I felt like they responded to that."
In the immediate aftermath of Rich Wright's halftime message, the Bearcats indeed responded. On the second play from scrimmage in the game's second half, sophomore quarterback Braden Wright found junior wideout Imoni Donadelle for a 57-yard touchdown pass. By itself, the play was good for more passing yards than the Bearcats threw for in the entire first half (23).
"We came out in the third, guns up, started executing," Hohensee, who serves as a run-first replacement for Braden Wright at quarterback. "We didn't really have to change anything. It's a huge win for us almost halfway through the season."
The Bearcats and Hornets continued their game of back-and-forth well-into the third quarter. After allowing Cowan to throw for a lead-taking touchdown, Northwest later responded with a Hohensee touchdown pass to senior tight end Marqus Andrews, a score that came on the heels of a fumble forced by sophomore defensive tackle Zach Howard.
Hohensee's 8-yard pass to Andrews gave Northwest a 25-23 lead, one the Bearcats would only build on through Sampson field goals. The Bearcats didn't allow a point in the final 19 minutes of the contest.
In some ways, the win for Northwest was defined as much by poor performances than outstanding ones. Braden Wright completed 6-of-20 pass attempts for 87 yards and for one touchdown and one pick, but Hohensee was responsible for two touchdowns in the game. The defense stumbled early but settled, allowing 58 rushing yards in four quarters.
A week after the team's most convincing victory of the season, the Bearcats were shaky. But they walked away with a win and a resolve to get better.
"No. I wasn't (pleased)," Rich Wright said. "I have higher expectations for our football team than what we exhibited today and we will get after it in practice next week."