TOPEKA, Kan. — Northwest men's basketball had won 18 times this season prior to its latest meeting with No. 15 Washburn.
The No. 3 Bearcats have survived scares this season, much like they did Feb. 18 with a 69-62 win against Emporia State on the road. The Bearcats led that game by a single point with a little more than two minutes remaining.
They've had major triumphs, too, much like their 79-56 road win over Missouri Western Feb. 9, when the Bearcats led by as much as 27 points with roughly four minutes left.
They've only experienced one loss this year though, an 84-82 loss in overtime to Washburn Jan. 7 in Maryville. That loss snapped the Bearcats' 28-game win streak. It was the first time Northwest endured a loss in more than a year.
But, in Feb. 20's rematch with the Ichabods, the Bearcats made sure they wouldn't endure another, securing an 88-85 win in overtime against No. 15 Washburn in Lee Arena.
"On Google, you search 'dog fight,' this is what's gonna come up," Northwest junior guard Trevor Hudgins said in the aftermath of the overtime triumph. "It's gonna come up that two-hour game right there."
Northwest's win against Emporia, coupled with Washburn's loss to Missouri Western Feb. 18, assured the Bearcats' at least a share of their eighth consecutive MIAA regular season title. The win over the Ichabods clinched it outright, along with the No. 1 seed in the MIAA Tournament.
"I think this is probably one of the most difficult ones we've ever won," said Northwest coach Ben McCollum, who is now 16-8 against Washburn during his tenure with the Bearcats.
"I think it feels better every year," Hudgins said. "I don't know why, but it feels a little bit better. Maybe this year with COVID and stuff with just a lot more obstacles and things to get around. It always feels good to win a conference championship."
Hudgins tallied a game-high 28 points on the day to go along with six assists, but his stat-stuffed box score wasn't due to ease. Instead, it was due to necessity.
Six days after the Bearcats' loss to Washburn in January, Hudgins said the Bearcats take pride in playing in another team's gym. He likes feeling as if his back is against a wall, he said.
"We like to fight," Hudgins said Jan. 13. "So, that's what we're going to do."
They were forced to do just that, as the Bearcats spent 20 minutes and five seconds of the contest without the lead.
There was never a large gap between the Ichabods (14-5) and Bearcats (19-1). In fact, no team led by more than 6 points throughout the entirety of the contest. There were 17 lead changes and 15 ties during 45 minutes of action.
"Washburn, they can fight for 40 (minutes)," Hudgins said after the overtime win.
Hudgins knew that before the latest matchup. He wasn't aware he'd have to fight the Ichabods for an extra five minutes in their overtime loss Jan. 7. He wasn't aware that he'd have to do it again in the second meeting, too.
Hudgins made a free throw with less than four minutes in overtime, good enough for his 24th point of the game, also good enough to move him by Scott Fleming for No. 5 on the program's all-time scoring list.
It didn't matter though. It was insignificant to Hudgins and his thoughts on his own personal accolades. That free throw had just put the Bearcats ahead of Washburn by 2 points.
While the two teams were knotted at 76 with a little less than three minutes remaining in overtime, Northwest sophomore Wes Dreamer made his only shot of the day, a contested 3-pointer to give the 'Cats a 3-point advantage over Washburn.
Despite the number of times the Bearcats and Ichabods went back and forth to that point, they didn't for the rest of the contest.
After Dreamer's make, the Bearcats never trailed again. The contest was never tied again, either.
"The way those kids fought and gave, literally, their entire soul to that game, I can't coach that," McCollum said. "That's an internal thing that those kids have. … There's nothing that any coach in the world can do to bring what they showed today out."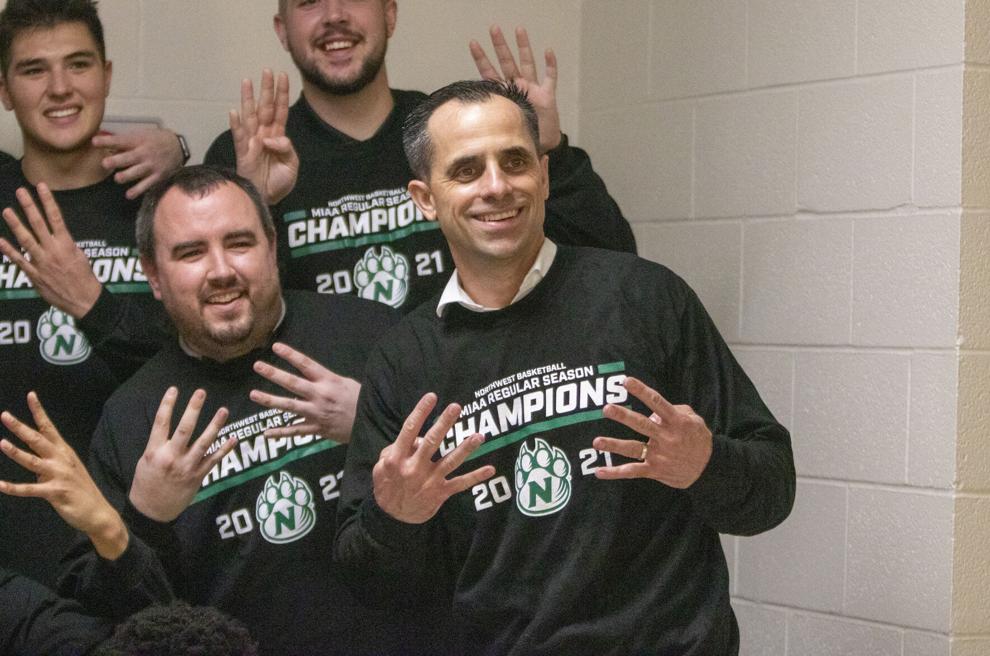 McCollum spent most of his time after the game celebrating another conference regular season title. Amid doing that, he kept reiterating the perseverance his team showed on the road. More than anything else, McCollum was impressed with the fight that the Bearcats showed during the 45-minute bout with the 'Bods.
"People can dig deep," McCollum said. "You can't dig to where they dug. Like, that was deep. I mean, they were — every ounce that they had, they gave. I know that's cliche, but that's what that is. Exactly what they did is what that means."
Collectively, McCollum said, the Bearcats were able to dig deeper than they had previously done at any point in the season. Specifically, the coach spent a portion of his time commending Hudgins, junior guard Diego Bernard and senior forward Ryan Hawkins.
The trio has been a staple of Northwest's program during the last three years. They were that in the win over the Ichabods, too.
Bernard, along with his usual stifling defense, contributed 17 points, seven rebounds and four assists. Hawkins added 16 points and six rebounds.
However, McCollum didn't care about those stats, more so everything that won't show up in the box score.
"They can get to another level, emotionally," McCollum said of the trio. "It's one of those — you don't see it very often. … There's special people in the world that can get themselves emotionally to another area. That's what those three in particular can do. … Can't teach it. Can't coach it. I can't bring it out in people. You either have it or you don't, and they've got it."
Hudgins' performance isn't an outlier, he's used to the big moment.
He hit a buzzer-beating, game-winning shot to secure a 77-76 win against Missouri Southern Feb. 20, 2019, in Bearcat Arena. He was named the Division II Elite Eight Most Outstanding Player his freshman year at the end of the Bearcats' national title run. And today, he willed the Bearcats to their eighth-straight conference title against Washburn.
Those moments, he said, are what he signed up for.
"I'm just a competitor, I guess," Hudgins said. "I mean, that's why I came to Northwest — games like this. We work for these moments."