EVANSVILLE, Ind. — Before the meeting between second-seeded Northwest and No. 3 seed Flagler, no team had ever won an NCAA Division II Final Four by more than 30 points.
A few teams were close. In fact, two teams had won by 30 and another by 26.
The Bearcats secured the largest margin of victory in a Division II Final Four game when they defeated the Saints 77-46 March 25 at the Ford Center, which punched Northwest's ticket to the National Championship for the third time in five years.
"That was as thorough a beating as we've had this year," Flagler's fourth-year coach Chad Warner said in the aftermath of the 31-point loss. "Honestly, level-to-level, that may be the best basketball team that I've coached against."
Flagler (18-3) had its best chance to beat the Bearcats before the game had started. Once the ball was tipped, Northwest used a 7-0 run in the first three minutes of the game to open the floodgates for the onslaught that continued for 40 minutes of basketball.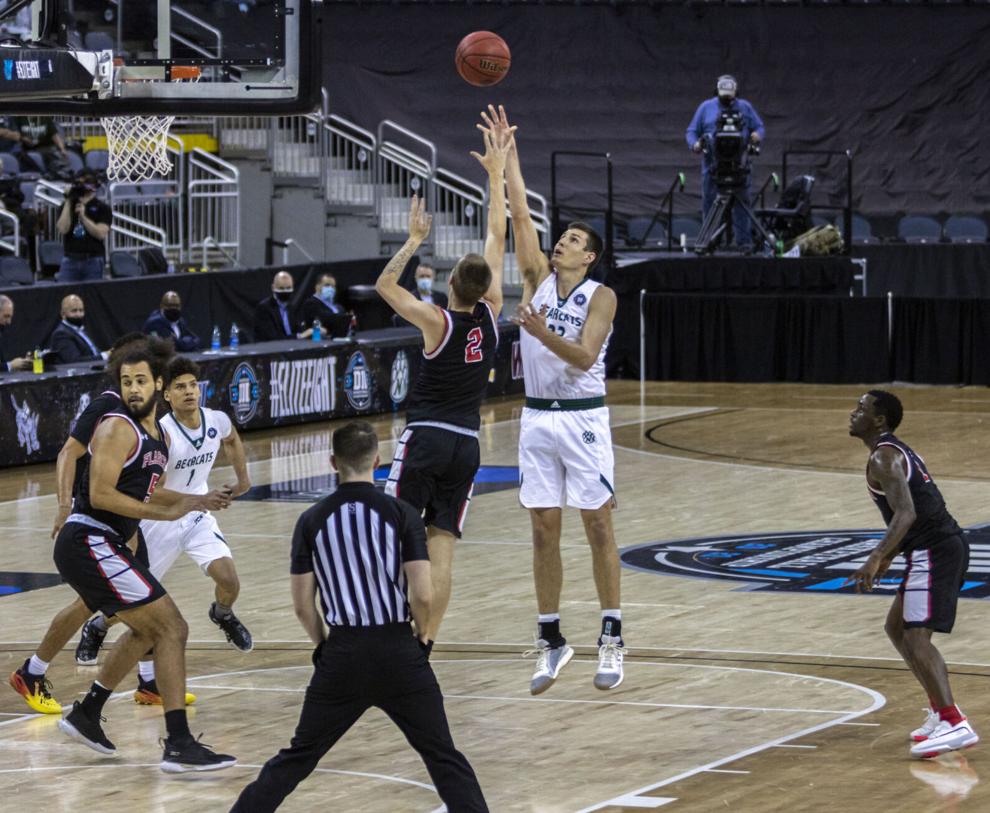 The Saints didn't go away immediately, though, as Northwest senior forward Ryan Hawkins picked up two early fouls, which sent him to the bench and allowed Flagler to attempt to get back into the game.
The attempt failed, largely due to Northwest sophomore guard Luke Waters.
Flagler got as close as 3 points to Northwest, once trailing 17-14, but that was the narrowest the margin ever got aside from when the Bearcats led 10-9. Waters, who tallied 13 points in the Bearcats' blowout win over West Liberty in the Elite Eight, took control of the offense during Hawkins' 3-minute and 45-second absence. He ended the Saints' run by going on one of his own, using a personal 6-0 run to give the Bearcats a 23-14 advantage.
"Luke's a good player. I mean, he's really good," Northwest coach Ben McCollum said of Waters, who finished with 15 points and two rebounds. "Sometimes, he doesn't show how good he actually is. He just needs to make sure he plays with consistent confidence, and he did that tonight. … We benefited from him having a big game."
Waters' own scoring spurt paved the way for Northwest to go on a 21-2 run during a span of 6 minutes and 30 seconds. During that time, Flagler didn't make a field goal for 5 minutes and 4 seconds.
"I thought, defensively, we were really locked in," McCollum said. "We had a good game plan and concentrated on it with a quick turnaround. We didn't put in our game plan until about 4 p.m. this afternoon. We wanted to make sure we had it right."
"They put so much pressure on you, offensively, the pressure you feel to get stops magnifies the pressure you feel to run offense," said Warner, who led Flagler to the program's first Division II NCAA Tournament appearance this season. "I'm not sure — well I am sure — I've never played a team that made the right play that much of the time. Every single one of those guys makes the right basketball play."
Flagler entered the game with four players averaging double digits, including All-American senior guard Jaizec Lottie, who averaged 24.9 points and 6.2 assists and 5.1 rebounds prior to facing the Bearcats.
Northwest junior guard Diego Bernard, the MIAA Defensive Player of the Year, assured Lottie wasn't going to be the proverbial straw that broke the back of Northwest's season. Lottie finished with 15 points, three rebounds and two assists.
Flagler, collectively, shot 34% from the field, including 22% from beyond the arc.
"Diego, defensively, is — especially when he's like he was tonight — just elite," McCollum said. "He can bring a different level of intensity. … That's just him. He plays with his hair on fire, as they say, I guess. He just gets after it, so."
He was up for the challenge, though, and it wasn't something he isn't used to.
Bernard guards the NABC Division II Player of the Year, Trevor Hudgins, every day in practice. Being tasked with trying to slow down the Saints' previously potent offense wasn't anything he hasn't done for the three years he's had Hudgins as a teammate.
"Man, he's tough to guard," Bernard said of Lottie. "It helps me every day going against (Hudgins), Isaiah (Jackson), Byron (Alexander). (Lottie) has a good step-back; we guard Trev's step-back every day, so we — he's tough though."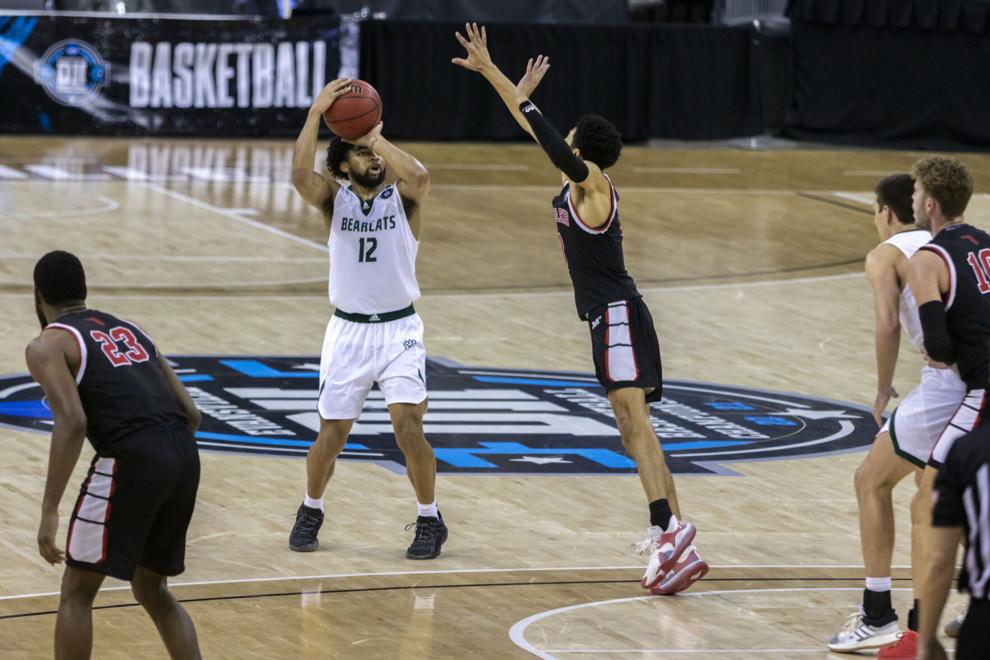 Bernard played 36 minutes in the contest, which is a rarity throughout the last few weeks. In the Bearcats' win over Northern State in the Central Region Championship game, Bernard picked up two quick fouls, which placed him on the bench. He did the same thing in Northwest's 98-77 win over West Liberty in the Final Four, too, and only played 22 minutes against the seventh-seeded Hilltoppers.
"Man, I feel like I haven't played a full game in, like, two months," Bernard said through a laugh in a virtual postgame press conference. "I was just trying to back off, not be too aggressive in the first half and try to play my defense."
But perhaps Bernard's best efforts, although known for being the Bearcats' catalyst on defense, came on the other end of the court. The guard was nearing a triple-double, as he finished with 10 points, nine rebounds and seven assists. He added a put-back dunk as the time expired before halftime, too.
"The dunk — which was absolutely ridiculous — that was nasty," McCollum said.
Despite being one rebound shy of the seventh double-double of his career, Bernard was more concerned with the fact that he'll be in Evansville, Indiana, for another two days due to the Bearcats making another national title game appearance.
"I was just trying to get the win," Bernard said at the start of his press conference via Zoom. "I don't even know my statline. It don't matter as long as we got the win and we're playing on Saturday."
Now, the Bearcats will turn their attention to the Buffaloes of top-seeded West Texas A&M, who advanced to the title game on a buzzer-beating 3-pointer at the end of regulation to defeat fourth-seeded Lincoln Memorial.
In less than 36 hours after the final buzzer of the Bearcats' beatdown of Flagler, they'll be playing for the program's third Division II title in five years.
"We feel like we should've been here last year, if we had a chance," said Bernard, who was referring to COVID-19 canceling last year's postseason run. "We're just trying to win one more game. It feels good to be back."