They were nine practices into the season before Maryville High School closed, disbanding a pack of 'Hounds eager to build upon last year. Now, a team equipped with five returning seniors is hanging its hat on a season that never was and never will be.
Maryville baseball, among all other spring sports, cannot practice or have games when school is not in session. Because of this, student athletes were in limbo with the Missouri State High School Activities Association and the Maryville R-II School District for weeks, as the projection of having a season at all dwindled for the Spoofhounds day by day.
Then suddenly, on April 9, strike three was called by the state — or so the program felt — and all Missouri schools were forced to close for the remainder of the academic year.
Maryville baseball coach Carson Riedel said uncertainty has taken the biggest toll on students and coaches in these trying times.
"I will certainly offer my assistance in any way I can to help (the seniors) in the next leg of their journey," Riedel said.
It was March 17, shortly after the Maryville R-II district sent out an announcement of closure through April 6, that Riedel said he knew the projection for a season was shaky. Professional sports nationwide were either cancelling or postponing their respective competitions, and local and national governments began enacting laws on social distancing. Then, on April 9, the Spoofhounds season officially met its end.
The Spoofhounds were looking to improve upon a 11-12 overall record from the spring 2019 season, with five seniors set to be large contributors to the varsity team.
Senior Jeff Stooksbury, who had a .500 batting average and .545 on-base percentage in the 2018-19 season, had all but claimed the throne of cleanup hitter for the 'Hounds this season. Stooksbury said the school's closure was particularly hard on him.
"Being my senior season and all, I was devastated," Stooksbury said. "The team was upset, but … we do our best to make sure everyone is in the right state of mind."
That state of mind, Stooksbury said, was keeping spirits high and helping one another stay motivated.
"Do not take anything for granted," Stooksbury said he would advise his younger peers. "You know, work hard all four years of high school. … Some (seniors) go on to play other places, but for most, it's the end of the road. So have fun with it while you can."
Even before the high school closed and local ordinances went into effect for social distancing, the Spoofhounds were dedicating parts of practice to precautions surrounding COVID-19.
"I expect (players) to shake hands and look people in the eye, you know, it's a gentleman's game," Riedel said. "But given this, I didn't want kids shaking hands."
The 'Hounds brainstormed ways to walk through a post-game line with other teams, an event that traditionally includes shaking hands with the other players and showing respect by saying "good game."
But the situation called for a less intimate way to show appreciation, and it sparked discussion among players and the coaches of whether fist or elbow bumps, or even a back-hand high five was appropriate.
The team even discussed the possibility of finding ways to wash their hands at games and in practices to add a sanitary component to the gritty game played in dirt and grass.
"It seems so silly at this time," Riedel said. "Because now it's like, while we were getting ahead of those things, were we really just being naive and thinking that we were even going to play baseball."
The five seniors — Stooksbury, Nic Garner, Justin Firavich, Wesley Wallace and Kelby Derr — all played for Maryville since their freshman year, and most have been playing the game since they were old enough to hold a bat upright.
Riedel said he is disappointed for the five seniors on the team. Baseball being a small stamp on their experience at Maryville and their lives, Riedel said a senior season being ripped away from them isn't even the full story.
"I feel bad that they may not have a graduation," Riedel said. "They may not get to see their friends before they go off to college or take jobs in the workplace, … all those things that we probably took for granted that we got to do that these kids are not going to be able to do."
Riedel said the hardest part for student athletes, though, isn't the fact that there are no sports, but the waiting game they are playing for their education.
Maryville R-II School District extended its closure March 26 in conjunction with the Nodaway County ordinance enforcing social distancing. The school began online instruction for families who are able to participate shortly after and provided other supplemental materials for families who do not have consistent access to the internet at home.
Prior to an official closure, Maryville moved second semester grades to a pass/fail system for students. As of April 10, it will continue with this system, and with online instruction, as teachers provide necessary coursework, monitor progress, give feedback and remain available for online assistance.
The team was given access to resources to help players continue practicing on their own, whether it be arm stretches, workouts or general tips for personal success and growth.
Reidel said he, along with the assistant coaches on the team, put out several things on Twitter to help them continue to be healthy and active during the downtime. Riedel also said some players who had injuries from wrestling could see the extra time off as beneficial.
But with the time off, several members of the team have had to increase work at part-time jobs. Riedel said many students he knows outside of baseball work at the local Hy-Vee, where he noticed their jobs have become more demanding given corporate measures surrounding COVID-19.
Riedel said he understands family and work situations may trump baseball and other sports for high schoolers, and that he never puts himself or baseball above those things.
"If they have to be at work and have to do classwork and don't get anything done for baseball, I completely understand. That's the life we have right now," Reidel said.
The junior-heavy Spoofhounds would have seen its toughest competition this season in teams like Chillicothe and Savannah, who were equipped with hard-throwing pitchers and large senior classes.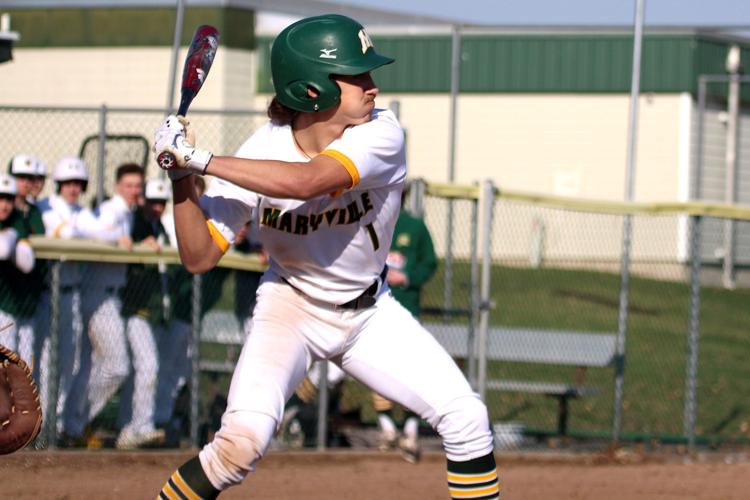 The 'Hounds would have also faced Lafayette and Cameron, which with new coaches, are in the rebuilding stages of their programs.
Reidel said he couldn't short teams like St. Joseph-Benton, Bishop LeBlond and St. Pius X, which have all proven to sport a couple key players who've tied the 'Hounds in knots over the past three years.
In the few practices they did have, the 'Hounds were focused on limiting walks allowed by their pitching rotation and strikeouts when on offense. The team went over a two-strike approach when at bat and honing in on pitchers getting ahead in the count by throwing strikes early.
Thinking back to four years ago, when Reidel took the now seniors to East Atchison, in Tarkio, Missouri, during their freshman season, Reidel said he remembered how talented and fun the players were to be around right off the bat.
Those same freshmen helped the 'Hounds win a Class 4 District 16 title in the spring 2017 season and had high hopes to place well for a competitive postseason this year.
"To get back to that stuff would be great," Riedel said. "But I understand it is necessary for us to be separate at this time."
Reidel said though the unforeseeable future is frustrating, there is not much he can do other than encourage the team to continue to stay healthy and remain hopeful.
Garner, a senior whose bat traditionally speaks for itself, was slotted at starting right field for the 'Hounds. Garner was looking at college options and said he was hoping to work hard for possible college baseball offers this season.
"It really sucks to not be able to play baseball," Garner said. "Playing for MHS for four years is something I wouldn't trade for anything because it's a close-knit group who all care for each other and have each other's backs through everything."
With the Spoofhounds not having played an actual game, it is hard to tell how they would have performed in their conference, but the coaching staff said it is confident they could have placed 1-4, with a shot at a competitive postseason.
Now, with the season coming to an unusual close, Riedel said he has a hard day ahead of him.
"It's going to be a hard day, when the season ends," Riedel said, "I'll reach out and talk to them … tell them what they meant to me and MHS baseball. More than anything else they have taught me how to have fun and keep me young."
This time the home team didn't get its fair chance. Breaking away from the game itself, five seniors and their teammates, whose yearbooks closed a chapter too early, grasp for one more inning. One more at bat. One more pitch. Because after that, they are left staring ahead at what's next. For some, that isn't baseball.