Coming off of their first loss of the 2020-21 season, and first in more than a year, the No. 1 Bearcats were tasked with hosting MIAA foe Emporia State, the league's best defensive team.
Prior to the matchup, the Hornets allowed an MIAA-best 65.3 points per contest to opposing offenses, along with a shooting clip of 39.6% to go with it.
For Northwest men's basketball, neither of those things mattered.
It didn't matter that the Bearcats had less than 48 hours to prepare for the Hornets after the loss to No. 5 Washburn Jan. 7 in Bearcat Arena. It didn't matter that they were facing a stout defense. It didn't matter that Northwest was potentially 40 minutes away from back-to-back losses on its home court for the first time since 2011.
What mattered is that Northwest rebounded from its first loss with its best offensive performance of the season, beating the Hornets, 92-71, Jan. 9 in Bearcat Arena.
"We tried to win," Northwest junior Trevor Hudgins said about the Bearcats' dominant win. "Thursday, we tried not to lose. It was that simple."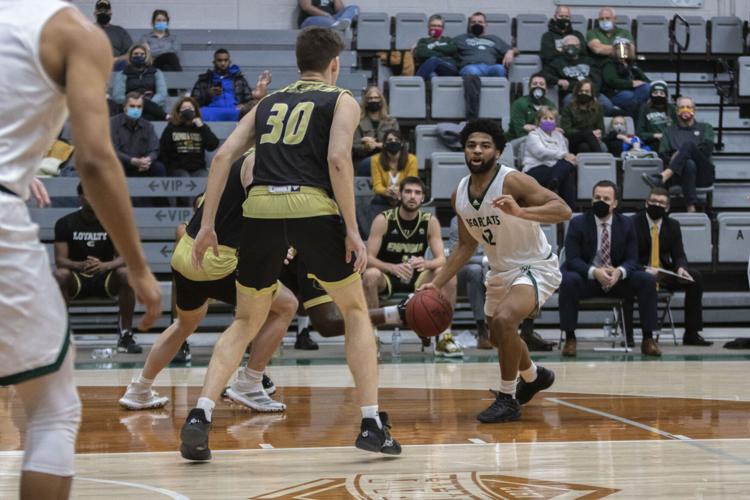 The guard had just hung 26 points on the Hornets' defense while shooting 8-for-10 from beyond the arc, but that didn't matter to him. The other players on the team did. More so than any other, his backcourt partner, junior Diego Bernard.
Forward Ryan Hawkins, who played 25 minutes against Washburn due to foul trouble, made his presence felt. The senior notched 17 points and 8 rebounds during the performance following his worst of the season.
Hudgins made note of freshman Byron Alexander's performance, in which the guard served as the sixth man to score 10 points while shooting 100%.
And Bernard, the player Hudgins was most excited to talk about, just had one of the best shooting performances of his career, going 5-for-6 from deep and tallying 19 points. The guard had made seven 3-pointers prior to the matchup with Emporia.
Opening statements aren't customary during postgame press conferences of Northwest basketball games, but that didn't matter to him either. Before any questions were sent in his direction, Hudgins focused more on his teammates than himself, offering an impromptu opening speech.
"DB was doing crazy, let's get that out the way," Hudgins said. "Then we'll go talk about Wes (Dreamer) and (Hawkins), Luke (Waters) — Byron (Alexander) was huge."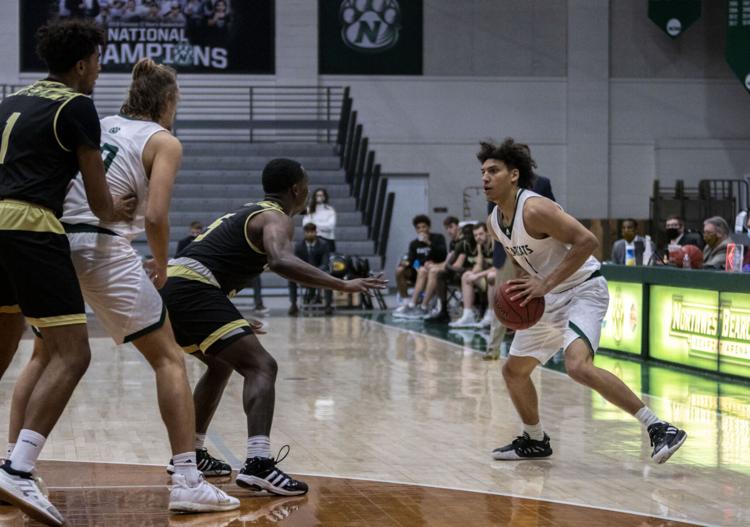 Hudgins' opening statement, such as the Bearcats' performance moments before it, made sure to get everyone involved. It's something that they've made sure to do in practice, but didn't do so well against Washburn, McCollum said Jan. 7 after the loss.
McCollum described the Bearcats' offense against Washburn by saying the ball got sticky at times, meaning the offensive movement was rather anemic. The offense during the blowout win over Emporia, McCollum and Hudgins said, didn't have that issue.
"We were just being selfless," Hudgins said after the Bearcats, collectively, tallied 12 assists. "We were just passing the ball more, just wanting each other to succeed, just wanting each other to get better and make shots. Tonight, we weren't just focusing on one action or one person, we were just playing our game, like we do every day in practice, and it was working out for us."
The Bearcats spent the day between games soul-searching, McCollum said. The meeting was something that he felt was needed after the loss, and before the team stepped foot on the court again. The goal was to not have a repeat of the Washburn performance; moreover, imitate every one prior to it.
"When you win a lot, you forget why you win, so then you just want to continue to get those results," McCollum said. "We had to go back and really, I don't know if you'd call it that, but soul search — it's not that serious, but it is a little bit to these kids — and figure out what made us good."
After the Washburn game, McCollum said his defense was hoping for stops instead of working for them, waiting for them to fall into place. The Bearcats played with more enthusiasm on defense, which eventually led to Northwest holding the Hornets to shoot 48% from the field, effectively giving Emporia a spoonful of the very medicine it's handed to teams across the MIAA thus far.
The Hornets hung with the Bearcats for the first half, shooting 53% throughout the first 20 minutes, and trailed the No. 1 team in the country by 7. In the second half, Northwest stumped Emporia's offense, which went 1-for-10 from deep during the last 20 minutes of action.
It was, as Hudgins put it, an all-around complete performance from Northwest, one that saw the Bearcats' offense and defense at some of its best this season. He's aware of the fact that if the Bearcats continue to play how they did against Emporia, there might not be another team that could effectively stand in their way.
"It's the game of basketball, so you could lose any night," Hudgins said. "I just feel like, when we play together, and we go at our pace, and we control the game, I don't feel like a lot of teams can beat us."