After spending three years at Eastern Illinois, Edwyn Brown transferred to Northwest ahead of the spring semester of 2020 with hopes of being able to aid the University's football program to its seventh national title the following fall. 
Ed Brown's time at Eastern included a redshirt year as a freshman, eventually working his way up to a starter during his first season of on-the-field action but missing nearly half of his sophomore season due to injury. 
Due to COVID-19, Ed Brown's on-campus experience was minimized due to Northwest moving to an online-only format for the remainder of the semester, a mandate that was set in place less than eight weeks after he arrived in Maryville. 
There was excitement for the season, he said, not knowing the pandemic would continue long enough to jeopardize his first snaps in a Northwest uniform. And after a rollercoaster of decisions from the MIAA regarding the fate of football seasons among the league, Ed Brown was readying to dress in a Northwest uniform for the first time in Bearcat Stadium Nov. 7 against Washburn. 
That scrimmage was canceled two days before taking place, and so was the Bearcats' scrimmage set for Nov. 21 against Central Missouri. 
Less than a week after Ed Brown was supposed to don the Bearcat green, he started developing severe migraines.
"His mom called me on a Friday and said, 'Ed's had a history of migraines. He's not feeling well. He won't go to the emergency room. It's kind of escalated; will you take him?'" Northwest football coach Rich Wright said. "At the time, I was in COVID quarantine, so I couldn't."
"I called him and hoped he answered because I didn't want him to be like, 'OK, why is this mom calling me? What's going on?'" said Renysha Brown, Edwyn's mother. "It was nothing like that at all. He called back, I told him what I needed — I think I actually sent him a text message as well — when he called I was like, 'Look, I just need you to get over there before he needs help. I need you to go now.'"
Elizabeth Hevern, the team's athletic trainer, took Ed Brown to the emergency room Nov. 13 at Mosaic Medical Center - Maryville, where doctors began to speculate the athlete had come down with the coronavirus.
That's the last thing Ed Brown remembers. 
Ed Brown was at Mosaic for roughly 48 hours before his illness was beyond the capacity of the hospital, Wright said. When it became too much to treat inside Nodaway County, he was transferred to the Mosaic Medical Center in St. Joseph, Missouri.
Following a brief five-day stay in St. Joseph, doctors decided there wasn't an adequate treatment for him there either, effectively leaving no option but another transfer — this time to Barnes-Jewish Hospital in St. Louis.
After 20 days unconscious, including stays in three different hospitals, he finally woke up. 
"I went to sleep in Maryville and woke up in St. Louis," Ed Brown said. 
Ed Brown missed Thanksgiving with his family, and instead spent it laying in a hospital bed, unaware of the world around him. While he was upset to miss time with his family, remaining in the hospital for Thanksgiving, Christmas and New Year's, he's more so upset about completely missing Nov. 22 —  his 21st birthday. 
"While we were all looking at our own situations and not having holidays the way they normally were, Ed spent them in the ICU," Wright said. "It puts things in perspective. … It's difficult to sit there and have Christmas day and know that someone you care about and is a part of your family is sitting in a hospital."
"I was just out for my birthday," Ed Brown said. "I don't think I woke up until Dec. 3, so I had all of the balloons and stuff in my room."
It was a moment he simply described as frightening. 
"My first memory is just waking up and trying to pull that tube out of my mouth," Ed Brown said. "All I'm hearing is them yelling like, 'No. No. No. No.'"
He wasn't sure what was going on, and neither were the doctors. During his time unconscious, he suffered from seizures, swelling of the brain and spine, collapsed lungs, losing feeling in his arms and legs, and a possible stroke, but doctors said scans were too inconclusive to officially give that diagnosis.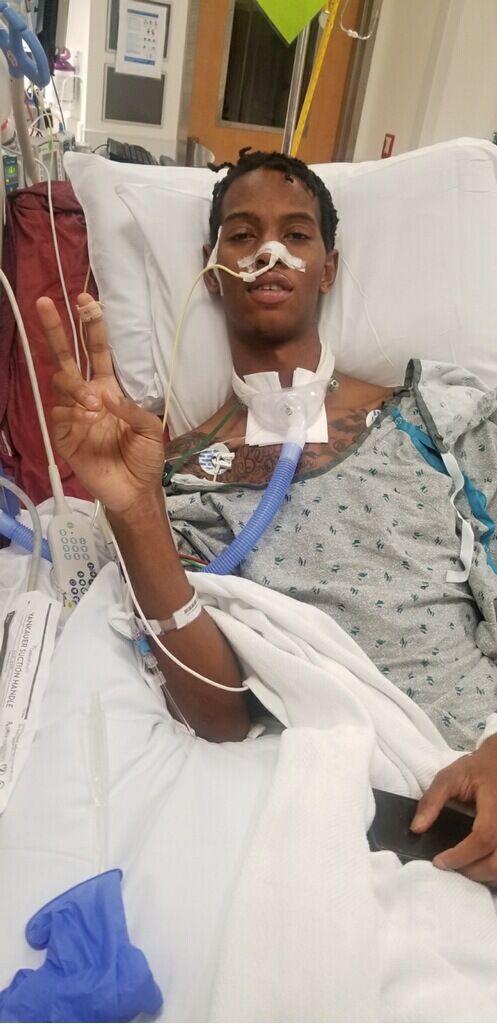 The tube in his mouth —  the one Ed Brown tried to pull out amid his first moments awake after not knowing the world for nearly three weeks, and the one that was placed in his neck to avoid any other attempts at taking it out of his mouth —  served as a feeding tube and method for ventilation. For the most of three weeks, it was his lifeline. 
His awakening, he said, came about from the medical staff at Barnes-Jewish replacing the plasma in his body. 
"Man, it's just — it's beyond me, to be honest," Ed Brown said. "Thanks to God for it." 
To this day, no doctor has given Ed Brown or his family a diagnosis for the illness that upended their lives. 
Despite her son fighting through something that nobody could discover, Renysha Brown said she wasn't in an unfamiliar position. She's a veteran, previously serving in the United States' military for 28 years.
"I approached the situation, once I saw how serious it was, as if it was a deployment, I guess, in many respects," Renysha Brown said. "I think that's probably the closest I can really and truly attribute it to. … When you mobilize in the military and you send them on a deployment, you separate someone from their friends and family, and you send them to whatever spot needs the attention."
She was forced to turn relatives away from the hospital due to COVID-19 and ICU limitations, but it wasn't a new feeling. She was used to being away from family for the better part of three decades while serving in the military.
One of the hardest parts of the whole process, she said, was feeling the heartbreak that accompanied all of the other overwhelming emotions while watching her son suffer. But she'd never let him know it. 
"Watching Edwyn go through everything he went through and all of the stages of his illness — and I was there every step of the way, every moment — was heartbreaking at times," Renysha Brown said. "However, I could not allow any of that to show through for him while I was present with him."
And rather than giving anyone in the Brown family a diagnosis for Ed Brown's illness, doctors gave the recently-turned 21-year-old a mountain of bills, which is where Wright comes in. 
The football coach started a GoFundMe Jan. 5 in hopes of helping the family out with the bills which, at that point, had amassed $1 million, Wright said in the fundraiser's description. 
"It was around Thanksgiving where I said to his mom, 'Where are you at from a medical bill standpoint?'" Wright said. "She said, 'My husband and I were at the foot of his bed today, looked at each other and said that we were going to pay on this for the rest of our lives.'"
The goal on Wright's donation page, which lists Renysha Brown as the beneficiary, was $50,000. 
An entire day after Wright's initial promotion of the page on Twitter, roughly $19,000 had been raised. The total has grown to more than $32,000 as of Jan. 26.
"That was outstanding, unbelievable, phenomenal," Renysha Brown said about the community's efforts. "When (Wright) asked me if he could do it, of course I couldn't refuse; he wasn't going to allow me to refuse. It's not something I would've done. I would've just had to figure it out."
"Coach Wright, man, that's my guy," Ed Brown said. "I appreciate him so much because — I'm 21 now, so all of these bills are in my name. All of these bills are in my name."
Most of the people in Maryville don't personally know Ed Brown, or really the slightest of what he and his family have been through since November. He talked about the family mantra touted by the football program, something he's watched come to life through each donation toward his cause. 
"Best wishes for a complete recovery," one person commented with a donation on the page. "Bearcat football team - fall 1965. Once a Bearcat/Always a Bearcat."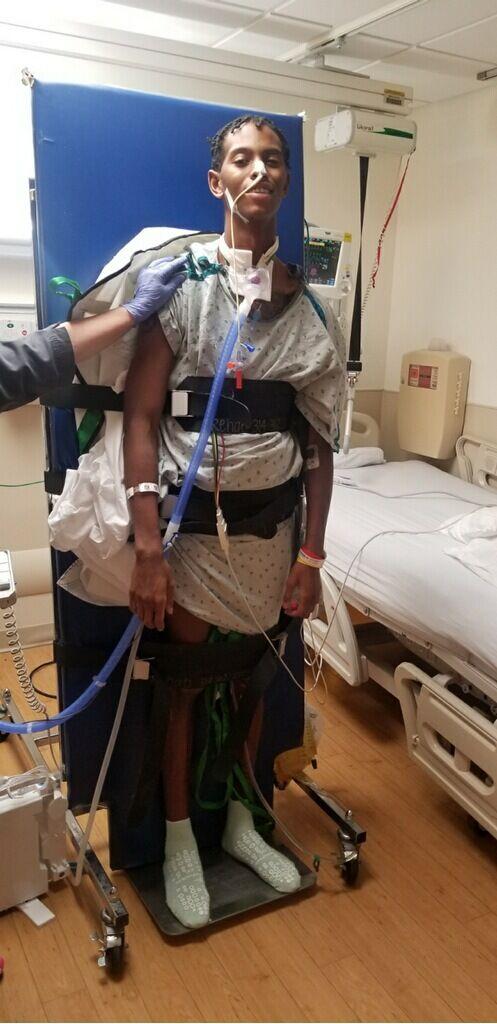 Ed Brown started inpatient rehabilitation at Shirley Ryan AbilityLab in Chicago Dec. 24, where he stayed for three weeks to try and regain proper movement in his arms and legs. He spent two of those weeks in quarantine due to the hospital's COVID-19 protocols.
He was released from Shirley Ryan Jan. 15, when he finally got to go to his home in Belleville, Illinois, to start outpatient physical therapy. 
That, his mom said, was perhaps the hardest part. Throughout the journey, she didn't let her emotions out, trying to remain collected for Ed Brown. The night before they departed the hospital to go home, she reached a breaking point. Every scare, every test, every moment of pain she felt for her son was finally released. 
It, of course, wasn't easy for Ed Brown either. There were times, he said, throughout the rehabilitation process when things seemed insurmountable. 
"I remember it was like the first or second time I tried to walk, even though it was with a walker, that was — that was a hard moment," Ed Brown said. "I think I just looked at my mom and started crying at that moment. I don't know, it was just — trying to walk and couldn't."
"There were a few times when we were at the rehabilitation center and he got pretty down on himself," Renysha Brown said. "I was able to show him a couple of different videos from different stages and say, 'Hey, don't worry about not being able to do this right here because look at where you were two weeks ago.'"
The day before Renysha and Ed Brown left the hospital, he participated in a team meeting with Northwest football via Zoom. For the first time in more than two months, he was able to feel like himself again. 
"I think it gave him a sense of normalcy," Renysha Brown said.
"He's got an infectious personality. He has a smile that'll just pop you and it just lights up a room," Wright said. "He flashed that smile, and it was like everything was OK."
The next day, Wright received a video from Renysha Brown, one of Ed Brown backpedaling at Shirley Ryan.
"It looked terrible, but it was a backpedal, nonetheless," Wright said. "For a kid that couldn't walk four weeks ago, it's pretty incredible."
After everything thrown his way throughout the last couple of months, Ed Brown isn't writing himself off. That virtual meeting from his hospital bed in Chicago, his mom said, was a way of him feeling as if he still belongs in the Northwest football program.
The backing of the program, along with the Northwest community, assured him that he does.