On the heels of a 5-point win over Nebraska-Kearney Jan. 23, one that came down to two missed 3-pointers, Northwest men's basketball put together one of its strongest offensive performances of the season Jan. 25, routing Fort Hays State 83-57 for a 10th-straight victory.
The Bearcats (18-1, 8-1 MIAA) had all five starters score in double-digits in the matchup with the Tigers (7-11, 1-9 MIAA) and dominated the matchup from start to finish. Northwest did not trail for a single second, building a 28-point lead in the game's first 20 minutes.
With a little more than five minutes left of the first half's game clock, sophomore guard Trevor Hudgins hit a shot that depicted what Northwest's first half was and what the second half would be, one that came in the midst of a 24-4 run for Northwest.
Hudgins received a pass from sophomore guard Diego Bernard with his feet closer to center-court than the 3-point line ahead of him as the shot clock neared its expiration. With less than a second between him and a shot clock violation, the guard let a shot fly from well beyond the three-point line, draining it to give Northwest a 19-point lead over the Tigers and to add to his own point total.
"At the end of the shot clock, man (Hudgins) is probably about, like, 75% (shooting)," Bernard said. "Three, two, one — it's in there. I'm already running back on defense."
Hudgins was one of five Bearcats to end the game in double-figures, but more notably, was the first in program history to record a triple-double, logging 11 board and 11 assists to couple with his modest 10-point outburst.
And Hudgins, of course, was modest himself in the aftermath of his historic game, the latest in a series of accomplishments for the reigning MIAA Freshman of the Year. A week ago against Missouri Western Jan. 18, Hudgins became the second-fastest player program history to reach 1,000-career points, trailing only Justin Pitts in speed. Jan. 25 at Bearcat Arena, the sophomore did something Pitts never had.
"I've done it a lot in noon ball, so I don't know if he's the first Bearcat," coach Ben McCollum joked in the aftermath of Hudgins' historic feat. "Anyway, yeah, no — that's phenomenal. I mean, he did a great job of running the offense, sharing the basketball; getting it where it needed to go."
Hudgins, per usual, had no interest in taking credit for his accomplishment following his triple-double. He chalked up the feat to his coach and to his teammates, accrediting his success to the fact that he gets to play alongside players like Bernard, who finished the game with 14 points, 2 rebounds and a missed windmill dunk he promised to correct.
But Bernard was eager to praise Hudgins, his backcourt partner on the court and 3-point shooting partner in practice. They shoot together every day, Bernard said, before looking forward to what Hudgins might do next.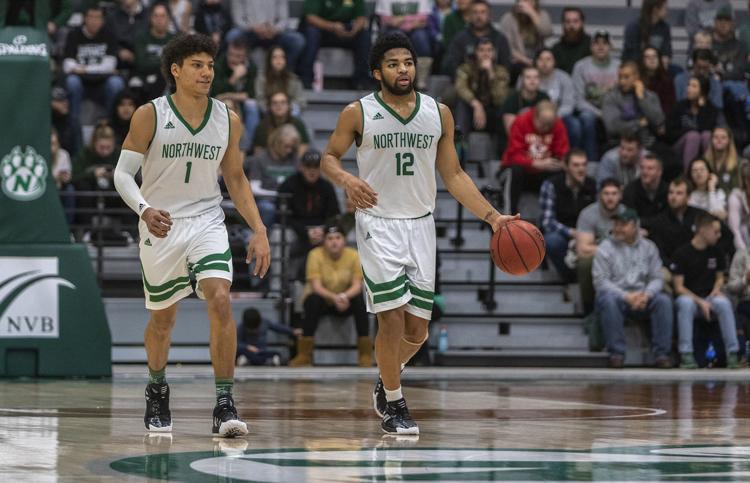 "But dang, that's crazy that he's the only one, man," Bernard said. "I'm happy for his success, man. All that time he puts in … I'm just happy for him, man. He's gonna keep going, though."
For Northwest, the 26-point win over Hays came as a form of relief. The Bearcats have played in a series of close matchups, winning four of their last five matchups by single-digits. In some ways, the lopsided victory over the Tigers, one that felt due, served as a mark of progress for Northwest.
Over the last several weeks, both between and after the hard-fought conference wins, McCollum has stressed a need for an improved Northwest offense and an increased hunger that might last a whole game. In the matchup with Hays, Northwest's offense improved, shooting 52.8% from the field and 16-of-33 from beyond the arc. And in the matchup with Hays, Hudgins said, the Bearcats played aggressively for 40 minutes.
"The past couple games — most of the games — we've been playing 20 minutes hard and then letting off the gas," Hudgins said. "The last 20 minutes, which is the most important, you know, finishing the game. But this game, we just tried to switch it up, tried to switch it around. Do what we do. Be Northwest."
McCollum said the win was a step in the right direction for the Bearcats, moving down a road toward a new identity. This team, McCollum said again after the matchup for the second time this week, is different than the one that won 38 games and an NCAA Division II National Championship last season. The offense doesn't flow quite as well, he said, in the system and style it did a season ago.
"We did better at being different," McCollum said.
There are still things to correct and refine offensively, McCollum said. The defense wasn't at its best against Hays, either, he said. There is still work to do. But the game came with an offensive promise not fully on display in Bearcat Arena, one that involved the whole team.
Hudgins and Bernard both said the win over Hays, which saw the two guards, seniors forward Ryan Welty and Ryan Hawkins and freshman guard Luke Waters all score at least 10 points, was the best offensive game Northwest has played collectively this season.
"As a team, yeah," the guards said in near-unison. "As a team."
"Once it clicks," Hudgins added, "it's gonna be trouble."