Northwest men's basketball was 4 minutes and 11 seconds away from the Final Four when Byron Alexander went down. The Bearcats led West Liberty 93-69 at that point, so Northwest coach Ben McCollum wasn't relying on the freshman guard for any late-game heroics March 24 in Evansville, Indiana.
But there Alexander was, lying on his back near half court, on the side closest to Northwest's bench and right in front of the scorers table, holding his left ankle while trainer Nick Peters and McCollum stood over him.
Alexander didn't know it then, but that was the last time he'd actually play during the 2020-21 season.
"When I went down, I was hurt and I was pissed," Alexander said. "I knew my teammates would get the job done for me because, I mean, we've been through everything together this season, and I knew they'd finish."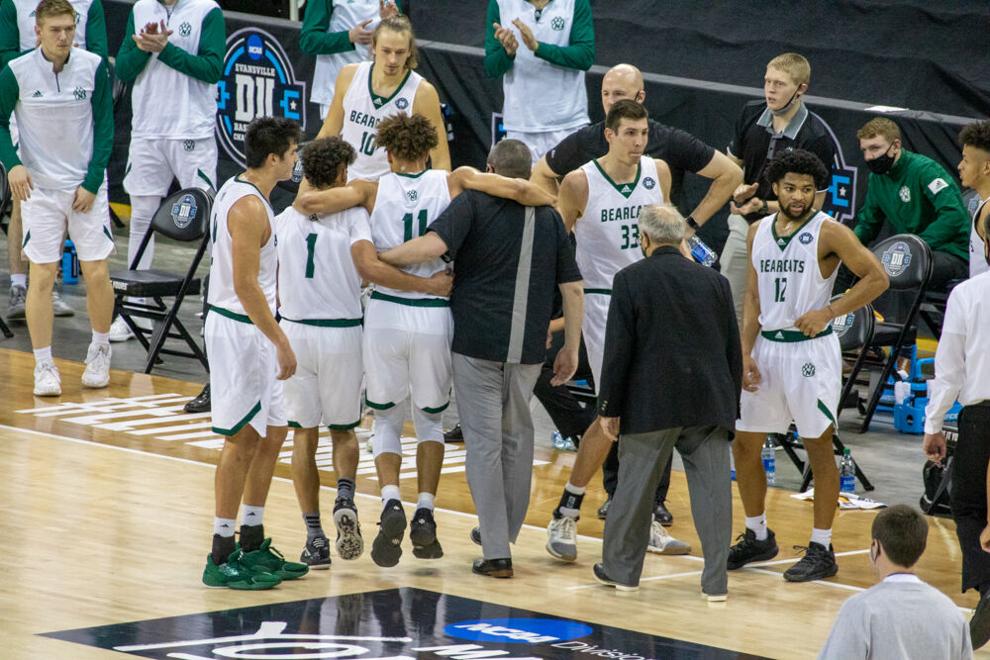 Prior to that moment, Alexander recorded his first collegiate double-double with 11 points and 10 rebounds. His production had become crucial toward Northwest's success during the postseason. Despite a milestone performance, perhaps it wasn't his best. Without him, the Bearcats would've never been in Evansville, Indiana, for their third Elite Eight in five years.
Northwest was dominated during the opening minutes of the Central Region Tournament title game March 16 in Aberdeen, South Dakota. The Bearcats couldn't buy a bucket if they were free against Northern State — at least not until Alexander checked in and made a layup 11 seconds after entering the game to cut Northern's lead to 10.
He finished that game with a career-high 21 points, marking the first 20-point performance of his collegiate career. He added five rebounds, too, during his 31 minutes of action that night. His efforts, and everyone's alike, helped defeat Northern 91-86 in overtime.
"I guess it was just a win or go home situation," Alexander said. "It was just, like, if (Northern) weren't going to let anybody else step up, then I've gotta step up. I don't know, I just had that mentality."
That moment wasn't by accident, though. Alexander didn't sub in for junior guard Diego Bernard, who was in foul trouble early during that game, just because he was the only option. Even though he was new to a program that had a multitude of success before him — and will probably have success after he's gone from Northwest — he served as the sixth man.
Northwest's starting five was set prior to the season beginning. Of course, it was going to feature Bernard, junior guard Trevor Hudgins, senior forward Ryan Hawkins, sophomore guard Luke Waters and sophomore forward Wes Dreamer. However, it wasn't certain who the first person off the bench was going to be.
"I thought that I'd have to work my tail off in order to get minutes," Alexander said about his mindset before the season started. "Coming in here, they made it easy. My teammates just kind of helped me, and I wanted to help them. … I just wanted to make sure that I put in my time."
"He just needed to add some intensity from the early season," McCollum said about Alexander. "Once he added that intensity piece, I thought he became much, much better. We became a lot more difficult to defend when he was out there."
He put in that time, nearly a whole season's worth. In fact, Alexander played nearly 20 minutes per game, which was good enough for sixth on the team.
Yet there he was, being helped off the court inside of the Ford Center, where he resided on the end of Northwest's bench until the final buzzer sounded against West Liberty.
Insert Isaiah Jackson.
Jackson, also a freshman guard, perhaps expected to play during the final few minutes of that game. He never really expected it to be because Alexander was hurt and Bernard was in foul trouble. He thought it'd be because the Bearcats were up by enough to where the game was out of reach, which is what his role was for most of the season.
The Bearcats' Final Four matchup with third-seeded Flagler was less than 24 hours from that moment, and Alexander's status was hanging in the balance for most of that time.
"After he got hurt, I already knew what was gonna happen," Jackson said. "I mean, I was coming in as the seventh man right behind him, so I knew I had to step up big and be able to earn Coach's trust even more. … When Byron went down, I knew I had to step up a little bit."
That's exactly what he did.
Jackson played 25 minutes the next night against Flagler, which was actually one more minute than Waters played as a starter. It wasn't the stat-stuffing performance that happens in fairy tales, but it was one that helped Northwest to the program's third National Championship appearance.
"I mean, we just had to get Isaiah ready," McCollum said about Jackson, who tallied 4 points and four rebounds in the Final Four. "We had depended so much on, from an offensive standpoint, Byron's cutting. We knew Isaiah would be fine, defensively, but (Byron's) cutting and rebounding was what we needed to replace as well, and I thought he did a pretty good job in all of the games."
There Jackson was, though, after not playing in 13 games this season, playing in one of the biggest games of his life. Not playing much during the first half of the season wasn't because he isn't good enough. Multiple times this past season, McCollum mentioned the sacrifice that Jackson and Alexander make by being on the team. Both of them, McCollum has said, could start for a majority of programs in Division II.
"Defensively in particular, they both did what they needed to do to get into the lineup," McCollum said. "They found a way to be productive, offensively, especially with a group that brought so much back. That's the thing, we had a lot back, so they really had to fit, and they found a way to fit."
"It was different because I started my whole high school career," Alexander said about coming off the bench. "So, in order to come in and just kind of be OK with, just being the sixth man, it's just really about being humble and knowing what's best for the team."
His 2-point and two-rebound performance wasn't going to make any headlines, but Jackson's defensive efforts during his 16 minutes of action in the title game aided Northwest to an 80-54 beat down of West Texas A&M.
The Buffaloes were guard-heavy and didn't have a lot of size on the floor, so Jackson was looked upon to be an extra quick defender on the floor for Northwest. He never expected to be there, though.
"I never thought I'd be sixth man," Jackson said about the National Championship. "I never thought I'd actually be a factor in the game and picking up my defense like that. I thought we could get there — we practice hard every day; we work hard — this team is special."
Alexander wasn't forgotten, either. Despite the Elite Eight game being the last time he played, it wasn't the last time he touched the court for Northwest.
With 26 seconds left in the title game, Alexander checked in for senior guard Jaran Richman. He might've only had one effective ankle — and another that has him in a boot two weeks later — but Alexander was standing on the peak of Division II basketball while the final second dwindled off of the clock in the Ford Center.
"Last year, I had a chance to go to state, but COVID kind of took that away from me," Alexander said about his senior season at Staley High School. "This was just, like, an opportunity for me to get that back. First one of many, hopefully."
As for Jackson, the final buzzer meant more than the conclusion of the game; it signified every moment of work prior to that point in time. Jackson's mom, Heather, recognized that, too.
Heather Jackson took to Twitter after the game and shared a heartfelt paragraph about her son, one that mentioned how people in the past have said her son has had everything handed to him.
"That stuff came from high school. … They always thought everything was handed to me," Isaiah Jackson said. "I mean, now seeing the result of winning the national championship as a freshman and getting minutes, that meant a lot to me to show those people. … I wanted to make my parents proud — I think I did that."
His mom's message on social media wasn't alone; it was accompanied by a picture, one that showed her son laying in a pile of blue and white confetti.
In that moment, Isaiah Jackson wasn't concerned with what anybody from his past had to say about him. He wasn't concerned with preparing to fill Alexander's role for another game. He wasn't concerned at all, actually.
Instead, Isaiah Jackson was right where he always wanted to be.
"It was surreal. I felt like everything had been done. All the work that we'd done since preseason was so much greater than what I ever imagined," Jackson said about that moment. "Laying in that confetti, seeing the confetti fall, it felt great."