Following a timeout from Central Oklahoma, Northwest's offense trotted back onto Mel Tjeerdsma Field at Bearcat Stadium with two seconds remaining in the first half and the ball on the Bronchos' 44-yard line.
Northwest coach Rich Wright went to grab a cup of lemon lime Gatorade on the westernmost sideline of the stadium, but the fifth-year coach knew he couldn't disregard what was about to happen on the field.
"Someone looked at me and said, 'Coach, this is the last play of the half,'" Wright said. "I said, 'I've seen more Northwest Missouri State games where I've seen a play at the end of the half.'"
Wright can now add one more play to that list.
Northwest sophomore quarterback Mike Hohensee — who is starting in place of junior Braden Wright, who is sidelined until at least late October after having surgery — received the snap in shotgun formation and rolled to his right.
Hohensee's pass sailed through the Maryville air, directly toward the west side of the stadium's south end zone. The ball was batted by three Broncho defenders, but predominantly by sophomore defensive back Tre'Vaughn Craig.
Then, amid a cluster of Bearcats and Bronchos, Northwest senior wideout Alec Tatum came down with the ball in the end zone.
"We practice that every week," Tatum said in the aftermath of Northwest's first home game in 665 days. "I'm just the guy to be there in case it gets batted, and it worked out perfectly like that. So, I was just kind of watching it, and then it fell into my hands."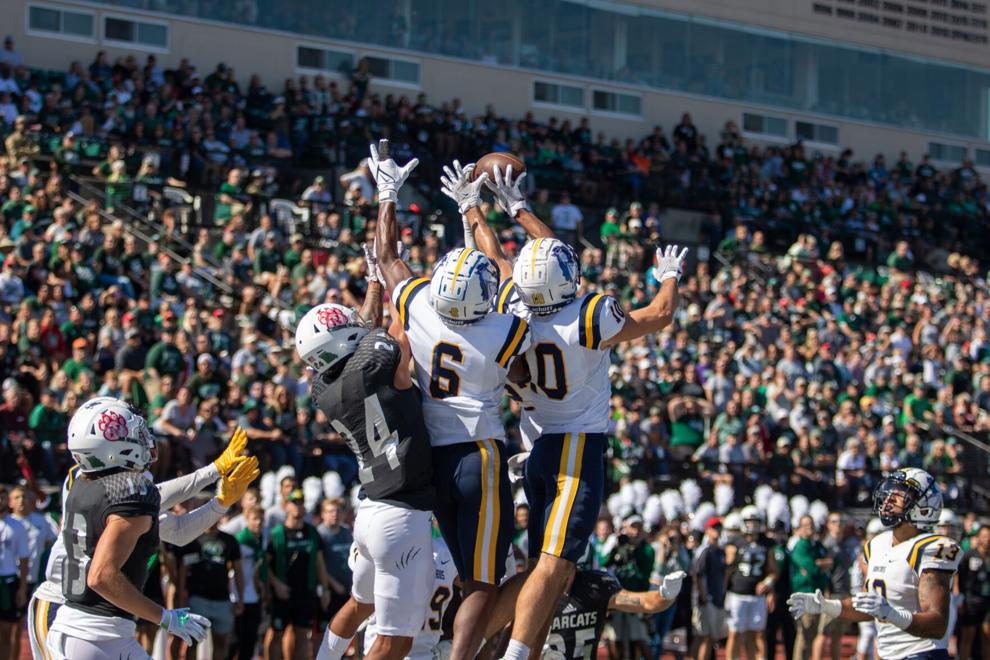 Hohensee's connection with Tatum, along with a successful point-after try from freshman kicker Cole Lammel, gave Northwest a 14-0 lead at halftime. The Bearcats (3-0) carried that momentum out of the locker room, too, and scored 24 unanswered points in the second half to beat the Bronchos 38-0 Saturday afternoon.
The Bearcats' second-half surge was, in large part, due to Tatum, who finished the game with a career-best game, which included 188 yards receiving and two touchdowns on 11 receptions.
"It felt good. I work hard," Tatum said in the aftermath of the 38-point victory. "I try to have a game like that as often as possible, you know, get open every play and catch every ball. It just fell into place today, and I had a big day."
Tatum wasn't the only focal point of Northwest's offense today, as senior running back Al McKeller made his Bearcat Stadium debut with 157 yards rushing and a touchdown on 21 carries.
McKeller's touchdown against the Bronchos (1-3), which was his third total of the season, came when he broke off a 15-yard run to put Northwest up 24-0 with 3 minutes and 47 seconds left in the third quarter.
"Really, I just play hard every play," McKeller said. "Honestly, it makes your game easier when you're tough. Like, if you just run hard, the next time you see that person they won't want to tackle you again."
Not everything was easy for the Bearcats, though, at least not on offense.
On Northwest's first drive of the game, Hohensee threw an interception in the end zone. The ensuing two drives made it down to the Bronchos' 15 and 25, respectively, before Lammel missed back-to-back field-goal attempts.
It wasn't until the Bearcats' fourth possession that they got on the board, and they did so when Hohensee scampered in from a yard out with 2 minutes and 24 seconds left in the second quarter.
Then, of course, the desperation pass happened.
"I mean, we really dominated the football game on the offensive side of the ball from the opening kickoff," Wright said. "We just didn't have any points to show for it."
And while Northwest's offense was trying to find its rhythm, the defense had its second dominant performance in as many weeks.
After the Bearcats' 47-7 win against Central Missouri in Week 3, Wright wasn't particularly happy with the total amount of yardage they allowed to the Mules.
Northwest's defense held the Bronchos to 118 total yards of offense, including negative 23 yards rushing. Central Oklahoma was able to muster a mere 2.8 yards per play on 42 attempts.
"I like that one," Wright said of his defense's shutout. "I'll put that in our positive category. Yeah, we controlled the line of scrimmage."
Now, with an unblemished but imperfect start to the 2021 season, the Bearcats will make the 45-minute trek to St. Joseph for a matchup with rival Missouri Western Oct. 2 at Spratt Stadium.
Wright liked what he saw the Bearcats do against the Bronchos, and he's hoping that'll continue as they head into the thick of the regular season.
"Credit to these kids. It's easy to get complacent when we won like we did last week at Central Missouri, but they came in and rolled up their sleeves," Wright said. "Hopefully, we can springboard on top of that, because the schedule's not going to get easier from here."