ST. JOSEPH, Mo. — Eleven times this season, Missouri Western's men's basketball team had entered matchups on its home court at Looney Complex and walked away with victories, engaging in a midcourt celebration after each game to "Ring The Bell."
Throughout their entire conference season, the Griffons rolled a golden bell to center court after each home win, where the players and coaching staff gathered around to ring it. The latest ringing came after an 89-85 upset win over No. 17 Missouri Southern, the No. 2 team in the MIAA. The Griffons were two wins away from completing a 13-0 sweep of their home slate, two wins away from a perfect season inside the MWSU Fieldhouse at Looney Complex.
In front of 4,245 fans at the complex Feb. 25, Western entered a matchup with Northwest men's basketball that came with a postseason environment. There was a Western student section that didn't sit for four quarters. There was the No. 1 team in the country squaring off with the No. 3 team in the MIAA. And at the end of the anticipated rivalry matchup, there was no bell ringing.
There was a once-sold-out gym that sat half-empty. There was a round of unassuming handshakes exchanged between the players and coaching staffs of each team. And there was Northwest (27-1, 17-1 MIAA) heading back to Maryville with a 92-69 over Missouri Western in hand, claiming its 19th consecutive victory and becoming the first to beat the Griffons at Looney Complex this season.
"Just from the success that we've had, we haven't had a lot of 'firsts' this season," coach Ben McCollum said. "So to be able to be the first is really good. (The Griffons) are really good at home and they kind of got it rolling offensively and defensively, and we're fortunate enough to come away with a win."
Facing a hostile road environment in the rivalry matchup — one in which Missouri Western students routinely shouted taunts and obscenities towards the Bearcats, namely sophomore guard and St. Joseph native Deigo Bernard — it took Northwest six minutes and 56 seconds to find its first lead of the matchup. Western played catch-up for the rest of the contest.
---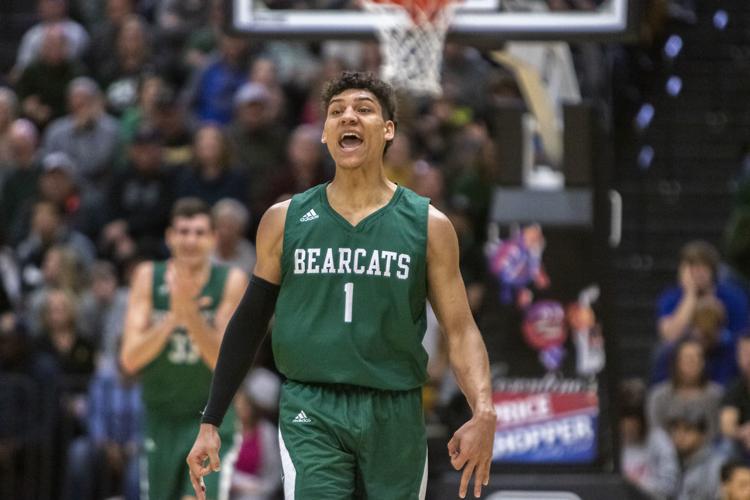 ---
The at-times deafening crowd at Looney Complex provided a postseason-type environment for the late-season conference matchup, one in which Northwest is used to playing in and one that proved overwhelming to the home team.
Western guard Tyrell Carroll said the conditions caused the Griffons to play selfishly in the matchup's early-going. For the most part, they weren't equipped to handle the moment.
McCollum said the Bearcats were affected by their surroundings in the game's first five minutes. They rushed through offensive possessions and failed to properly execute defensive schemes, he said. After the Bearcats found their footing, they ran away with the contest.
"That kind of environment is tough — that kind of championship-type environment is really tough, even (for) us," McCollum said. "First five minutes, it was like we were in another world. Like, 'Guys, slow down.'"
The Bearcats escaped the first five minutes of the matchup unscathed and the first seven minutes with a lead they wouldn't surrender. In the moments before halftime, the Bearcats drained three 3-pointers on back-to-back-to-back possessions, two of which came off the hand of freshman swingman Luke Waters, to help build an 18-point lead. They entered the locker room at halftime — showered with taunts on their way off the court — with a 44-26 lead on the back of 17 points from junior forward Ryan Hawkins.
"We prepared for this game," said Trevor Hudgins, the sophomore guard who moved to 4-0 in his career against Western. "We were just prepared just coming here. Even for the gym, the loudness, the fans on the baseline — everything. Everything you saw in there, we were ready for."
After allowing Western to hang around for the first five minutes of the second half, watching the Griffons cut their lead to 14 with just over 15 minutes left to play, the Bearcats once again began to widen the gap. Within the scoring onslaught came flashes of what has defined Northwest all season.
There was an athletic, contested layup from Bernard, who finished with 11 points and 9 boards. There was a trio of 3-pointers from Hudgins, who finished the game with 28 points. There was an aggressive drive and powerful dunk from Hawkins. And there was McCollum, waving his arms and asking Northwest fans to cheer for a team that was leading by double digits.
---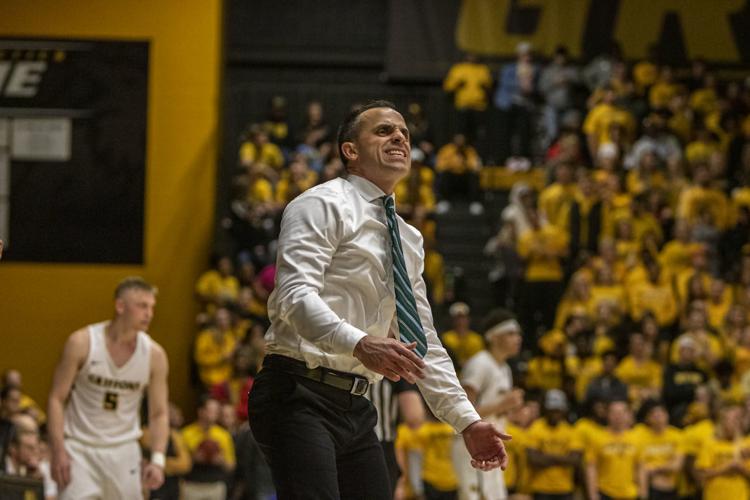 ---
"Northwest is used to big games like this," Hudgins said. "Been through it all, I guess, in the past two years. We've seen everything, so yeah. We live for this. This is what Northwest is about."
The result, of course, was a 23-point win over a team who hadn't lost at home. It pushed Northwest toward its matchup with Washburn Feb. 27, the last game of the regular season for the Bearcats before they get set for the conference tournament, where they'll be the No. 1 seed.
"It would have been good to struggle a bit just for the future, but we struggled a little bit the other day," McCollum said in reference to Northwest's 9-point win over Pittsburg State Feb. 22. "Yeah. This was good. Good win."
After his team's close win over Pitt State Feb. 22, McCollum expressed disappointment in his team's readiness and focus. The Bearcats, he said then, were reeling from a mental hangover after a last-second win over Missouri Southern Feb. 20. The hangover's effects were evident on the court in the win over Pitt, in which Northwest trailed for the entire first half.
But in Looney Complex Feb. 25, McCollum saw renewed focus. His team was not the one reeling from a mental hangover after a win over Missouri Southern. His team was not swallowed by the moment or overwhelmed by a playoff atmosphere. His team answered the bell.
"Never really was concerned with that," McCollum said, referring to Northwest's readiness for the matchup. "Never really was."