Trevor Hudgins put on his right shoe, then his left. They weren't the usual neutral-colored shoes with a touch of Bearcat green the junior guard usually wears.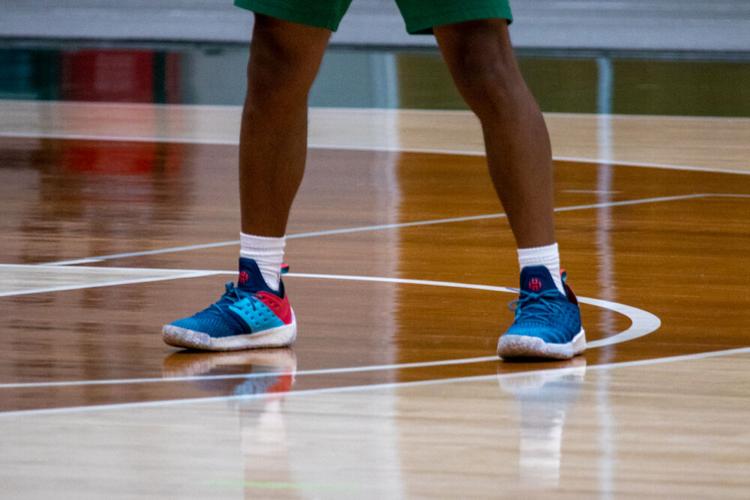 Instead, they were in an exuberant, multi-colored pattern on the second edition of NBA superstar James Harden's signature shoe with Adidas.
Northwest men's basketball had its first official practice of the 2020-21 season Oct. 15, effectively making that the first time Hudgins laced up his shoes for an official organized gathering of the team since March 12 — the day in which coach Ben McCollum told the Bearcats their season was shut down due to COVID-19 concerns.
"It feels great," Hudgins said. "It just feels good to be back on a court. It's definitely a relief just being in practice."
Hudgins and the rest of the program weren't exactly sure what this winter held in store. The Bearcats haven't been too sure of anything since the abrupt end to last season. 
The MIAA's suspension of fall sports Aug. 14 didn't seem to play in favor of basketball's fate. The long-awaited decision regarding winter sports was announced by the MIAA Oct. 1, effectively giving the Bearcats the green light to move forward with preparing for the season, which starts Nov. 19 on the road against Northeastern State. 
For now, the men are just happy to have a season to look forward to.
"It's kinda surreal that first day. It's just like, 'Oh, we're actually gonna be back at it,' It was good today," McCollum said. "The intensity has gotta continue to grow. We haven't played at such an intense level in a while, just because of last season and how quickly it ended. We're a work in progress, but I think we'll get there."
Hudgins spent the first two eight-minute periods of practice running through drills with names that aren't as common as his throughout Maryville. Freshmen Spencer Schomers, Byron Alexander, Isaiah Jackson, Christian Stanislav and Daniel Abreu accompanied Hudgins throughout those drills.
Between each shot that Hudgins put up, the traditionally quieter junior guided and gave pointers to players that haven't been in his shoes before. 
"I feel like my freshman year, I was like, 'I can't wait to be (a leader),'" Hudgins said. "Now that I'm here, I'm like, 'Man, I'm old.' … It's fun; it's just the process. I've enjoyed the entire process, just coming here freshman year and not knowing one thing about anything. Now, my junior year, just trying to be more of a leader all around and help the team as much as I can."
And it wasn't long before McCollum's intense presence was felt throughout Bearcat Arena. Practice for the Bearcats started at 2:30 p.m., with them not taking the court until 2:45 p.m. after a brief film session. McCollum's voice became hoarse around 3:20 p.m. 
It's a level of intensity, Hudgins said, that's part of the reason the Bearcats are among the top teams in the country every year. 
"Just imagine the Chiefs winning the Super Bowl at Arrowhead Stadium, just that noise, and that feeling you'd have, just towards competition," Hudgins said. "All of that yelling, all of that screaming and stuff, and it's just mind-blowing; that's exactly how it is. I don't really know how else to explain it because it's something different, to be honest. It definitely is a shock when you're new. Honestly, it still might be a shock.
"I think, even during preseason, how we workout is more intense than most teams. I just feel like the way we prepare for games is better. I don't even know what other teams do; I just know that we're ready for every game, every play, anything that may happen — we're ready for it."
The shock Hudgins reiterated isn't a discredit to the freshmen, but rather speaks volumes to the level of intensity brought to the court from the program that won two national championships in three years. 
It's a level that he holds himself to throughout every drill.
During the third eight-minute period of practice, the Bearcats took each other one-on-one to work on isolation offense and defense. Hudgins locked down senior guard Daric Laing, forcing him to pick up his dribble. Laing pulled up and buried the 3-pointer over the outstretched arm of Hudgins. 
"Man, I'm so sick right now," Hudgins said about allowing the score.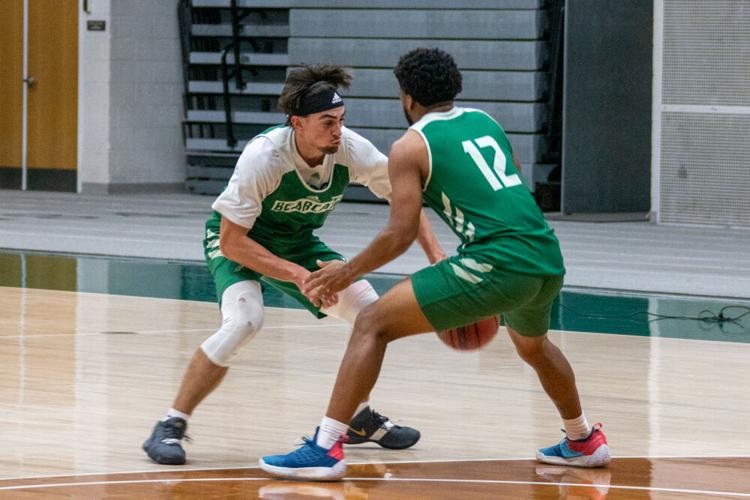 There's less than a month until the Bearcats showcase their talents against the Riverhawks to start their conquest towards another title, but they aren't close to where they need to be, McCollum said.
"We've got a few guys that know how to get through it and get themselves there, but we're just a long way," McCollum said. "We work with a great deal of intensity, and I think it shocks people to start, whereas a lot of people are just excited to be on the practice floor. … We'd rather grind through it and make it really difficult, and then be good later."
Along with intensity, McCollum praises consistency. With sharpshooter Ryan Welty departing the program due to graduating last year, the Bearcats will be without a sure-thing player. 
That leaves Hudgins, along with Laing, standout senior forward Ryan Hawkins and junior guard Diego Bernard, to fill leadership roles.
"We'll be ready; we'll be prepared — most definitely," Hudgins said. "I feel like we have key factors on our team that are going to help us win. I feel like we have some vets on our team that know what to do, and honestly, we could win a lot of games this year."
The Bearcats are 131-6 since the start of their first national championship season in 2016-17. They have won the most games in Division II basketball across that timeframe. With Hudgins and a strong core of returners, they're primed to do it again.
So until Nov. 19, the Bearcats are left with nothing but preparation for Northeastern State. When the ball gets rolling on another season, last year's disappointing ending will be in the rearview mirror.
"I'm not even worried about last year and how it ended," Hudgins said. "We can't stop a virus. You can't stop diseases and stuff from happening. So, I'm just taking it as, 'Let's just restart. Let's just get hungry again.' We'll listen to Coach Mac to prepare, and we'll be back."