Rich Wright and Jed Stugart found one another in a cinderblock room in the basement of Bearcat Stadium, tucked underneath the concourse and adjacent to Mel Tjeersdma Field, a full five stories beneath the venue's press box.
Stugart, the coach of Lindenwood football, was making his way out of the room that served as a makeshift home to his postgame session with reporters. He had just spent close to three minutes giving an opening statement to the gathered media, one in which he praised Northwest and its coach Rich Wright and indirectly commented on the perceived lack of toughness in his own team's schedule.
The Lions were 9-3 entering the Nov. 30 matchup with Northwest. They'd won the Great Lakes Valley Conference after going 4-7 in the MIAA a season ago.
"(The Lions) have been kind of disrespected, you know, by other people and other conferences and all these things and all I know is they fought their tails off," Stugart said. "They deserved to be in this game."
Rich Wright and Stugart embraced and exchanged the kind of pleasantries a losing and winning coach exchange. Stugart was headed out the door, back toward the field where his team's season had ended just minutes before, where Rich Wright's Bearcats (12-1) had just thrashed the Lions 63-7 in an NCAA Division II Second Round Playoff matchup.
Rich Wright made his way to the front of the room to face the group of reporters. He had an opening statement to give. His team had scored 56 more points than Stugart's — good for the largest margin of victory in a postseason game in Northwest history. His team had another game to prepare for next week. His team left him dozens of plays and statistics to highlight. And still, in his opening statement in that cinderblock room in the bowels of Bearcat Stadium, Rich Wright had less to say.
His preamble, which lasted less than 60 seconds, and every question he answered throughout the 11-minute session with reporters could be summed up in a phrase he repeated variations of three times in the aftermath of the program-record win, a phrase he ended his opening statement with.
"We played really well," Rich Wright said.
The phrase "really well" could be viewed as a modest summation of Northwest's 24th-consecutive home playoff win.
The Bearcats scored their first touchdown of the day 3 minutes and 30 seconds after receiving the games opening kickoff by way of a 39-yard rushing touchdown from senior running back Justin Rankin. Their second score came similarly, on a 7-yard run from sophomore quarterback Braden Wright. So did their third, a 3-yard rush from Rankin. And their fourth, a 15-yard rush from the sophomore signal-caller.
After five drives and less than 25 minutes of football, Northwest had four scores and 28 points, thanks namely to the efforts of Rankin and Braden Wright. The offensive prowess Northwest showed versus Lindenwood, one that netted Northwest a postseason-program-record 413 rushing yards, was a contrasting look from what the team displayed a week ago.
In its first-round playoff matchup with Harding Nov. 23, Northwest scored once in four quarters and escaped with a 7-6 win. In the contest against the Lions, who moved to 0-6 all-time against Northwest and were riding the coattails of their first playoff victory in program history, the Bearcats set a new program mark for points scored in a postseason game.
"Obviously, I mean, we won a football game last week but none of the offensive guys are gonna go hang their hats on, 'Oh, wow, we scored 7 points and still won,' like, we were ready to get back out there." Braden Wright said. "That was a big part of it, is getting our run game going this week. We had a high rushing yard goal, and I'm assuming — yeah, we got that?"
"You had 230 yards rushing at half," Rich Wright said.
"Yeah, OK." Braden Wright said. "I was assuming we got our rush goal. See, I mean, that's huge."
While Braden Wright and Rankin carried the load for Northwest on the ground early, neither ended the game as the game's top rusher. Isaiah Strayhorn, the senior running back who's split time with Rankin in the backfield this season after transferring from Southwestern College (California) two seasons ago, finished with a game-high 178 rushing yards on 16 carries.
Strayhorn scored Northwest's fifth and seventh touchdowns of the day, his first of which, an 18-yard run on a handoff from Braden Wright, gave Northwest a 35-0 lead it would carry into halftime, capping off a first-half in which the Bearcats scored more touchdowns on the ground (five) than they allowed rushing yards (2).
---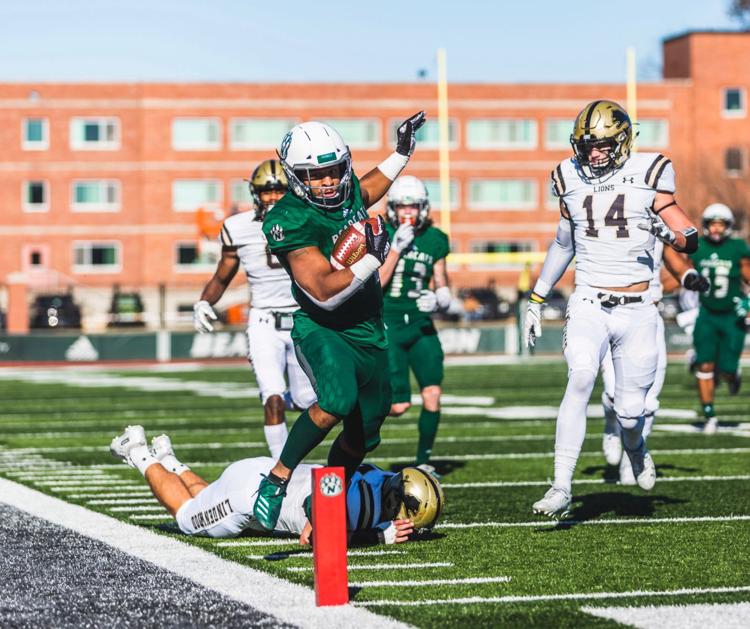 ---
Early in the game's third quarter, on the heels of Braden Wright's third rushing touchdown of the game, a 40-yard run, Strayhorn found the end zone again on a 35-yard sprint. With two scores in the matchup against the Lions, Strayhorn scored more touchdowns in the contest than he had in his previous nine games combined.
"It helped our offense a lot," Strayhorn said of his performance. "Like Braden said, no one's gonna hang our hats off only scoring 7 points last week. So it was good to come back this week and have our line open up big holes all game consistently and made my job a lot easier."
"Sixteen carries for 175 yards," Rich Wright interjected. "Not a bad day at the office."
"Not a bad day," Strayhorn said. "Wow."
In some ways, Strayhorn's career-high rushing output depicts the flexible dominance of Northwest's offense. In the aftermath of former running back Josh Caldwell's departure at the conclusion of last season, Strayhorn figured to be the feature back for Northwest in 2019. The arrival of Rankin, a transfer from Division I Kent State, has forced Strayhorn into a backseat role for much of his senior season.
Considered somewhat of an afterthought in Northwest's offense, Strayhorn has refused to be one. The running back has averaged close to 50-yards rushing per game. He averaged more than 11 yards per carry against Lindenwood. It was the second time in two seasons he provided the Bearcats with more than 150 yards of offense in a playoff game, rushing for 171 last season against Ferris State Nov. 17, 2018
"That's kind of the beauty of our offense," Braden Wright said. "It's kind of a balanced attack on who's carrying the ball. So that's the thing, we've got, at times, four guys out on the field who you don't know who could be getting the ball to run it."
Lindenwood's first and only response to Northwest's potent offense came late in the game's third quarter, by way of a 21-yard touchdown pass from sophomore quarterback Cade Brister to senior tight end Erik Henneman. The score pulled the Lions within 35 points of Northwest with less than 20 minutes left to play.
Northwest responded less than three minutes later with an interception that sealed the fate of the 2019 Lions, a fate that was realistically determined before halftime. Junior safety Blake Bayer picked off a Henneman pass near Lindenwood's 20-yard line and returned it for a touchdown, giving Northwest a 56-7 lead with 2:29 left on the third quarter clock.
---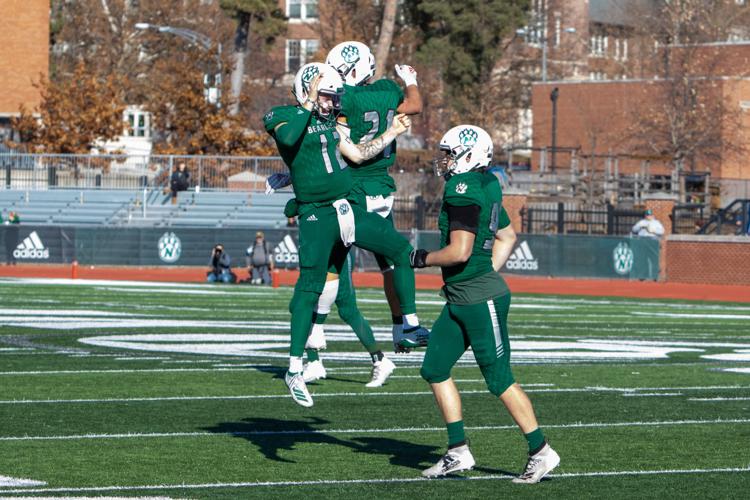 ---
The Lions season was on life support when the pass left Henneman's right hand. It effectively ended when the ball found its way to Bayer, with 17 and a half minutes until the game became final.
Northwest added its last touchdown, a 1-yard run from redshirt freshman quarterback Mike Hohensee, who took several snaps in shotgun as both a quarterback and punter with a cast on his throwing hand, early in the fourth quarter. The score was Northwest's eighth rushing touchdown of the game, a postseason program record. It pushed the score to 63-7. The score became final less than 14 minutes later.
---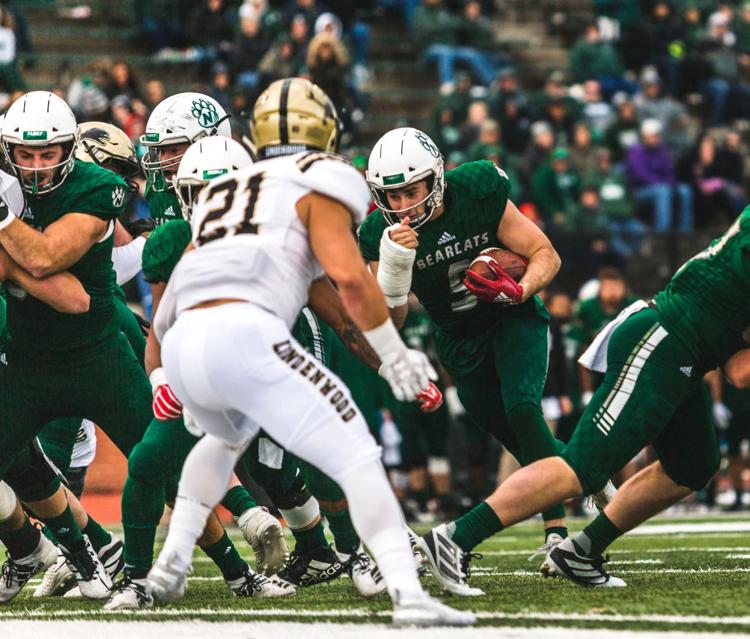 ---
The win gave Northwest its 50th postseason victory in school history. It ensured the Bearcats a trip to Big Rapids, Michigan, Dec. 7, where they will take on Ferris State. It marked the achievement of a goal for the team — the Bearcats, Rich Wright, were tunnel-focused on playing into December.
"There aren't many teams left that get to do that," Rich Wright said.
Northwest's next goal, the coach said, is to play on television, a feat that would come with a win in Michigan.
In some ways, the win over Lindenwood coupled with the close victory over Harding illustrates what the season has been for Northwest. There have been moments of inconsistency followed by a displayed dominance. There have been head-scratching games followed by convincing victories. The team has been a walking roller coaster for 13 weeks.
In the aftermath of the Bearcats' latest win, Strayhorn tried to describe a newly-implemented celebration that he and Rankin, among others, took part in several times in the record-setting win. His explanation, though, epitomized what the Bearcats have been this season and what they were for four quarters against Lindenwood.
"I don't know a name for it." Strayhorn said. "But it was fun."