Maryville's City Council was in the midst of a series of procedural votes on a soon-to-open Splash 'N' Play park when Justin Mallett walked into the second floor meeting room of the Maryville Community Center Feb. 8. 
Northwest's associate provost for Diversity and Inclusion was more than 10 minutes late. But within moments of arriving at the quickest and least eventful City Council meeting of 2021, Mallett faced the Council and did what he came to do: engage with the five-member committee on race and racism, on equity and opportunity, and, of course, on diversity and inclusion. Ten days after presenting his office's mid-year report at the University's Jan. 28 Board of Regents meeting, where Mallett suggested Maryville is a "racist town," he took his grievances directly to the City Council. 
Mallett noted the lack of amenities tailored to fit unique needs of Black students. He expressed a lack of confidence in the safety of his own teenaged son within the city limits. And echoing comments he has made throughout the academic year —  particularly since a racially insensitive video involving an incoming Northwest student went viral last May — he gave a voice to underrepresented students and residents who largely feel voiceless in this city, nearly 90% of which is white. 
In doing so, Mallett became the first person in his position to directly address issues of diversity at a Council meeting in recent memory, Councilwoman Rachael Martin said. And while the all-white committee expressed a willingness — in fact, an eagerness — to listen and learn, the meeting's minutes will nonetheless prove that there is still much work to be done. 
Mallett pushed back against Councilman Matt Johnson, an instructor at Northwest, and the Council as a whole after Johnson suggested an initial step in strengthening inclusion within the city would be for underrepresented students to include themselves in Maryville's happenings, in part by registering to vote here.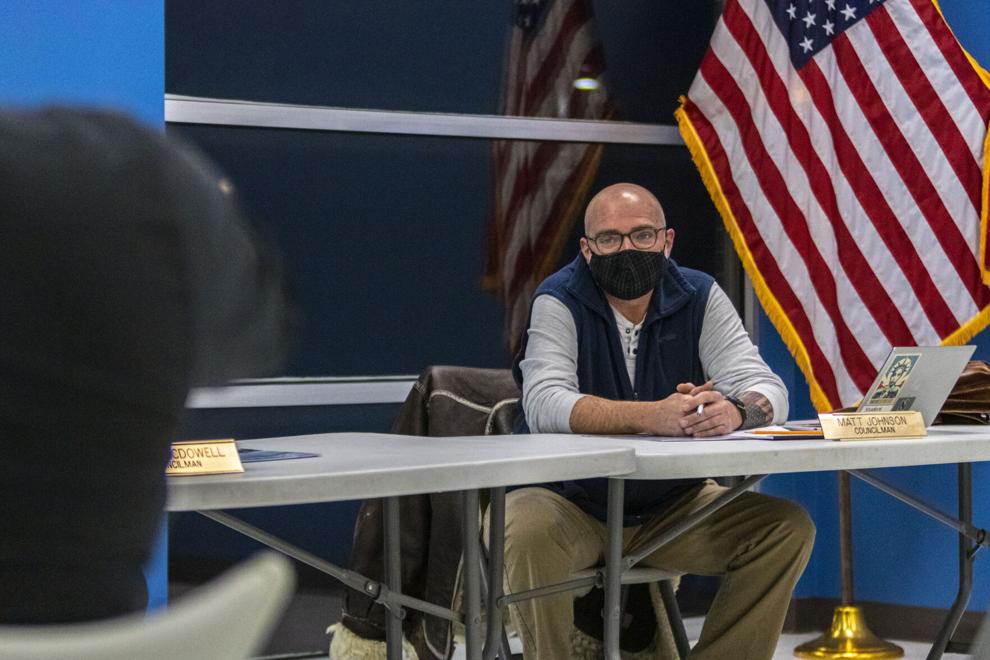 "We have to start having some realistic and honest conversations about —," Mallett said, before switching course. "(Johnson) mentioned getting invested in the community and getting involved in the community …  the question that I'm gonna ask is, 'What is there for someone who looks like me?'" 
"Whatever you want," said Maryville Mayor Ben Lipiec, answering in a near-mumble before Johnson could. 
"What's that?" Mallett asked. 
"Whatever you want," Lipiec said, louder this time. 
"OK," Mallett said. "I want to go get a haircut tomorrow. Where do I go?" 
The answer, for Mallett, a Black man, is St. Joseph, Missouri — a 40 minute one-way drive from his home in Maryville. And while the lack of Black-owned or Black-tailored barbershop in Maryville isn't what brought Mallett in front of the Council Monday night, it is nonetheless a symptom of the systemic problems the associate provost is trying to address. 
If Lipiec, the Northwest-educated mayor who has mixed-race children and has lived in Maryville his entire life, doesn't quite grasp the plight of Black students and nonstudents living in the city, Mallett's work is cut out for him. 
The Council's enthusiastic agreement to undergo implicit bias training is an early-round win for Mallett, something he told me was an unexpected "bonus" that came from his initial appearance in front of the city's governing body. But the impact of training alone — suggested by Mallett and embraced by the whole Council, most emphatically Martin — will be minimal if more action isn't taken, even as it remains unclear what that action might be. 
Two of the Council's five members — Johnson and Councilman Tye Parsons — are Northwest employees, 99% of whom have already completed some form of online diversity awareness training. And, perhaps more importantly, it is almost assuredly not City Council members who are making underrepresented students feel discomfort within the community. It is, more likely, residents who have never been to a Council meeting, and who feel no need to participate in a bias training. 
Still, Mallett's appearance in front of the Council is itself a sign of progress, the first words in a dialogue that is long overdue. That dialogue, throughout Monday's meeting, was purely positive. It won't always be that way. To hear Mallett tell it, "we're gonna feel a lot more uncomfortable before we get comfortable." 
Mallett has advocated for underrepresented students since he first arrived at Northwest in 2017, often doing so as the only Black man in the room, as he was again Monday night. His workload has only increased since the first chapter in Northwest's broad racial reckoning last May. He has gone 10 rounds with the system on behalf of Black students, battling vigorously on their behalf. 
But as he walked into the Maryville Community Center Feb. 8, taking the initial steps in what will be a yearslong process of transforming this city's atmosphere, Justin Mallett entered the ring for his hardest fight yet.