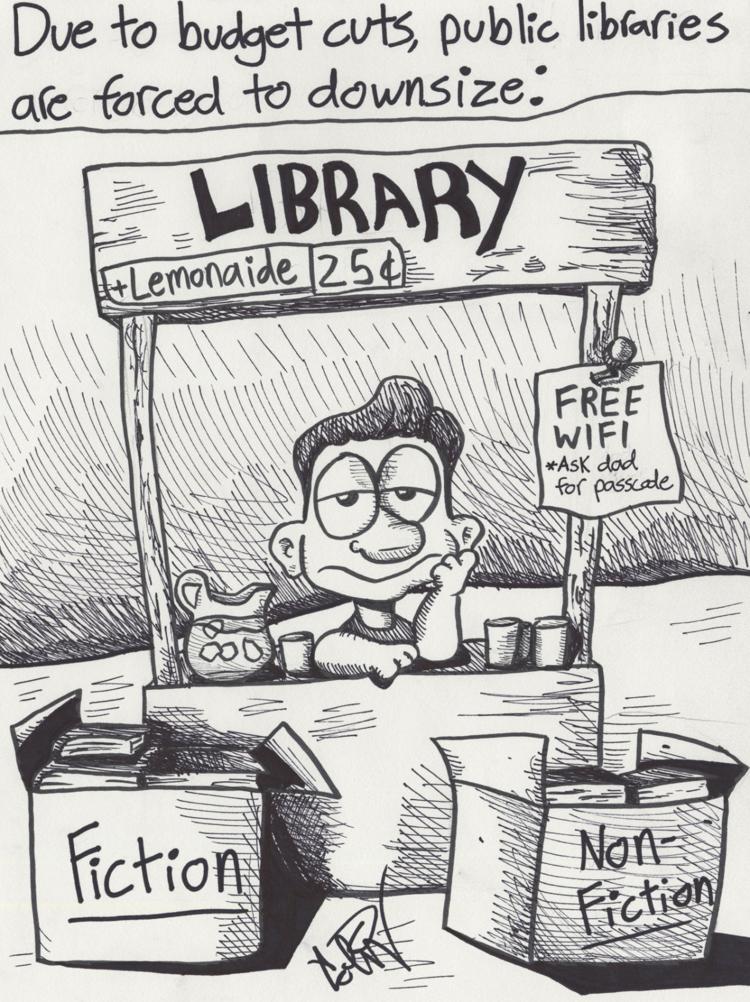 Public libraries need to be preserved
It is again time to defend public libraries.
Facing tough budget talks, Governor Jay Nixon has decided to slash millions from Missouri library budgets. Locally, Nodaway County voters will decide April 7 whether to increase property taxes which will pay for the expansion of local library services. Whatever the financial situation of a state, city or county, libraries are always a worthwhile investment. Their worth should be easily understood by everyone, from your neighbor here in Maryville to our Governor.
In the 2014 fiscal budget approved last year by the Missouri legislature, $3.5 million was allocated to public libraries with an additional $3.1 million to be used on vital digital services for libraries. However, quite inexplicably, Nixon has withheld almost all of that money, only releasing about $723,000. This seems to be part of Nixon's plan to permanently reduce library funding, as his 2015-2016 budget proposal only included $723,000 for libraries.
During times of budget negotiations, public libraries have long struggled to demonstrate their value to citizens and governments. Usually, they are successful. Ninety percent of Americans say public libraries are important to their communities according to the Pew Research Center. However, when looking for ways to save money, governments, and often our fellow citizens, forget their worth. Libraries are then seen as pointless, wasteful and relics of a bygone era. It could not be farther from the truth.
Your local public library is not just a storage facility for dusty old books. It performs essential public services that go far beyond issuing library cards. In many cities, poorer citizens often have no other place to access the Internet. In an age where Internet access is often required to fill out job applications, libraries are helping many Americans get back on their feet.
Gentry County Library Director Judy Garrett, in a letter to the Maryville Daily Forum, pointed out that "last year alone, Missourians used 6.3 million public library-provided computer sessions, and 1.3 million public library-provided Wi-Fi sessions, to complete job applications, take college courses, and build technology skills." The proposed cuts will make sustaining these Internet services more costly for many public libraries. If cuts continue, poorer Missourians may have to look elsewhere for free internet. Considering that Internet access is increasingly seen as a right rather than a privilege, this would be an embarrassment for Missouri.
On a more fundamental level, public libraries are often the safeguards of an educated populace. They allow all access to vital information that improves the lives of citizens who dare to know. Some of the greatest Americans spent their formative years essentially living in their local public library. Librarians are there to assist people in navigating this complex world of information. Civically-minded, librarians and their libraries exemplify what makes America work: assisting those who wish to improve their lives.
It is fitting to end with some thoughts on public libraries from prolific American author and scientist Isaac Asimov:
"My real education, the superstructure, the details, the true architecture, I got out of the public library. For an impoverished child whose family could not afford to buy books, the library was the open door to wonder and achievement, and I can never be sufficiently grateful that I had the wit to charge through that door and make the most of it. Now, when I read constantly about the way in which library funds are being cut and cut, I can only think that the door is closing and that American society has found one more way to destroy itself."