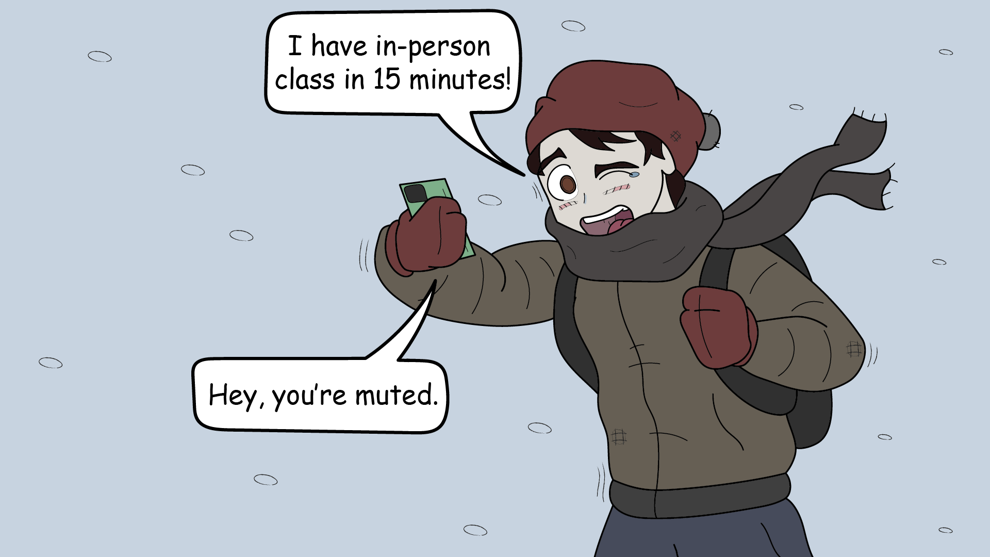 The same strange ritual begins every time Maryville has snow in the forecast. First, students and faculty alike will begin to talk about it with cautious optimism. The end of classes prior to the inclement weather will be spent casting hopeful predictions for class cancellations. Next, people will take to Twitter using the same 10 or 15 variations of accusing or begging the Northwest University Police Department's account to grant them a snow day, as if UPD is the only group that makes the decision.
Finally, there will either be jubilation or dismay as many wake up the next morning and frantically check their email and Twitter to see if they can go back to bed or not. If they can, everyone, except the people that still have to go to work, breathes a sigh of relief. If not, some very ungrateful few will take to the internet to accuse UPD of everything from recklessness to malice for not canceling class, again as if UPD is the sole decider.
This year, however, the dalliance is a little different because of COVID-19 and Zoom. 
On only the third day of classes this semester, Northwest had an official snow day, sort of. Many students awoke to the notification that their morning classes had been moved to Zoom and that all other classes for the rest of the day would be conducted virtually. Then, for many, an inexact amount of time later they were told by faculty that all classes were canceled. Some students had already attended classes, while others hadn't. The issue was not the one a child — or person on Twitter angry at UPD — would raise; it wasn't the issue of fairness. It was the issue of inconsistency.
Mere weeks later a similar situation occurred with similar weather. The University decided to hold all "on-ground" classes until 11 a.m. virtually. The confusing pseudo-military language aside, the University seemed to reverse recent precedent and decide to proceed with classes, and particularly virtual classes, early on in the day.
The problem with this action is simple. What if a student lives more than 10 minutes away from campus? Some professors are counting in-person attendance unless there is University documentation that says a student cannot attend in person. So are students supposed to race to campus in the minuscule 10-minute gap between classes? Or are they supposed to brave the conditions before they were deemed safe so they can be on campus early?
Fast forward to this week, where temperatures are expected to hover around zero, and snow and ice are caked on nearly every street. Many professors elected to hold Zoom classes Feb. 8 and not brave conditions, yet the same problem could still remain. Streets just blocks from campus remained relatively untouched, yet many students will be forced to hustle to campus to attend class. There was no cohesion in faculty and University decision-making.
The process to decide whether there should be a snow day is a rather rigorous one. There is a drawn-out document that calls for specific officials to meet with others and for students to be notified at certain times. University Police Chief Clarence Green said in an email that he believes students will have traditional snow days even in this virtual landscape.
Obviously, each day will be a unique decision in regard to cancellation and delays, but in the past, there was always a sense of cohesion. While many may have not agreed with the decision to cancel or proceed with classes, there was at least a certain familiarity with what would happen. Virtual classes and recent decisions have thrown that familiarity into a deep snowdrift. Now students and faculty alike don't know what to expect. 
The current model of shifting from online to in-person in just ten minutes isn't working. The faculty informing students in waves instead of the University informing them at once that classes are canceled isn't working. There's no consistency, except for the angry Twitter people. They will always be there.