There's this novel piece of advice repeated over and over in reporting and media classes at Northwest, and it was sent my way via email again one morning last week from a professor at the University: "If you never piss anyone off, you're probably not doing your job."
The email found its way to my inbox a minute shy of 11 a.m. on Thursday morning. It had been two days since I'd published a column about a local Facebook group that got more attention than it would have if the group's members cared as little as they claim to about my opinion. It had been 18 hours since I was blocked from viewing the Maryville and Nodaway County Resident Facebook page (before being subsequently unblocked and admitted into the group). 
And, most direly, it had been 13 hours since I was made aware of a threat posted underneath my column in the group — one that prompted a number of kind notes that flooded my phone when I woke up Thursday morning, including the email dispatched from a longtime journalism professor. 
"Congrats!" the note continued. "You're doing your job!"
That sentiment — however prevalent as it might be in today's media culture — is one more suitable for a yesteryear when threats toward the media weren't so common, and were perhaps more often empty. 
If the first two-and-a-half weeks of 2021 have taught us anything, it should be that threats against institutions should not be seen as empty anymore. It has been 10 days, as of this writing, since a mob of angry supporters of a losing candidate — armed both with various weaponry and unprecedented amounts of privilege — stormed the U.S. Capitol, where they terrorized sitting Congresspeople, vandalized hallowed grounds, murdered a Capitol police officer and carved into a door within the people's house, "Murder the media." 
Perhaps it's anyone's guess what Brent Hendrix, of Maryville, Missouri, might have truly intended when he first made a threatening post toward me in a Facebook comment section, where keyboard warriors like Hendrix tend to do their intentionally vague work. I'm not sure whose role it is to say what Hendrix meant when he said he'd like "to get my hands on him," referring, of course, to the 21-year-old college student who had criticized a Facebook group. 
Some members of the group have decided it is, in fact, their role to decipher Hendrix's intent. 
"Clearly, Brent was venting," one commentator told me. "Such a harmful threat. Hope your pride isn't hurt to much," another commenter added, sarcastically. "This is a threat?!? You've GOT to be kidding me, right?" posted another.
While downplaying threats is painfully on brand for a group of citizens who are largely up in arms about having to wear a piece of cloth over their mouths as a deadly, invisible virus that has killed more than 2 million people globally floats through the air, it is exactly this dismissive behavior that allows threats to escalate — which, of course, is what happened. 
"Yes absolutely correct," Hendrix told me on Twitter, in one of more than five threatening messages he sent before I was advised by Northwest's University Police Department to cease contact with him. "But do not publish negative things about this community. That my friend is a threat. This is my community. Not yours. Im serious.One more article regarding myself. My community. Anything resembling it. I promise you. You will not be able to use a keyboard ever again. That I promise."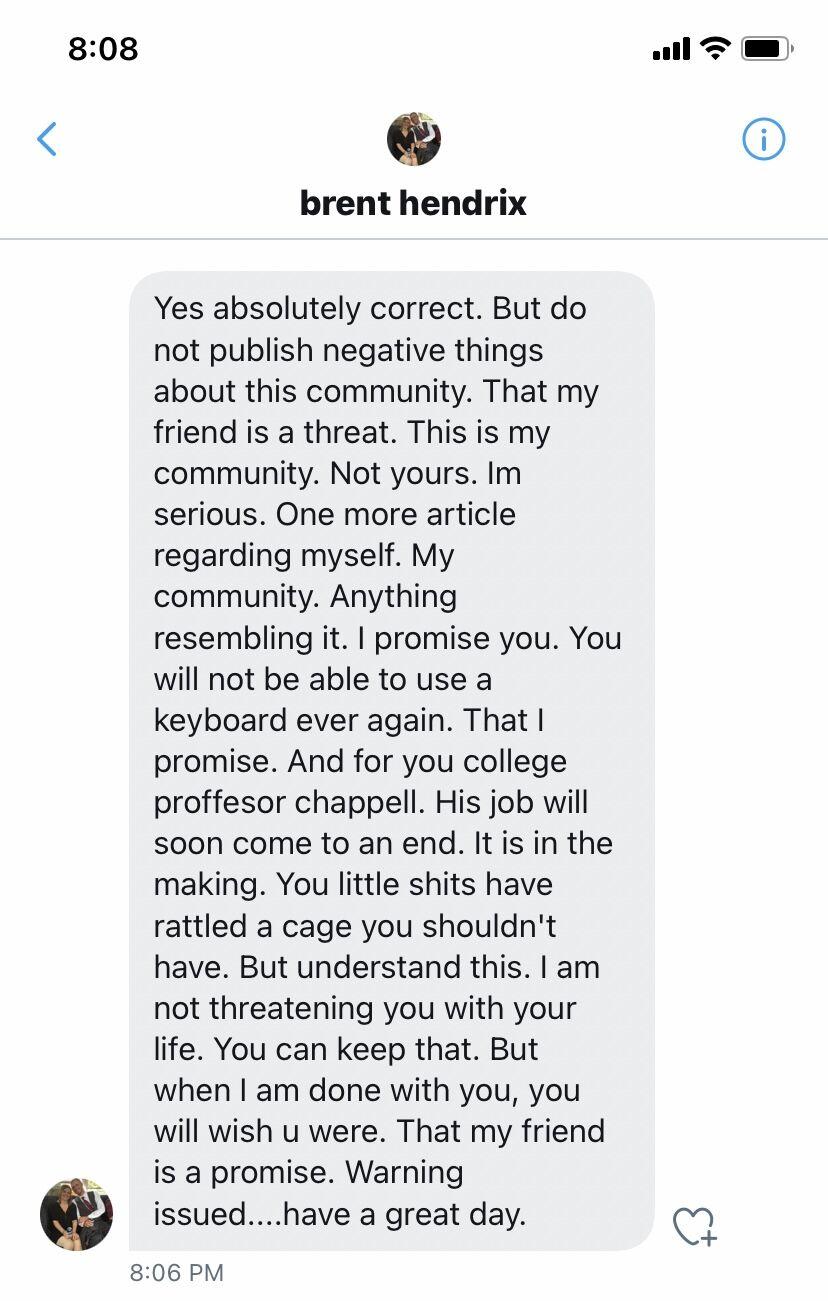 "And for you college proffesor chappell," Hendrix continued, referring to Steven Chappell, Northwest's student media adviser who has no control over the content produced by The Missourian. "His job will soon come to an end. It is in the making. You little shits have rattled a cage you shouldn't have. But understand this. I am not threatening you with your life. You can keep that. But when I am done with you, you will wish u were. That my friend is a promise. Warning issued....have a great day." 
So, to the people of the Maryville and Nodaway County Resident Council: where are the "civic minded residents" that supposedly make up your toxic Facebook group, according to its biography? Where is the unity you tout?  Where is the "constructive, civilized" manner that is promised upon entry? 
In the few days I've been a member of this group — which I only ever requested to join in an effort to battle against blatant misinformation posted underneath my column — I've encountered far fewer civic minded residents than I have right-wing agitators who would rather defend Hendrix than encounter, or even acknowledge, their own hypocrisy.
John McBride and Tim Jackson, two of the group's three members mentioned by name in my original column, have been mostly quiet and respectful in the days since it was published. And while I do believe each of their campaigns for Maryville's City Council are largely built on misplaced outrage and identity politics, their decorum in the days since my critique of them was published has been admirable. 
But instead of mirroring the behavior of McBride or Jackson, instead of offering any of the civility that is purportedly a staple within this conservative echo chamber, much of the group has instead taken this moment to diagnose me. 
I exist only to "stir things up and cause issues," one poster said. I'm trying to make myself famous "by bringing out the worst in many," another said. I need "a severe attitude adjustment." 
As a columnist, my only aim is to provide observation on local news events. I've never claimed to be a unifier, and I've never tried to be. But complaints about the political division that my words have prompted — and with them, calls for unity — feel hollow coming from a Facebook group where dissenting opinions are met with backlash, where civility is itself an empty ideal, and where, at least once last week, a differing opinion led to direct threats of physical violence. 
Though I hoped to avoid writing a column like this, where my own role is as a central character rather than a distant observer, my sincere hope is that these words might cause some sort of pause, that members of the Facebook group where my name has become a lightning rod might condemn one of their own who has crossed a line. But I'm not naive enough to fully believe that will happen. Introspection would require the group to save some amount of reflection for itself. 
In any case, I have some bad news for  Hendrix, whose messages have been shared with UPD  and, through it, Nodaway County's prosecutor: I am not going to stop writing columns. I am not going to stop sharing my opinion — whether it takes a negative slant towards a faction of this community or not. I am not going to be bullied into submission by a man who, according to records, isn't even registered to vote for Maryville's City Council, the governing body his Facebook group so adamantly opposes. 
I did not create the divide in this community. It existed before I arrived and will remain after I leave. And while members of the Maryville and Nodaway County Resident Council have accused me of irresponsibly aggravating the estrangement that exists between them and local officials, I am sure of at least one thing: There is nothing I could write to bring this city together.