Student Activities Council, Concerned Advocates for Relationship Equality and Active Minds hosted Speed Connections at 7 p.m. Feb. 10 in the J.W. Jones Student Union.
At the event, participants came and sat across from each other and were asked to talk about a series of questions. The questions ranged from "What's your dream vacation?" to "What are your pet peeves?" After each of the four rounds, the participants would switch where they were sitting and go to someone new.
Speed Connections was meant to be like speed dating but for friends. Six people attended the event, but because of low attendance, the hosts of the event had to join in on the questions.
CARE Advisor Rachel Anderson said that when she made the questions she really just wanted to get people talking.
"We chose these questions because they were getting to know you questions, icebreaker questions and really just goofy things that could get people talking," Anderson said.
The event was co-hosted by the three different organizations in order to take the weight off of all three of their backs.
Anderson said it was much easier to plan, especially since each group only had a portion of the work to do. She said CARE chose to partner with the two groups in the spirit of making connections.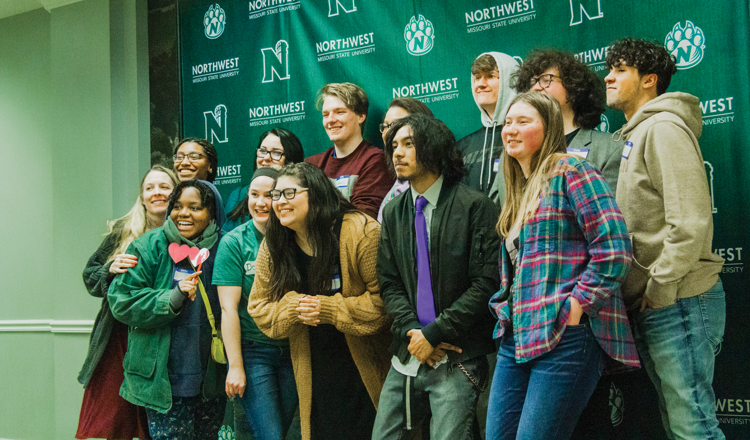 "Active Minds is all about mental health and a part of having good mental health is having those connections and that support system. We were hoping that could be something people found here," Anderson said. "Then we partnered with SAC because they put on really great events all throughout the year and we thought that attaching their name to this event would put it on the map."
Director of Special Events for SAC Garrison Kennedy said that SAC provided the food for the event and then helped the other two organizations with anything else they needed.
"For this event, planning was really simple because it was all three organizations. SAC mostly just provided the food while CARE and Active Minds did promotional material. We distributed it, but they designed it, and they also got a photo booth. This was a really good, collaborative event; it took a lot of individual stress off of each organization," Kennedy said.
Active Minds and CARE had worked together before with an event last semester, but
SAC, Active Minds and CARE had never worked together before.
Director of Marketing and Promotions for SAC Carlee Rupe said getting to work with the different organizations was a really great opportunity for them.
"Through this event we got to meet some really amazing people who have a passion for the same things that we do. We consider SAC to be really inclusive and trying to have a positive environment and we felt like it was a good fit for both these groups," Rupe said.
Jessica Hollis, a freshman student who attended the event, said she decided to go because she was hoping to look for new friends.
"I kinda wanted to make more friends," Hollis said. "I feel like I don't really fit in my friend group that I have right now. I felt like this would be a great opportunity to come meet people and put myself out there."