There have been 4,856 parking tickets given out so far this fiscal year, with an average of 11 parking tickets a day.
University Police Chief Clarence Green said the money from these tickets goes toward ticket writing staff, data entry staff, signage, parking permits for faculty and staff and the other operations of the parking system.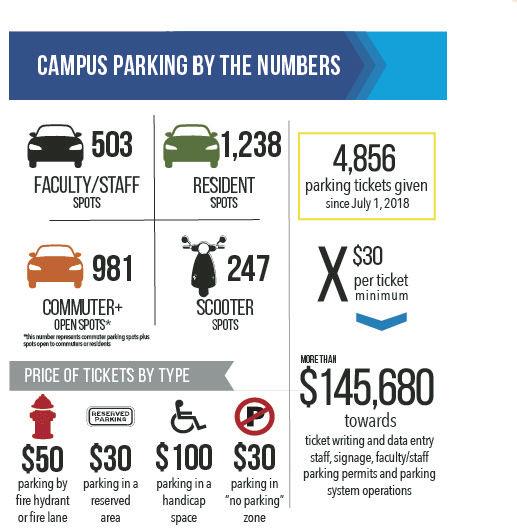 Freshman Gracie Roach said Northwest may not need additional parking but should be more considerate of students.
"Maybe we shouldn't have additional parking but maybe more open to who gets to park at certain spots," Roach said. "There should be changes in restricted parking areas."
UPD has towed cars during football games in the past and will continue to do so. They make sure the parking lot between Mel Tjeerdsma Field and North Complex is clear for the families who have reserved parking.
"Typically, we tow less than eight cars a game," Green said. "We have roughly over 200 spots in that lot."
Green said UPD tries to make sure the message gets across for students to move their cars from the parking lot closest to the field. UPD has received feedback over the years on how to alert students regarding parking.
"We do announcements and premessaging," Green said. "With us posting signage, making announcements through the building and social media posts, we've communicated the information out there. We're always up for more suggestions on how to communicate."
Students must contact UPD to obtain their cars and are charged a $100 ticket for the towing services.
Senior Samantha Mageto said there should be more spots for commuters.
"We need more parking spaces especially for commuters," Mageto said. "We have more space near the Ron Houston building and the Hughes Fieldhouse. There should be parking spots near there."
Green said with enrollment being stable UPD is not looking to add any additional parking spots to campus. UPD is working on refining and repairing the spots Northwest has.
"Looking at some of our gravel lots, maybe paving those and putting asphalt down or even maybe moving to a hard surface," Green said. "This year it's going to be a strain because the winter weather and potholes are everywhere around Maryville including campus."
UPD has repaved the lot located near the Hughes Fieldhouse. It is now asphalt but used to be a gravel lot.
Green said the cost of adding a parking garage is out of the budget and would force the University to raise the cost of parking permits.
"It's a little around $25,000 and $30,000 per spot to construct it," Green said. "The cost is just too much for our parking demand and truly our demand doesn't support it. We do have some stranded areas such as Colden Hall, Fine Arts, Lamkin, but our demands do not really push that we need it."