DES MOINES, Iowa — As college-aged students flock toward the most progressive candidates in the field of 2020 Democratic hopeful, the party's more moderate candidates and their campaign representatives made last-ditch pleas to likely Caucus-goers and pitches to young voters nationwide ahead of the Iowa Caucus Feb. 3.
In Iowa, Sen. Bernie Sanders, I-Va., who fell short of the Democratic nomination in 2016 after narrowly losing Iowa to Hillary Clinton, the eventual nominee, leads polls ahead of the election cycle's first primary. Sanders is polling at 24.7% in the state, according to Real Clear Politics' tally updated Feb. 2, which averages the totals of six different political polls, including those conducted by the New York Times and Monmouth University.
Trailing Sanders, according to the poll, is a cluster of moderates, fellow progressives and a host of relative political outsiders. Former Vice President Joe Biden and former Mayor of South Bend, Indiana, Pete Buttigieg sit second and third in the latest round of Iowa polls with marks of 20.2% and 15.4%, respectively, according to the Real Clear Politics poll. Sen. Elizabeth Warren, D-Mass., one of the field's more progressive candidates, is polling just behind Buttigieg in Iowa at 15%.
In Des Moines and across Iowa Feb. 1, candidates and campaign representatives made pitches to voters both within their perceived base and outside of it, at both rallies and unaffiliated caucus events.
Sanders, who leads in the Iowa polls and is the top pick of 39% of Democrats nationwide under the age of 45, according to Politico, made a stop at an AFSCME Union gathering to speak to an audience of roughly 50 union workers, most of whom were white and over the age of 45, a demographic Sanders struggles with. For Sanders, the stop was unscheduled, with his presence hijacking the event that Tom Steyer, a billionaire and former hedge fund manager who's polling at 3.2% in Iowa, was set to headline.
---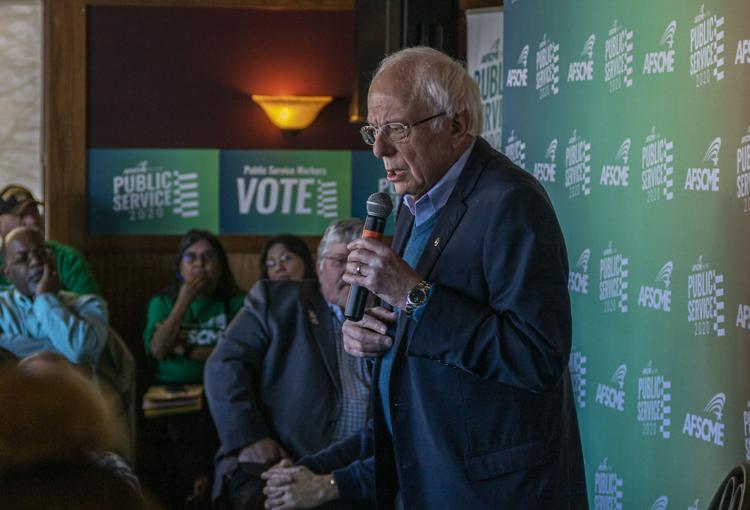 ---
"You are entitled to health care as a human right," Sanders said at the event. "And that is comprehensive. What Medicare for All does is build on a strong medicare program and it expands it. … And because we are gonna take on the greed and corruption of the pharmaceutical industry, nobody in America under Medicare for All will pay more than $200 a year for prescription drugs."
But as Sanders stuck to the talking points that have won him the support of a young base, touting the advantages of his signature Medicare for All platform to a group of aging voters with union healthcare plans, the field's moderate candidates and their representatives made what appeared to be more concentrated efforts to sway undecided young voters in Iowa.
Appearing at the AFSCME event on behalf of Biden, Tom Vilsack, who was the governor of Iowa for two terms and served as the Secretary of Agriculture in the Obama administration, made a case for the former vice president as the most electable candidate and an attempted appeal to young voters.
Biden, who trails Sanders by 4% in Iowa but who leads the senator by 3.7% nationally, according to Real Clear Politics, has enjoyed support from the older members of the Democratic party but has struggled with young voters. Biden is polling at 33% among Democrats in the 45-and-older demographic, according to Politico, a demographic in which Sanders polls 16%.
Campaigning for Biden at The Tavern II, the pizza restaurant in West Des Moines that played host to the AFSCME event, Vilsack talked about electability and the ability to deliver on promises. He talked about Biden's ability to win over conservative states in a liberal primary. He talked about a record of accomplishments that span over Biden's 47-year political career.
And he talked about excitability, a term more often associated with Biden's progressive rivals like Sanders and Warren than the former vice president himself. But when doing so, Vilsack leaned on Biden platforms less stirring than those offered by his progressive rivals. He leaned on viability.
"There are a lot of working-class kids who understand and appreciate Joe Biden's commitment to access to a community college education to get started," Vilsack said. "At the end of the day, this isn't just about young people, it's not just about senior citizens — it's about all of us."
Campaigning for Buttigieg as the mayor sits third in the Iowa polls, Rep. Anthony Brown, D-Md., found himself in a similar camp as Vilsack. One poll conducted in late January pegged Buttigieg as one of the field's least popular candidates among 18-29-year-old voters, a demographic where the former mayor is polling at 3%, according to the poll from Forbes.
Brown had traveled to Iowa from Maryland, doing last-minute groundwork, making a case for a moderate in the most progressive primary in history, campaigning for the youngest candidate in the race who has struggled to captivate the nation's young voters.
"We're focusing a lot on that," Brown said. "Those who did not caucus in '16 and are very likely to caucus in 2020 — we've spent a lot of time and energy on that. So, in some cases, that might mean the younger caucus-goers. … We've campaigned extensively in counties where a lot of Democratic campaigns sort have not even spent any time there."
And then there was Sen. Amy Klobuchar, D-Minn., who hosted a rally at Franklin Junior High School Feb. 1 which brought out more than 1,000 supporters. Like Buttigieg, Klobuchar is a moderate who has struggled to excite young voters. Unlike Buttigieg, though, Klobuchar has one little to excite middle-aged and older voters either, polling at or under 11% in every poll considered by Real Clear Politics.
At her 8:30 p.m. rally in Des Moines, though, facing a packed gym, Klobuchar's last-minute pitch pandered less to a young caucus and more to a centrist Iowan base, relaying the same moderate message that hasn't always appealed to young voters, in part because it wasn't designed to.
She spent close to as much time at her rally talking about President Donald Trump as she did her own moderate policies, comparing herself and contrasting herself to a president who she referred to as a "bully" and a "racist." She categorized the president as an elitist, out of touch with the Iowa voters who supported him with 51.1% of their votes in 2016.
Klobuchar weaved her moderate policies with political comparison and anecdotes from her campaign trail and personal life, wrapping the policy stances in conservative, common-sense rhetoric. Her pitch to young voters appears to depend on young voters thinking like middle-aged ones.
"This election is not just an economic check," Klobuchar said. "It is also a decency check. It is a patriotism check. It is a value check. … That's what this is about."
Somewhere in the ground between the two camps of the Democratic Party, between the likes of Sanders and Warren and Biden and Buttigieg on the party's political spectrum, sits Andrew Yang, the former entrepreneur and lawyer who announced his candidacy before any other major candidate, doing so a year after Trump's election in November 2016.
In Iowa Feb. 1, Yang made a midway stop at a Mexican restaurant in Boone, speaking at a more intimate rally in front of a few hundred supporters. He discussed his key platforms; his proposed Freedom Dividend, the focus-tested name for his universal basic income policy. And he discussed the growing dangers of automation and climate change. He encouraged the room to "Make America Think Harder," a slogan that serves as a dig at Trump and one that has helped define Yang's campaign.
---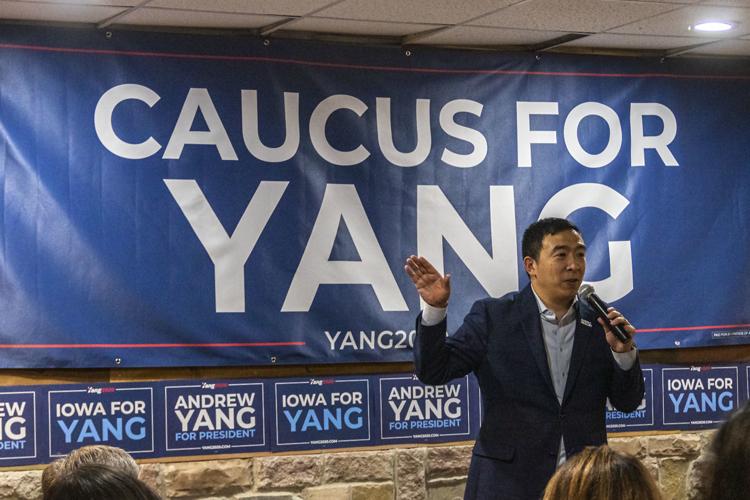 ---
His policies, at times, range further left than those of Sanders or Warren. But his approach delivers Yang as a perceived champion of the common man. His speaking engagements encourage back-and-forth with potential voters. He draws on his own brief experience as a corporate to underscore issues with America's emphasis on the economic values, rather than human value. He does not wear a tie.
The result has made Yang popular among young Iowa voters. Despite the fact that Yang is polling 3.8% in Iowa and 4.7% nationally, he won the Iowa Youth Straw Poll, garnering 22.8% of the Democratic support in the poll and beating Sanders by 2.5%, according to Iowa's Secretary of State office.
"We have to turn the clock forward," Yang said. "We have to accelerate our economy and society to rise to the real challenges of this time like climate change. We have to evolve in the way that we see ourselves and our work and our values."
While Yang discussed the need to invest in technical schools and revamp America's educational thinking, every candidate touched on a need to appeal to disgruntled conservative voters who might stray from the GOP in the wake of Trump's first term, one marred by an impeachment trial set to end next week.
After the weekend of last-minute rallies, the Democrats were a step closer to determining who among them might challenge in the 2020 election, but the path forward still lacks clarity. There are still early primary elections in New Hampshire, South Carolina and Nevada that could prove vital in determining the nominee. There is still Super Tuesday, March 3, when 14 states host their primaries. And there is, of course, still a caucus in Iowa.
At her rally in Des Moines, Klobuchar told a story about her experience on Election Night in 2016, about where she was and what she did when she learned of Trump's victory. She got a text, she said, from her daughter. It posed a question that has remained unanswered for the Democrats for the last three years, but one that could be further defined with the outcome of the caucus Feb. 3.
"What should we do now?" Klobuchar said.