The Northwest Students for Life organization held a anti-abortion march around campus 11 a.m. Jan. 30 starting at the International Plaza. 
The protest started off with a speech from junior Samantha Fortik, the coordinator of the march and president of Students for Life. After the speech, attendees walked the small route before finishing with a thank-you talk from Fortik.
Fortik said that originally a group would head to Washington D.C. to participate in the annual March for Life, which happened Jan. 29, and a group would stay to demonstrate on campus. However, due to COVID-19, it was narrowed down to being solely on campus.
Fortik stated they are protesting for the illegalization of abortion, emphasizing her point that the lives of the unborn matter. In her speech, Fortik said that they advocate to abolish abortion to give others the opportunity to live their lives.
"We believe all lives are valuable," Fortik said.
She said they are marching to show women that there are other options besides abortion. Additionally, she said that the group wants to show their support for women and the unborn.
Her statement on the other group protesting was respectful, and she fully supports them showing their opinion and standing up for what they believe in.
"We don't personally gain anything by fighting against abortions," said Fortik. "We're here to stand for those whose voices will never be heard, for the most vulnerable victims of society."
Garrett Louiselle is an alumni of Northwest who came back for the march. He mentioned how the cause envelopes a lot of issues, including foster care and care for people with mental illness.
"I think this cause goes a lot farther than abortion," he said. "This isn't just pro-life for the unborn, but for everyone."
Louiselle's opinion on the other protest group was similar to Fortik's.
"When both parties can engage in activities like this, it opens the door for collaboration and finds common ground."
A group composed of 34 people from the Northwest College Democrats, the unofficial Students for Choice organization and anyone else who wanted to join in, held their own march at the same time.
The Students for Choice group met at the International Plaza, like the Students for Life group. They marched at the same time and followed the same route.
Sophomore Emily Rose, who planned the counter-protest, said she planned it on the same day as the Students for Life intentionally.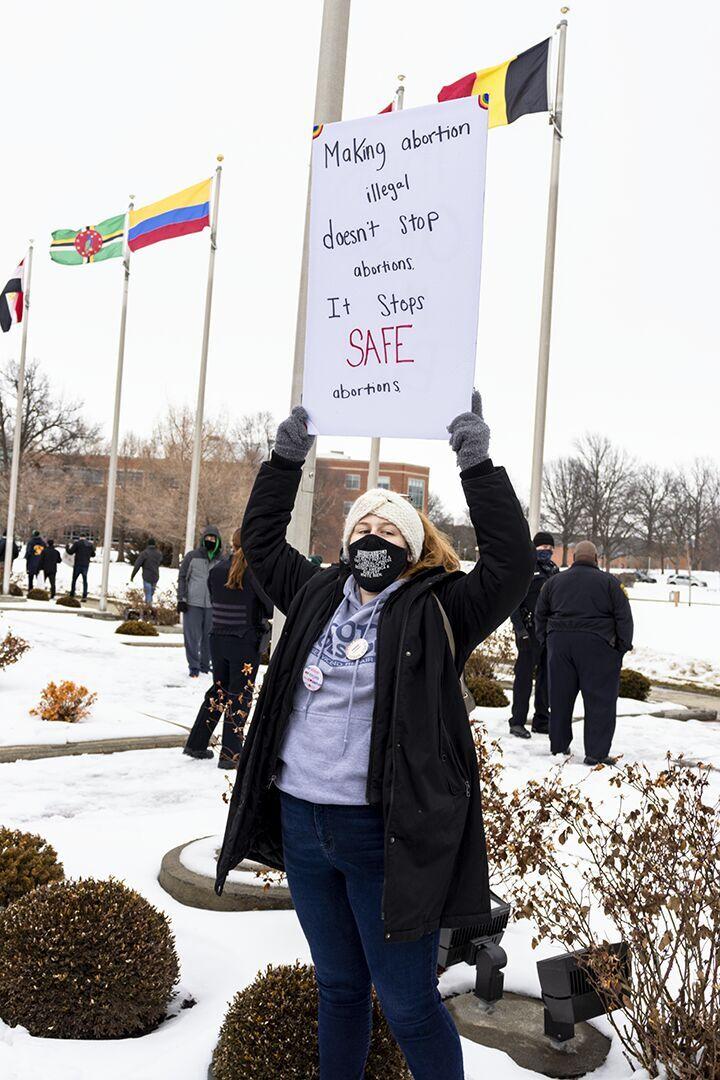 "I wanted to make sure both sides were being represented because this campus, sometimes, they just do the pro-life side," Rose said.
Freshman Grace Thomas said they really wanted to demonstrate that there isn't just a Students for Life organization at Northwest.
"We wanted representation for the other side of the argument," Thomas said. "This is our first demonstration as an organization and shows that we are here and want our voices heard."
Rose said that they're not necessarily in favor of abortion, they just want there to be a choice and for a woman to have that right to choose. Rose and Thomas said they don't just hope to be a voice for people wanting abortion but for all women. 
When they returned to the starting point of their march, Rose gave a short speech to the others who had gathered. Rose pointed out that she was happy so many people showed despite the Students for Choice not being a legitimate organization yet.
Rose said since Students for Choice is not an official organization yet, they don't have anything else set for the future right now. However, she did say they hope to do something like this again.
Fortik thanked everyone who came and participated in the march. She said that they are thinking of planning a march again next January.
The UPD, Maryville Public Safety and the Nodaway County Sheriff had officers at the marches to ensure everything was done safely for all participants.