In the past year, Maryville's City Council has heard the voices of many community members, mostly those staunchly against the face-covering ordinance or passionate about fixing local water quality.
This week, a new voice was elevated before the city's governmental body: the underrepresented Northwest student who has felt the weight of racism, implicit bias microaggressions, and moreover, felt anything but a member of the community. 
This voice was reflected through Justin Mallett, Northwest's associate provost of Diversity and Inclusion. He attended the Feb. 8 City Council meeting following his mid-year equity report, which Northwest's Board of Regents heard for the first time Jan. 28. 
Building upon this report, and following through with a plan of action to address racism and microaggressions in the greater Maryville area, Mallett began a conversation at this week's City Council meeting that led to a pledge of action on equity in the local community.
About halfway through the meeting, Mallett posed a question that each Maryville City Council member would answer.
"What does diversity and inclusion look like to you in the Maryville community?" Mallett asked.
There was an extended pause before Councilman Jason McDowell spoke first. 
"Just an equal footing for everybody is the first thing that comes to mind for me," McDowell said. "No matter if you're a lifelong resident, or you're an international student, or somewhere inbetween, that's what comes to my mind."
"I would agree with Jason," Mayor Ben Lipiec said. "We're a whole community … able to work together and get the same accomplishment. Everybody's here to serve a purpose, and people can do what they want to do."
Councilman Tye Parsons, a University employee, spoke next and said he felt diversity and inclusion in the community means underrepresented students should feel as comfortable as everyone else and not feel they are treated differently.
"I really think with our students of color, and all of our students, should be able to go to our local businesses, our grocery stores … and just have a level of comfort that they're not separated; they're not different … that they don't have an implied view that they are being treated differently. … They're there to be a part of the community just like everybody else is," Parsons said.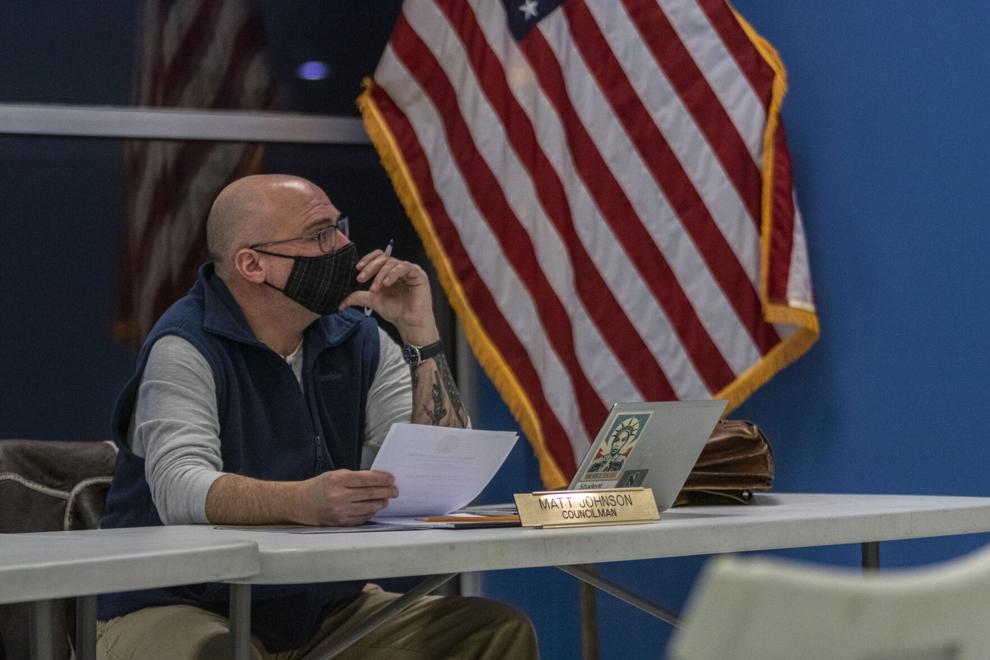 Councilman Matt Johnson said he feels a good way for people to get involved in the community is to register to vote.
"If you want an actionable first step to demonstrate that this is a place that everybody can grow and diversity is going to flourish, register to vote," Johnson said. "That's where citizenship really matters, right here, working in the community, volunteering in the community."
Councilwoman Rachael Martin responded by expanding on her view that while the Maryville community is the most diverse community she has lived in, she wants to learn more about how the City Council can fill gaps in the community.
"I wasn't exposed to people that had different backgrounds than me, so, I think every time that I learn something new about diversity and inclusion, or about a different segment of our population that may be underrepresented, it's a moving target," Martin said. 
Building on this eagerness, Mallett said the first step for Maryville is to identify and understand what opportunities are not as accessible for underrepresented people, students and residents alike. 
An example of this lack of access is how Mallett has to travel at least 40 minutes for a haircut, his wife more than an hour. While the implementation of a local barbershop on campus helps alleviate this specific issue for now, it is one of many issues rooted in the community that makes the conversation necessary.
"No one has come in front of all of you and said, 'Hey, you know what, here's what the feeling is, and here's a plan to address it,'" Mallett said. "And I think we're at this point now where we have to start addressing it."
As a starting point, Mallett suggested the all-white Council participate in implicit bias training and other kinds of diversity and inclusion related training. The city is working with Mallett to schedule such training events.
Other city council notes:
The City Council approved a resolution to apply for a $100,000 to $125,000 federal Land and Water Conservation Fund grant to pay for improvements at the new Thomson Splash N' Play Park.
The city is making progress with Nodaway County Public Water District No. 1 on a partnership to install new filters at the Maryville Water Treatment Facility. 
The City Council approved to replace two high mile police interceptors with the purchase of two new 2021 Ford Police Interceptor SUV's and associated equipment for an amount not exceeding $76,749.28 from Tri-State Ford Lincoln. 
The Council approved a request from Eugene Field Elementary School to hold the annual Speedy Spoofhound 5K Run for May 1. East Second Street will be closed from Dewey Street to David Street during the event.