There were 15 cars in the main parking lot tucked behind Northwest's Hudson-Perrin Residence Halls, which opened in 2007 and have housed roughly a third of the University's freshmen each year since, but sat mostly empty March 14.
The multi-million dollar buildings, the subject of a 2012 lawsuit, were built to house more than 500 students. But as junior residential assistant Keatley Cotter made her third and final rounds March 14 through Hudson-Perrin and Roberta halls, most rooms in the three dorms were vacant and the parking lot sat near empty as the spread of the novel coronavirus forced Northwest to shift classes to online-only for the rest of the semester. 
The continued spread of COVID-19, the disease caused by the coronavirus, which first appeared in Wuhan, China, in December 2019, has sparked a swift and evolving response from Northwest officials, one that's volatility has left residential assistants working break staff shifts across campus without many residents to assist as the University has canceled in-person classes for the rest of the semester and encouraged students to stay home in its latest attempt to prevent the spread of the disease.
"Considering the fact that we opened today and it's still an empty parking lot," Cotter said March 14, motioning toward a window in Perrin Hall that looked over the east parking lot behind Hudson-Perrin. "I assume this is basically what it's gonna look like. And honestly, most (cars belong to) staff and a few residents."
After first suspending in-person and blended courses for a week, the University changed course. Along with the shift to online-only coursework for all classes, Northwest's latest response includes the cancellation of non-essential University-supported travel, the cancellation of student organization activities, meetings and events and limitations on hours of operation of each campus dining outpost.
From Cotter's view, as one of two residential assistants still occupying Hudson-Perrin at the tail end of Northwest's spring break and ahead of the beginning of the break's extension, Northwest's latest round of messaging appears to be getting through to residents.
---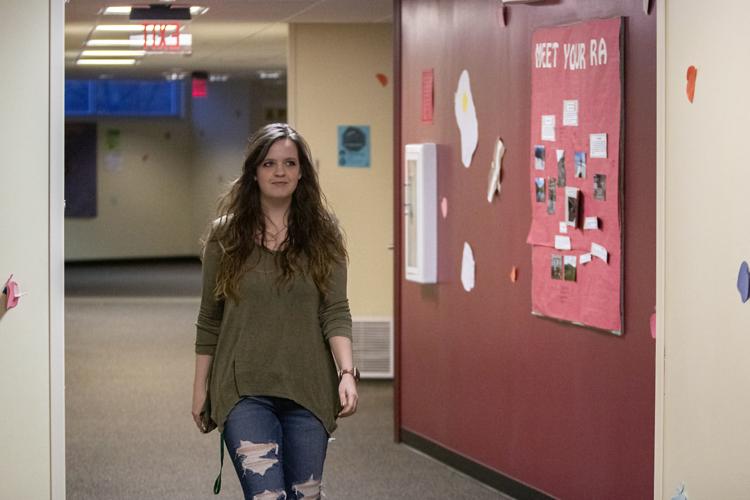 ---
In her evening rounds March 14, a three-building gantlet that stretched up and down close to a dozen flights of stairs for more than 25 minutes, Cotter encountered three people — the other residential assistant in Hudson-Perrin with two of her friends. And throughout the day, the first of which Northwest had reopened its residence halls, Cotter came across only a handful of her residents on the second floor of Perrin, all of whom were back to collect books and medicine and other things they'd left behind a week ago, before heading back to the desolate parking lot, before heading back home.
One resident Cotter ran into, a freshman from Colorado, flew into Missouri on the morning of March 14 to collect her books and flew back the same afternoon, perhaps depicting the impact the spread of COVID-19 has had on both the nation's travel economy and education system, on both Northwest and normalcy. The resident's one-way airline ticket, Cotter said, was $33.
Things were slightly different March 16, the Monday after University residence halls reopened their doors to students, Cotter said. More residents had arrived with the intent to stay, some through the week and some through the end of the semester, despite Northwest's shift online.
With on-ground classes and most aspects of campus life on hold in Maryville, Northwest Residential and Auxiliary Services isn't requiring residential assistants like Cotter to return to work. Instead, the residential staff, Cotter said, is handling the pandemic-extended break how they would any other break, doing so on a volunteer basis, working shifts that cover multiple buildings, all of which remain mostly unpopulated.
For the most part, though, the residential assistants who have stuck around through break or returned as they planned to afterward have found themselves "playing it by ear," Cotter said. Their roles have shifted to a more logistical focus, she said, in the midst of an outbreak that has brought with it uncharted territory.
"I mean, this isn't something we were necessarily trained on in the summer," Cotter said. "Like, 'What happens if a pandemic takes over the University?' Like, that didn't happen."
The realities of the pandemic's effects on campus are different for international students like freshman Felipe Tala, a native of Argentina living in Dieterich Hall. Since returning to campus March 15, Tala said he'd felt isolated. He said he thought there were close to 20 residents in the entire high-rise. He said he and other international students, similar to the University's staff of residential assistants, are playing it by ear.
---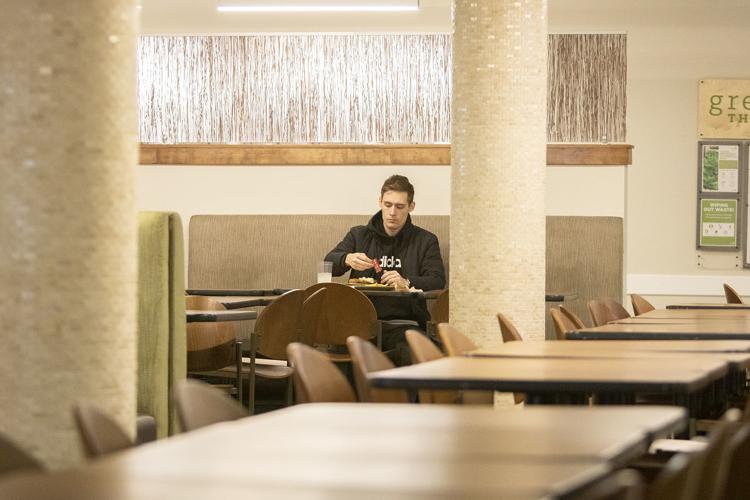 ---
The number of unknowns that hang over the future of in-person classes come with an increased degree of difficulty for students like Tala, studying more than 5,000 miles away from home. He would prefer to go home and finish his classes online, he said before the University announced its decision to move online for the rest of the semester March 18. Tala said he's lucky to have friends to hangout with in the meantime, but fears of COVID-19 have left him unsure if he should even do that.
"I need to socialize and be with people," Tala said. "So, yeah, it's been terrible."
In response to the unforeseen pandemic, Residential and Auxiliary Services is working alongside Facility Services, Aramark — Northwest's campus dining food service provider — and scores of student employees to prepare students who have returned to campus.
Rose Viau, the assistant vice president of Residential and Auxiliary Services, said in a phone interview March 12 the department has prioritized communication with residential assistants, while trying to gauge how many students will return, sending an email survey out to on-campus residents March 12 inquiring about students' travel plans.
But since the survey, which around 450 students responded to as of 2:30 p.m. March 12, Viau said, was dispatched before Northwest decided to move to online-only course work from March 23-April 6. The shift in the University's messaging, Viau said in a follow-up email March 14, left the original survey's results ineffective.
"Given the rapid changes, we are now encouraging students to stay home instead of return unless it is essential such as having a job or nowhere else to live," Viau said in the email. "So, we are no longer looking at those numbers."
---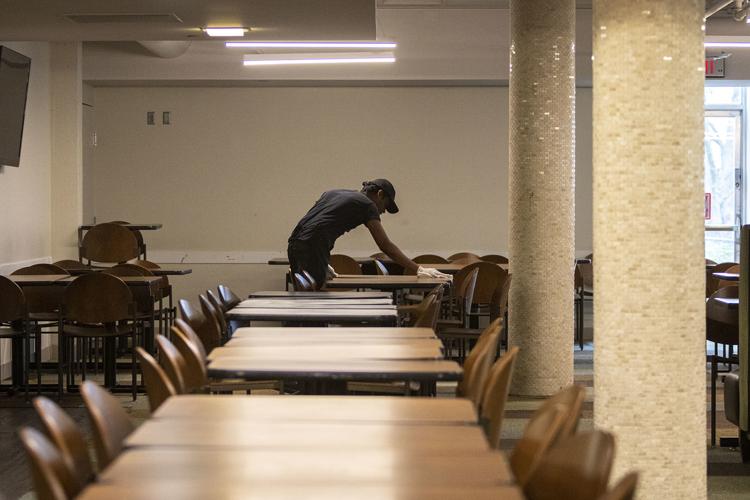 ---
Within residence halls across campus, residential assistants have taped red signs to dorm room doors that read "NOT OCCUPIED," asking incoming residents to flip the signs over, to a side that reads "OCCUPIED," if and when they return to their rooms. Cotter said March 16 residential assistants only have a vague idea of which residents have returned in each dorm hall.
Viau clarified that Residential and Auxiliary Services likely planned to dispatch another survey over the weekend of March 14-15 in an effort to find an accurate tally of the number of students on campus, a figure that would be useful for Aramark and Campus Dining in preparing food for a mostly empty campus.
Viau said Aramark, in accordance with the University, is implementing procedural changes within the J.W. Jones Student Union in an effort to reduce the risk of potential virus spread. The changes include increased cleaning and sanitation efforts, the removal of communal ketchup dispensers in favor of individual packets and the elimination of self-serving stations at the Union.
Starting March 15, Campus Dining rolled out adjusted operation hours for the extended break for each of its dining options. The updated hours left Zen, Starbucks and Mooyah closed for the duration of the extended break, while limiting Chick-fil-A's hours of operation to 10 a.m.-5 p.m. on weekdays and 11 a.m.-5 p.m. on Saturdays. Bearcat Commons will be opened in two-hour intervals three times a day and will not offer late-night hours for the duration of the extension.
The changes, meant to help Campus Dining maintain efficient operation while serving fewer students, have impacted those students left on campus, including those like Tala, those without another option. Tala woke up late and missed breakfast hours March 16. Two weeks ago, it wouldn't have been a problem. Now, in the wake of the University's response to the spreading virus, it left Tala hungry.
"The food is just limited," Tala said. "I don't have a fridge, so it's not like I can take whatever I want to my room; I just can eat things that I don't have to leave in the fridge. So (my) diet has been limited."
On its first day of the new operating hours, which started at 4 p.m. March 15, Bearcat Commons and its near-dozen employees served less than five residents in its first 30 minutes of operation. The Union, for the most part, sat as resident-starved as Hudson-Perrin did throughout Cotter's rounds March 14.
---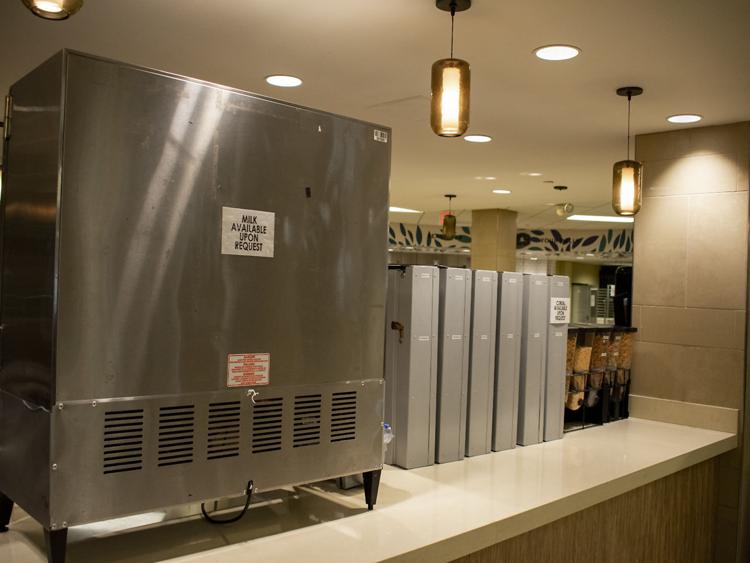 ---
Once self-serving stations were operated instead by employees. Three separate sanitizing stations greeted residents before they entered the dining area. Signs posted near the fountain drink station requested diners use a new cup each time they fill up. Employees wiped down tables that already appeared to be clean. COVID-19 made its presence felt at Northwest before ever arriving in Nodaway County.
"Now, of course, I don't want it to happen at all," Viau said, referencing the disease's potential spread onto Northwest's campus. "That would be easier for all of us."