CEDAR RAPIDS, Iowa — Samuel Beebe, a high school student from a suburb north of Chicago, Illinois, celebrated his 17th birthday a little differently than most. It was spent in Iowa, attending the political rallies leading up to the Iowa caucuses Feb. 3.
It was the same way he spent the weekend two weeks before, making the over three-hour drive just to hear from this year's presidential candidates. 
First, Beebe attended a rally for Andrew Yang about two weeks ago, followed it up with Sen. Elizabeth Warren, D-Mass., former Vice President Joe Biden, former Mayor of South Bend, Indiana, Pete Buttigieg and Sen. Bernie Sanders, I-Va., on the eve of his birthday Feb. 1, and by the end of his birthday Feb. 2, he'd hoped to see Sen. Amy Klobuchar, D-Minn., and Tom Steyer. That is all seven of the top Democratic candidates, according to a New York Times/Siena College poll.
"I just really want to get more involved with politics," Beebe said, explaining why he had chosen to spend his time at the rallies, "And I wanna be able to make a change in our country because our young generation is the people that are going to make a difference."
When the Iowa caucuses occur, Beebe will still be 364 days away from being able to vote. So, Beebe, the youngest person in the crowd at Buttigieg's Feb. 2 rally, raised his hand to ask how young people like himself could get more involved in politics.
After Buttigieg asked Beebe his age and wished him a happy birthday, he said, "One of the amazing things about this moment is how much impact you can have even if you're not yet old enough to vote. First of all you're here, which is great. You're already involved, which means you're ahead of the curve, and you can persuade, you can organize, you can volunteer."
---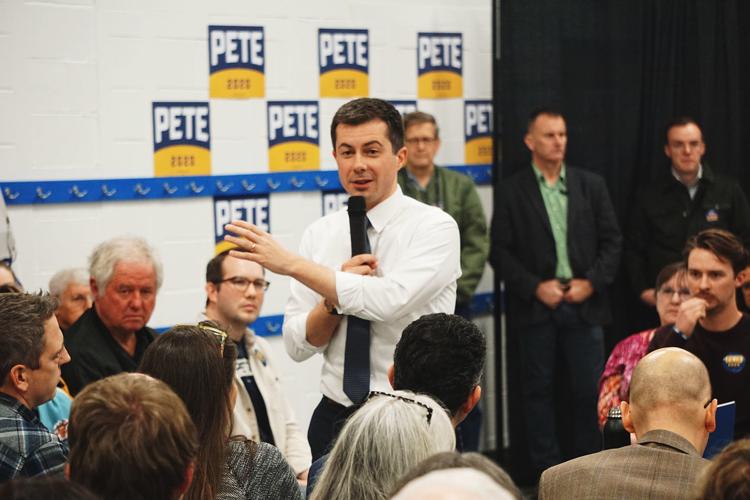 ---
Immediately following the conclusion of Buttigieg's discussion, Beebe asked a representative about available volunteer time slots. While his political enthusiasm may be more than most, "the curve" of political involvement by younger people has slowly increased in recent years. Nationwide 28.2% of eligible voters age 18-29 participated in the 2018 midterm elections, more than double the 13% that voted in the 2014 midterms, according to CIRCLE.
In Iowa in particular, to increase involvement from people closer to Beebe's age of 17, a new law enabled nearly 5,000 17-year-olds who will be of voting age by the general election to participate in a caucus or primary. The young voter registration for the presidential elections is nearly 25% higher than 2016, according to NBC News account of the secretary of state's registration data.
Buttigieg went on to emphasize the moral authority young people have and the influence of that.
"Part of what's remarkable about our moment, I think, is that young people are bringing the moral authority of those with the most at stake into the conversation," Buttigieg said. "What you got to understand is when someone your age or younger is raising a question about how to make sure climate doesn't ruin your future or how to keep your school safe from gun violence, that arouses a pretty powerful sense in any responsible adult, a voice in your head that's saying, 'Don't let this person down.'"
The rallies were an opportune time for high school students nearing voting age to become more informed about the candidates and current political issues. A group from West Leydon High School in Chicago took up several rows at Warren's Feb. 1 rally.
"I'm here just to participate, so what's going on and have the experience," West Leyden student Tamara Mondragon said. "I don't know much, but that's why I'm here, to see who she is, why she's a candidate, and why people love her so much. I'm here with an open mind. I just want to see what she's going to talk about."
The process of caucusing is one many of that age group are unfamiliar with, but the rallies provide a unique opportunity to not only get to know the candidates but the crowd's response to them as well, which is what appealed most to another West Leydon student, Giselle Garcia.
"I've never been to a rally. ... I just want to see the attitudes people hold here," another West Leydon student, Giselle Garcia, said. "I know there's bigger crowds and smaller crowds, so I just wanted to see the attitudes mostly."
Warren hosted her rally at a Kohawk Arena at Coe College, Biden's rally was in a cramped middle school gym, and Buttigieg's town hall took place in grade school cafeteria plastered with strawberry paintings. Despite the varied size of the crowds and locations, Beebe said the energy remained the same.
"This one (Buttigieg's rally) was smaller than the Biden one, but it's the same energy," Beebe said. "Everyone is there for a reason. You're all there to support this person; you're all there to be there and talk about issues, and each person is different, but they're all the same in one way or another."
While similar energy was present at each rally, it translated to different levels of voter support for each candidate.